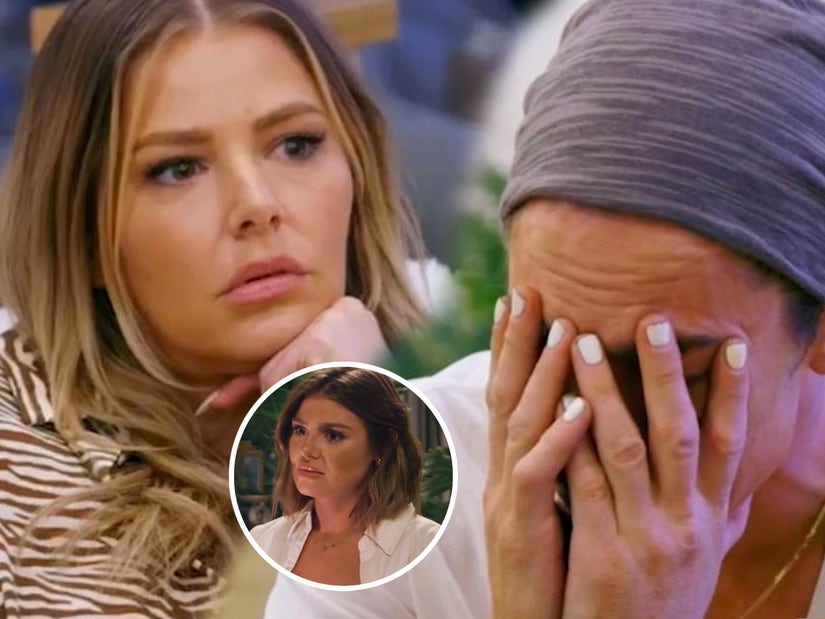 Bravo
Ariana also vented to Raquel, who asked about the couple's "dry spells," whether she still found Sandoval sexually attractive or wanted to "stay" in a relationship with him.
Tonight's episode of "Vanderpump Rules" would have been the season finale -- one that would leave viewers wondering about Tom Sandoval and Ariana Madix's future following what she described as a "big argument" between the two about their relationship.
The hour -- shot before Ariana found out her other half was cheating on her with costar Raquel Leviss, a reveal which prompted an additional episode to be filmed -- began with the two Toms first talking about how things were going between Tom and Madix.
Sandoval said he felt like "sometimes just my very presence annoys her," before Tom Schwartz added in a confessional he thought their relationship had "devolved into roommates." From Schwartz's POV, the two showed "a lack of intimacy when they hang out" and barely acknowledged each other in public -- adding, "it's not looking good."
Sandoval went on to complain about how, in his mind, Ariana never goes out of her way "to do things for me," saying "it just f---ing hurts me." He added, "There's definitely a disconnect. We argue a lot more than we did for sure earlier on in our relationship."
Later in the hour, Tom and Ariana were seen at home together, where he told her that while they've been through a lot lately, it also felt "like we haven't been as connected."
"There's been a lot of things that have been bothering me and stacking up and swept under the rug. My very presence annoys you," he said, though Madix disagreed with that latter statement. "You snap at me and you f---ing belittle me in front of people. That really f---ing hurts my feelings," he then added.
She had grievances of her own, telling Tom that he was "the only person I'm constantly wanting to hang out with more," but he never makes time for them to be together one-on-one. "I've said it for months," she added, "You peacocking on a night out? Everybody else gets that. And then I get the leftovers."
"Remember we would cook dinner together and put on 'The War on Drugs'? We don't do that anymore," she said, as Sandoval got emotional. Crying, he told her he wanted them to be "more intimate," saying that "having sex four times a year, that also affects me."
"Maybe you need to spend time with me because I cannot have sex with somebody who feels like a stranger," she shot back, saying she wanted to work on their bond by doing more activities like cooking and going on walks together and not just "going out and getting drunk." Sandoval's definition of "quality time," however, was very different -- as he said in a confessional he wanted to do shrooms together and go skinny dipping.
Yeah, there's a big disconnect here.
The episode ended at a tasting event for Ariana and Katie Maloney's sandwich shop, where Madix vented to Raquel -- of all people -- about her "big argument" with Sandoval.
"He feels like he's not being heard, which is why he's always the loudest person in the room," she said, before Raquel mentioned how Ariana once said the couple had "dry spells" -- wondering if that was still the case. Madix said it was.
"You come home after working all night and you're like, what? You think you're going to whip your d--- out and I'm gonna say, 'Let's f---k?' That's never going to happen. We have to spend time together," Ariana said, explaining her need to feel "emotionally intimate before you can get physically intimate."
"When we spend time together, if you want to connect, you have to work on your connection," she added, before Leviss wondered whether Ariana still felt "sexually attracted" to Tom. "Oh my god, I think he's so f---ing hot," she quickly replied, before explaining her insecurities about her own body.
"But then I'm like, 'I'm not hot.' You don't look at my body and go, 'Yeah, that's what I want. I want cellulite, fat thighs and a big ass and Bingo arms,'" she exclaimed, shocking Raquel, who could relate to feeling that way.
"I feel like a lot of that is in our own head and that makes me really sad because I do that to myself too. It's f---ed up," she told Ariana, getting choked up. "I think we're a lot prettier than we think we are. We're our own worst critics and I think that translates into our sexual lives. Now that I'm single I think sex is a very, very important part of a healthy relationship."
"Clearly, you want to stay in this relationship," Raquel then said, posing it as more of a question. "I do. I wouldn't be having this conversation if he wasn't who I want to be with," Ariana replied, adding that she felt she and Tom would "talk it out and we'll be fine."
The conversation between them ended there.
Tom, meanwhile, was last seen talking about Ariana in a confessional -- saying that while he still loved Madix, he realized the two had "grown a bit apart" because of "how different we are as people." He added, "The issues that Ariana and I are having are not just her fault, they're mine also. I'm hoping Ariana and I can get back to where we were. It's the best relationship I've ever been in."
Before the episode wrapped, he was seen being totally oblivious to Ariana breaking down in the corner of the bar after a huge fight broke out between Katie, Raquel and Schwartz. He was also called out by Kristina Kelly for caring more about criticizing Maloney than consoling Madix.
Of course, we all know now that things between Tom and Ariana never did get back to where they were. The preview for the finale has already been released online -- and shows everyone's reaction when they discovered the Sandoval and Leviss affair.
"Vanderpump Rules" airs Wednesdays on Bravo.