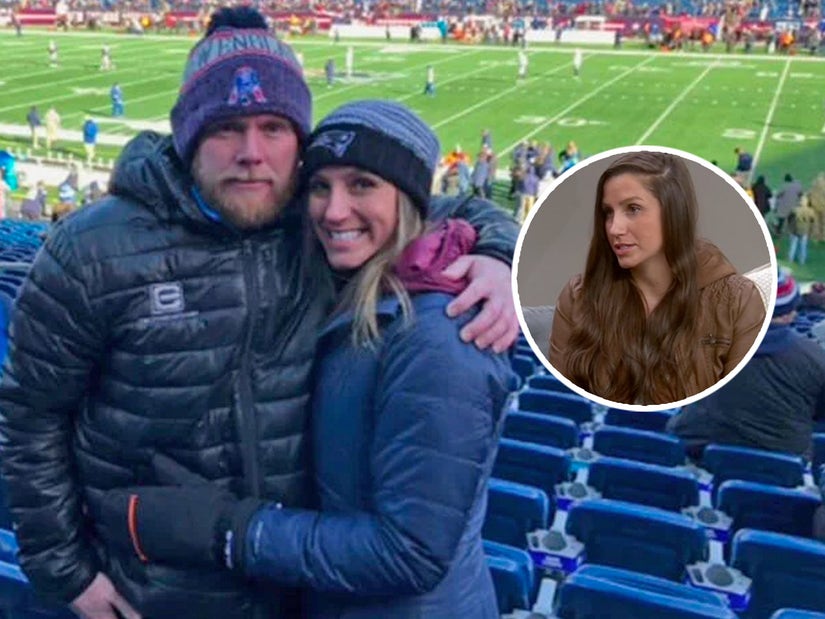 Facebook/ABC4
Kouri Richins was planning to release a whole line of children's books inspired by her husband's death -- and posted to Facebook that life was "just so damn hard" without him just days before being charged with his murder.
The mother-of-three accused of murdering her husband was very much in the public eye in the months leading up to her arrest -- promoting a children's book she and the couple's kids wrote together about their grief following his death.
Paramedics responded to the home of Eric and Kouri Richins on March 4, 2022 after getting a call about an unresponsive male. EMS attempted to revive Eric, but he was pronounced dead at the scene. This week, the case took a very twisted turn -- as Kouri was arrested and accused of killing her husband after allegedly procuring a fatal amount of fentanyl from an acquaintance. According to police interviews, Eric also believed she was trying to kill him in the weeks leading up to his death.
About a month before her arrest and almost a year to the day after Eric's death, Kouri released a book called "Are You With Me?" aimed at guiding children and families through "the difficult experience of losing a loved one." While Amazon was carrying the book as of Tuesday, the listing has since been removed.
At the time of its release, Richins did interviews in the press about the book -- in which she called her husband's death both "unexpected" and a "shock," before opening up about how the couple's three boys had been holding up.
"My husband passed away unexpectedly last year. March 4 was a one-year anniversary for us. He was 39. It completely took us all by shock," she said in one chat with ABC4 (below) -- which has since gone on to add a disclaimer to their interview noting that "at the time of the airing, Good Things Utah and ABC4 had no way to be aware that she was a suspect in that murder."
"My kids and I wrote this book on the different emotions and grieving processes we experienced last year, hoping it can help other kids deal with this and find happiness some way or another," she continued, before stressing the importance of connection, continuity and care after losing a loved one.
"Connection is the major one, making sure their spirit is always alive in their home. Constantly talking about them. Explaining to my kids just because he's not present with us here physically, that doesn't mean his presence isn't here with us," she added. "It's comforting to them to know they're not living this life alone. Dad is still here, just in a different way."
She added that they decided to work on the book together after she "couldn't find anything that suited them or helped them find comfort and peace" ... and hoped the book would help others in similar situations.
She also appeared on NPR affiliate KPCW around the same time, saying that "it's been a long year, difficult year" following the death of her husband. "Writing this book has brought a little peace to me and my boys," added Kouri.
Richins said the writing process was "a really good distraction" for the whole family as they celebrated their first holidays, birthdays and wedding anniversary without Eric. "It gave us something to work towards," she said at the time, calling the book a "life-changer" for the boys.
She said the whole family still had "good and bad days," including some that left her thinking to herself, "What the heck, what am I doing? I can't do this." Kouri added, "It's a roller coaster of emotions, essentially" -- and said they were all "doing okay" and "hanging in there and taking it day by day."
During the same interview, she also revealed her plans to release a whole line of books about dealing with grief -- and had one slated to drop very soon called "Mom, How Far Away Is Heaven?" While the first book was written from the perspective of a boy dealing with the loss of his father -- which the illustrator based on Eric -- Kouri also planned to release a similar book about little girls who also experienced the loss of a mother.
Just days before she was arrested, she also shared a video to Facebook of the couple and their children. She captioned the post, "Life is just so damn hard without you here! The cards I have been dealt seems like a game that just cant be played." Her Facebook account has since been made private.
In interviews with police, Kouri -- a realtor -- claimed that while celebrating the closing on a new home, she made her husband a Moscow Mule, which he drank in bed. She said that she then went to sleep with one of the couple's children due to them having a "night terror," returned to the bedroom she shared with Eric around 3:00am and found him "cold to the touch." She then called emergency services, but Eric could not be revived.
An autopsy then confirmed Eric died from a fentanyl overdose -- with the medical examiner saying the levels in his system were "five times the lethal dosage."
This led to a search warrant of the couple's home, including computers and phones. On her cell, authorities reportedly found communications between Kouri and an "acquaintance" with a background in drug possession in which she first asked about obtaining "prescription pain medication for an investor who had a back injury." According to the docs, after he procured some hydrocodone for Kouri from a dealer, she followed up with them two weeks later asking for "some of the Michael Jackson stuff" -- and requested fentanyl. She allegedly dropped $900 for 15-30 pills on February 11, 2022.
On February 14, Valentine's Day, Eric then allegedly "became very ill" after a dinner with his wife. At the time, he reportedly "believed that he had been poisoned" and even "told a friend that he thought his wife was trying to poison him." Kouri is then said to have reached out for even more fentanyl pills on February 26, 2022 ... before Eric was found dead of an overdose six days later.
She was charged with aggravated murder and possession of a controlled substance with intent to distribute on Monday. Kouri will next appear in court on May 19 for a detention hearing.