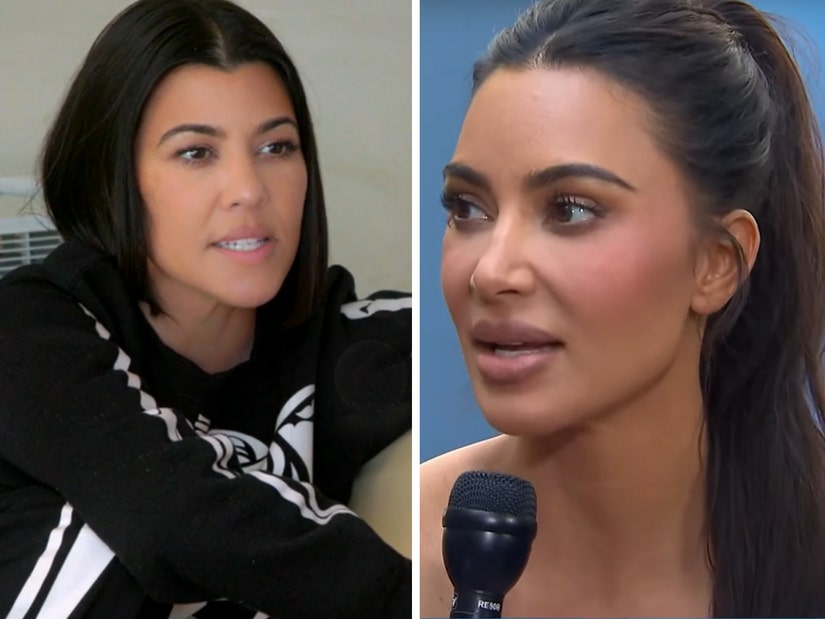 Hulu / NBC
"This season was probably my most emotional and frustrating internally with family," shared Kim.
A new season of "The Kardashians" is coming very soon -- and on Tuesday, fans were treated to both a new clip from the premiere and an interview with Kim Kardashian teasing the drama to come as episodes start to drop.
On "Good Morning America," Khloe Kardashian debuted footage from the first episode back -- featuring Kourtney sharing the family may not be as tight as they appear.
"I was thinking about how in our family, we're so good at celebrating and having fun, we're also good at lifting each other up when we're in a crisis," Kourtney tells Khloe in the clip. "But in an almost superficial way, I don't think we know how to be there for each other on a deeper level."
Khloe definitely seemed caught off guard by the statement, telling her sister, "What?! I think I do." In a confessional, she also adds, "When there's something pretty traumatic or devastating for the family, I feel like we're all by that person's side."
Appearing on "TODAY" Tuesday morning, Kim said the new season was "probably my most emotional and frustrating internally with family, that I haven't really seen or experienced before."
When asked whether that was due to her issues with Kourtney, she said, "Yeah," before adding, "we've been there before and we'll always be okay, we're always family, that's how we were raised."
"But I'm also proud that everyone's really vulnerable ... I'm proud that we're still open and driven to show and share so much," she continued.
"When we signed up for this, we wanted to be super open and honest and there's obviously different seasons where some people feel like they just have some boundaries and want to protect some things and other people want to open up and share way more. I'm so blessed there's so many of us, we can always respect each other's space."
Kardashian added that while the sisters, in general, usually squash their beef long before the show airs, tensions do sometimes "rise all over again" once they see how the show is edited and what they're all saying behind each other's backs in confessionals.
"It is a cycle. It gets really tricky and it gets really emotional," said Kim, "but at the end of the day we all still love sharing our life and I don't see that changing anytime soon."
"The Kardashians" returns to Season 3 on Hulu starting May 25.