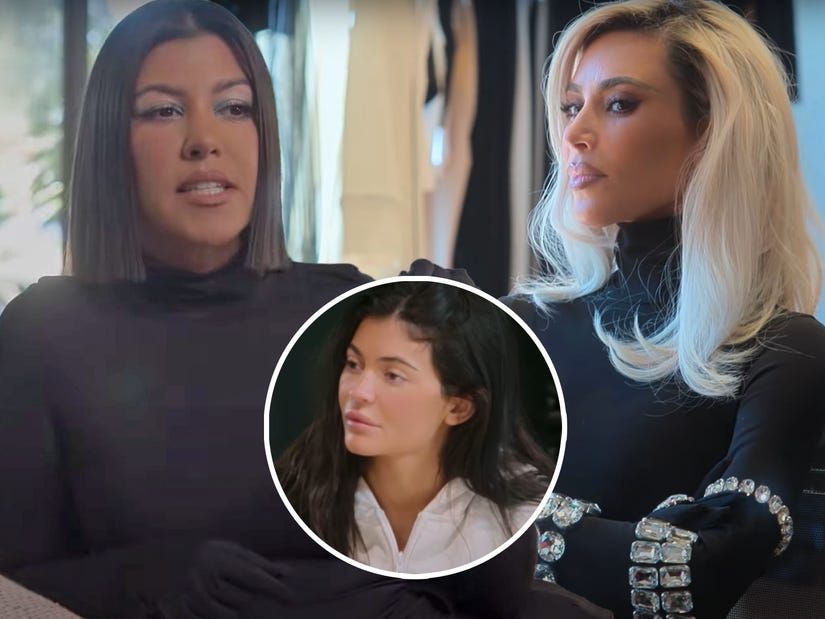 Hulu
An explosive trailer for The Kardashians Season 3 teases a Kim vs. Kourtney showdown, Kanye West mess and Kylie revealing regrets over "beauty standards" they all helped set.
The streamer dropped a new trailer for the upcoming episodes on Thursday, in which it quickly becomes clear the two are at odds after Kim decided to walk in the Dolce & Gabbana show during Milan Fashion Week two months after Kourtney and Travis Barker's Italian wedding -- where the bride also wore D&G.
"My sister used my wedding as a business opportunity," Kourtney says in the footage, as Khloe Kardashian says Kourt is "livid."
"She felt like her wedding vibes were like stripped from her," adds Kendall Jenner, as Kim expresses her confusion over her sister's frustrations. "I'm really confused how this narrative came into her head. I couldn't have been more mindful. I said don't wear anything Kourtney wore to her wedding," Kim adds, defending herself.
Though both Kendall and Kylie Jenner say they can see "both sides" of the argument, Kourtney doesn't appear to buy Kim's explanation. "People think it's a misunderstand, it's not, it's who she is to her core," she says at one point.
Another major takeaway from the trailer is Kylie talking to her sisters about "the beauty standards that we're setting" -- something which they've been criticized for doing a pretty bad job of doing throughout their careers in the public eye.
"I don't want my daughter to do the things I did," adds Kylie, "I wish I never touched anything to begin with." For what it's worth, Kylie has long maintained that the only thing she's done are fillers for her lips -- and earlier this month even said it's something she doesn't regret, so it's unclear to what she's referring here.
The footage also includes references to Kim's split from Pete Davidson and her messy divorce from Kanye West. At one point, Kendall says, "I don't know how Kim handles everything with her ex-husband," before Kim -- seemingly speaking about West -- says, "He has made up the most insane narrative ... we stay silent through all the lies for my kids."
At one point, Kim is also seen breaking down in tears telling Khloe she's "not okay" and having "such a hard day."
In addition for a melanoma scare for Khloe, she's also asked how things are going with Tristan Thompson -- and appears to tell Scott Disick there's "no chances" of reconciliation between her and her baby daddy.
The trailer ends with Kylie adding -- about who knows what -- "I just don't think everything's going to be okay."
The third season premieres May 25 on Hulu, with new episodes every Thursday.