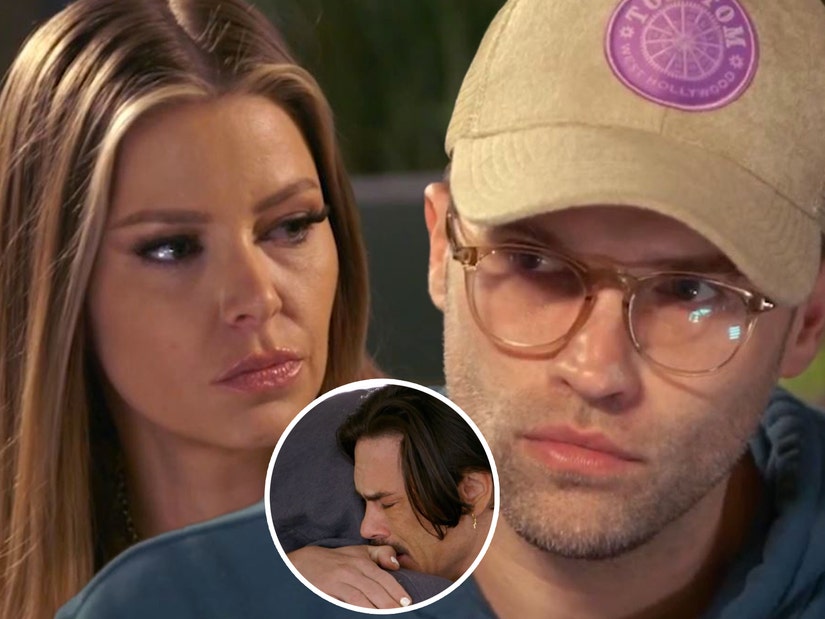 Bravo
Schwartz also expresses his frustrations with the situation to Sandoval himself, claiming he told Tom to come clean to Ariana before the affair was exposed.
After everyone learned Sandoval had been cheating on girlfriend of nearly 10-years Ariana Madix, attention quickly turned to Schwartz -- Tom's longtime BFF and business partner -- as many wondered what exactly he knew and when he knew about it.
When we first saw Schwartz, Sandoval was showing up to his apartment -- collapsing into his arms and breaking into tears upon seeing him. Schwartz tried to joke about the situation, calling Tom "the most reviled man in America," before Sandoval began to profusely apologize for putting his buddy into this messy situation.
"I don't want to lay into you too much right now, I just want you to know it's not good," Schwartz said, bringing up how fans of Ariana were trolling the two Toms' businesses following the scandal. "We went from 4.8 stars on Yelp to one star at Schwartz & Sandy's. We have 20 employees who depend on us."
In a confessional, he said it was "soul crushing" to think their businesses could "fall apart because of Tom's affair" -- before asking Sandoval whether he'd consider doing a post on social media saying Schwartz wasn't "complicit" in anything.
"You came to me, you confided in me, I said, 'Tom, out of respect for what you had with Ariana, you have to f---ing tell her,'" claimed Schwartz, trying to make it clear that while he did know something, he also allegedly tried to sway his friend to come clean.
"I wanted to tell her, I got this vibe that she did not want to f---ing know," Sandoval said. He then shared that after the guy's night Raquel crashed, the pair went to The Abbey together and, after taking some shots, kissed. "I felt something in that moment that I hadn't felt in a very long time," he added, while saying he and Ariana also "started growing apart."
"I'm in a relationship with nearly zero intimacy. The only time I can get off is when I watch porn in the f---ing bathroom," Sandoval continued. "I went into therapy. I don't know what to do. I love this person ... but we're just not there."
Schwartz criticzed Sandoval for not taking one of the "so many opportunities" he had to come clean to Ariana -- recalling how he told Tom just one week prior, "It's time to tell her because if this comes out without you telling her, you're going to humiliate her.'"
Sandoval said he didn't do it because he needed to be on "the same page" with Raquel. Frustratingly, he then said "Ariana never asked" if anything was going on -- going so far as to say Madix should have followed him to see if he was actually going to Schwartz's when he said he was.
"You don't want to put that responsibility on her," Schwartz shot back, before saying how much people were upset with him "just for being your business partner and friend." He closed out the conversation by exclaiming, "I'm f---ing canceled."
Later in the hour, Ariana revealed the text message Schwartz sent her a couple days after everything broke. In it, he claimed Sandoval "confided in me and I told him what he needed to do: sit down and tell you everything out of respect for everything you guys have build together."
"I hope you don't have too much ill will towards me, this whole situation is just effed," he added. "I don't wanna kick my guy when he's down but my god the amount of anxiety and backlash I'm getting bc of his actions are insane. Anyways just know I care about you & know you are gonna be just fine."
That message left Madix peeved, saying Sandoval wasn't "down" so Schwartz should feel free to "go ahead and kick him."
Katie Maloney, meanwhile, was also ticked at Schwartz -- as she believed he knew about the affair as far back as October 2022 thanks to an off-handed comment he made at Bravo Con. At the time, Raquel was wearing a TomTom t-shirt, with Schwartz commenting, "she's not there for me."
He told Katie he first found out a month ago, before denying he made any such comments at BravoCon. She also didn't believe Sandoval's "ego" would allow him to watch Schwartz "pursuing the girl he's having this affair with all summer long, without him knowing it's not real because you were aware of everything."
Schwartz eventually admitted he knew about the initial one-night stand in the fall. "It was f---ed up, he said, 'I can't believe we f---ing did that, I'm disgusted,'" Tom claimed, before saying Sandoval told him he "tried to break up" with Ariana multiple times and would sometimes even change his mind about doing it.
"You've been his bitch boy for how many years? By you being so closely associated with him, you're going to lose a lot of friends," Katie told him, flat-out, something which came to pass at the end of the hour.
Schwartz last appeared on-screen during a one-on-one with Ariana, after showing up to a girl's night to clear the air with her in person following his text message to her.
"Can I start by saying something to you? If I hear anything about him feeling down and you feeling bad for him, I'm just going to get up and walk away," Madix prefaced the conversation.
"I'm not here to advocate for him. I'm pissed at Sandoval, I feel like he exploited my kindness," said Tom. "Also, our business, that we put our hearts and souls into."
Ariana then pointed out how Sandoval apologized to the business before ever offering up a public apology to her, something Schwartz agreed was "f---ed up." When he then brought up the boycotts against their businesses, she appeared to side with them.
"Why would somebody want to give their money to that man?" she said. "He f---ed up your [business] family. He didn't give a single flying f--- about your family. What did he think was going to f---ing happen? He was going to cheat on me and walk away unscathed?"
Schwartz reiterated how "f---ing sorry" he was about everything, adding that he wasn't looking for sympathy from her. "But I'm being painted as this coconspirator and it's f---ing devastating to me," he added.
Though she said she didn't believe that's what kind of person he was, she added she "will not have mutual friends with" Sandoval anymore -- "so, I'm not your friend anymore," she told him.
"I was always assured he was handling it, doing the right thing," he said, trying to save face, but Madix wasn't having it. "I'm not an it!" she shot back, before getting completely overwhelmed with emotion as she said, "I was his f---ing ride or die, defended him, to you even."
Sobbing, she concluded, "I wish that I didn't miss him. I really wish that I didn't miss him, but I feel like what I miss is not real."
The "Vanderpump Rules" drama will continue next week when the reunion kicks off on Bravo.