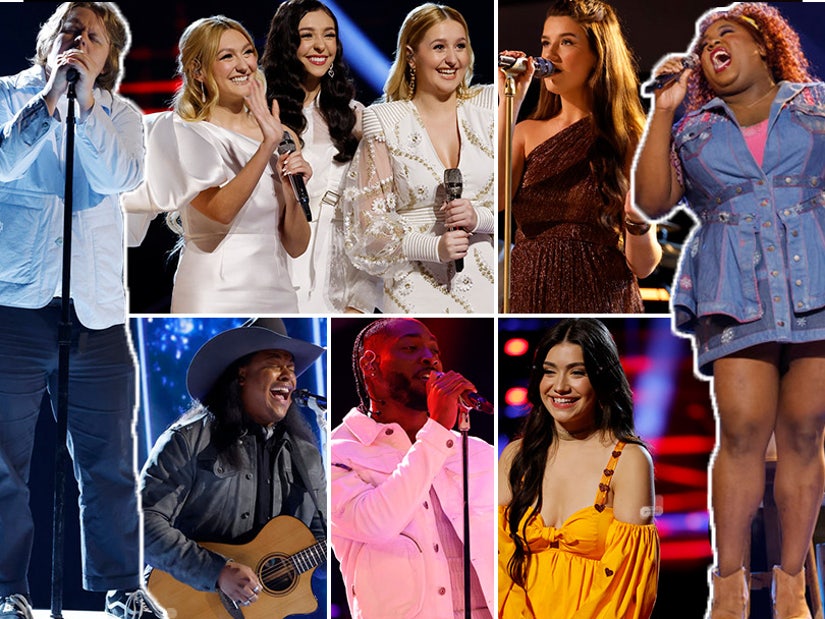 NBC
The playing field evened out way more than expected as D.Smooth, Gina Miles, Grace West, NOIVAS and Sorelle made their final performances ahead of Tuesday's "Voice" finale -- plus, Lewis Capaldi and Alex Newell bring the house down with powerhouse vocals!
It seemed like it was going to be a pretty straightforward finale, with early frontrunners continuing to run away with the competition as "The Voice" competition finale kicked off … but that's not what happened at all!
Each of the five remaining finalists hit the stage twice, once with a ballad and once with an uptempo piece, to showcase a little stylistic range. The night was also fleshed out a bit with powerhouse performances by Alex Newell, from their Broadway musical "Shucked," and Lewis Capaldi on his new heartbreaker.
As for the competition itself, frontrunners slipped and backrunners (?) stepped up their game to make this a far more competitive finale than we expected. As such, it became that much more difficult to predict who might win, which is completely different than what's been happening on "American Idol" all season, where we were able to predict the winner during their first audition.
Speaking of "Idol," did Disney-Pixar's "Elemental" really have no other footage of their main characters? They used the exact same looped graphics for the main characters to hoot and cheer behind the "Idol" desk as they did for them tonight in "The Voice" chairs. Airing on back-to-back nights, fans who watch both were definitely having some deja vu. We know you've got more money than that, Disney, so pony up for some fresh graphics.
Speaking of money, the ongoing Writers Guild of America strike came up briefly during a segment for Red Nose Day. After Carson made a terrible joke, quipping that it looked like Blake was wearing his red nose when he wasn't, Blake shot back, "God, I hope the writers come back soon."
And just for fun, I'm going to rank the performances from worst to first to see who my favorites are in each round. That way I can see who's the best and then see if you get it right with your votes - i.e., agree with me.
("Independently Owned," Alex Newell [from "Shucked"] - 19, Canton, MI) From the moment Alex first showed up on "The Glee Project," we knew they were someone truly special. A voice and personality larger than life, Broadway was the perfect place for all of that talent and stunning excess to thrive, and they're doing just that. For a show all about the voice, Alex brought incredible and fearless power and grit to the stage. This was one of the biggest vocal performances this stage has ever seen. Good godd---!
("Wish You Well," Lewis Capaldi - 22, Meridian, MS) One of the most powerfully effective and emotive voices in the history of music, Lewis has this ability to channel pain in such a palpable way it's like his voice is reaching into your tear ducts and squeezing them free. Even more remarkably, he's just as effective life with an achingly beautiful voice that doesn't need any other frills or stage gimmicks to be gut-wrenchingly effective. Lewis is a powerhouse in the industry with each release, and he's showing no signs of slowing down or losing his effectiveness.
("Style," Taylor Swift - 19, Paxton, IL) Definitely a fun song choice, but it got dangerously repetitive toward the middle, losing its impact. Gina brought it home with a little flair on the end, but in a competition, that's a dangerous thing to do to the audience, risking losing them halfway through. She definitely sounded like this is the kind of music she could be making, but we lost a bit of what makes her voice special. We appreciate her wanting to showcase a different side of her talent, which she did, but we were also glad for her that there was another round that was more in her strongest suit.
("Ain't No Mountain High Enough," Marvin Gaye & Tammi Terrell - 15/20/21, Lexington, OH) These sisters are at their best when they put together a whole musical number to go with their performance. Synchronized choreography, crowd work and incredible harmonies, what more could we want? The sound did seem a bit off, as they were getting swallowed a bit by the production behind them, but Sorelle remains one of the most interesting and exciting vocal acts in a while. There aren't a lot of sibling acts in popular music these days, but we'd love to see them spearhead a revival because there's no sound quite like it.
("Fly Away," Lenny Kravitz - 31, Hutto, TX) Surprisingly, it felt like NOIVAS' infectious energy got the best of him just a bit on the vocals of this track. No one brings more to the "Voice" stage this season, and NOIVAS was in full performance mode from start to finish. It wasn't his strongest vocal performance, but he's an incredible showman with an undeniable power and sound. He's one of those artists who can kick it up a notch on a live show, making him worth seeing that way over and over again. Unfortunately, he faltered just a bit with this one -- and at this stage, just a bit can mean everything.
("The Night the Lights Went Out in Georgia," Reba McEntire - 19, Canton, MI) It's easy to get caught up in the rhythm and the rapid-fire lyrical delivery on this song and lose the content of the story, but Grace did a masterful job of … well, mastering both! This was the most fully invested we've seen her in a performance in weeks (and Blake's note to go full voice throughout really strengthened the overall experience). She was really leaning into her classic country sound to bring out the best in this country classic. Reba is definitely in that storyteller lane, and Grace picked up that ball and ran with it here. This is exactly what she needed to do at this stage to continue her unexpected push to possibly winning this whole thing.
("What You Won't Do for Love," Bobby Caldwell - 25 Birmingham, AL) We learned in the letter from his sister that D.Smooth actually got that name in junior high football, but it's just as appropriate for his vocals (so that worked out for him). This was everything we wanted from him, and what the R&B industry needs. Like rock, R&B has faded a bit from mainstream consciousness since the '90s, but someone like D.Smooth has all the tools to pull it back in front of audiences in such a major way. He's got a great vibe and energy as a performer and his voice goes down so easy, it's -- well, you know what it is.
("Million Reasons," Lady Gaga - 15/20/21, Lexington, OH) For the first time all season long, we heard some faltering from the sisters. And for the first time, Bella's voice actually sounded young, standing out among her sisters. She also missed a pretty key note toward the end, which cracked their usually flawless harmonies. That said, though, the majority of this was their usual stellar tightness. This time, though, we weren't as enamored with their solo portions, which we'll credit to the song choice. This one didn't lend itself to their incredible arrangements and creativity as much as what they usually offer.
("My, My, My," Johnny Gill - 25 Birmingham, AL) Kelly finally got her '90s jam out of D.Smooth, and wow did he look and sound right in his element from the silky first line. We also got a kick out of his backup singers dancing like they're part of an old-school R&B boy band like Gill's own New Edition or something. It was all very smart staging and presentation, but none of it would have mattered had he not delivered with an effortlessly (yes) Smooth vocal. We thought it started out great, but he was so in his pocket on this one, it sounded masterful by the end, like he was an R&B legend showing off the goods on an awards show stage.
("She's Got You," Patsy Cline - 19, Canton, MI) Talk about peaking at the right time, Grace was so polished and professional up on that stage, it was hard to remember at times that she's a contestant this season. Even more impressive, she took a song recorded all the way back in 1961 and made it sound melancholic and fresh as if it was first brought to the public today. There's a special kind of magic in song interpretation that can stay true to the original while feeling brand new and Grace was definitely channeling all of that tonight. This was her most seasoned performance yet.
("Cold," Chris Stapleton - 31, Hutto, TX) It's a tall order for anyone to take on a Chris Stapleton song because he hits hard with this incredible passion that's almost impossible to replicate. NOIVAS didn't try to do it the way Chris does, but he was able to replicate that same level of conviction. His voice is always on fire, but we've rarely seen it on such a stripped back production where the depth and grit he carries into each line shines through so effectively. This could have been his track the way he presented it here. NOIVAS has been a powerhouse frontrunner all season long and he continued his winning ways here, for sure.
("Nothing Compares 2 U," Family [as performed by Sinead O'Connor] - 19, Paxton, IL) Incredible staging and videography channeling Sinead's original video, Gina just had a moment with a capital "M" on "The Voice" stage. This is a song that is so vulnerable and so vocally driven, if you don't nail every single moment, it falls apart completely. She nailed all of it. We said before that the ache and cry is where Gina excels, and she leaned hard into it. It's no wonder production made this the last performance of the night, because it was a bona fide showstopper -- and easily her best performance!
Averaging out our scores from both rounds above, we land on a three-way tie for the top spot, with Gina Miles coming in just behind Grace West, D.Smooth and NOIVAS. The news wasn't so hot for Sorelle, who faltered a bit more than expected tonight overall, dropping their rankings with us.
That said, we have a feeling that it really comes down to which Blake artist is going to win because we don't see the voting audience letting him go out without one final win. It's a good thing his final two artists are actually incredible. Grace stepped up bigger than we've seen so far, while NOIVAS actually slipped a bit, thus creating this tie -- he had the season wrapped up, so far as we were concerned, before tonight.
D.Smooth has always been this wild card because he really is so smooth, but all other things being even, we think Blake being Grace and NOIVAS' Coach will be a tie-breaking difference. This show has always been as much -- if not more -- about the Coaches than their contestants.
We don't know if they'll go all the way to breaking it down from five to one, but just in case they do, we'll do it, too. And despite our rankings from tonight's performance finale, we'll try and take in their entire journey and how we think America will vote -- and probably still get it wrong.
5th - D.Smooth
4th - Sorelle
3rd - NOIVAS
2nd - Gina Miles
1st - Grace West
"The Voice" crowns its Season 23 winner Tuesday at 8 p.m. ET on NBC.