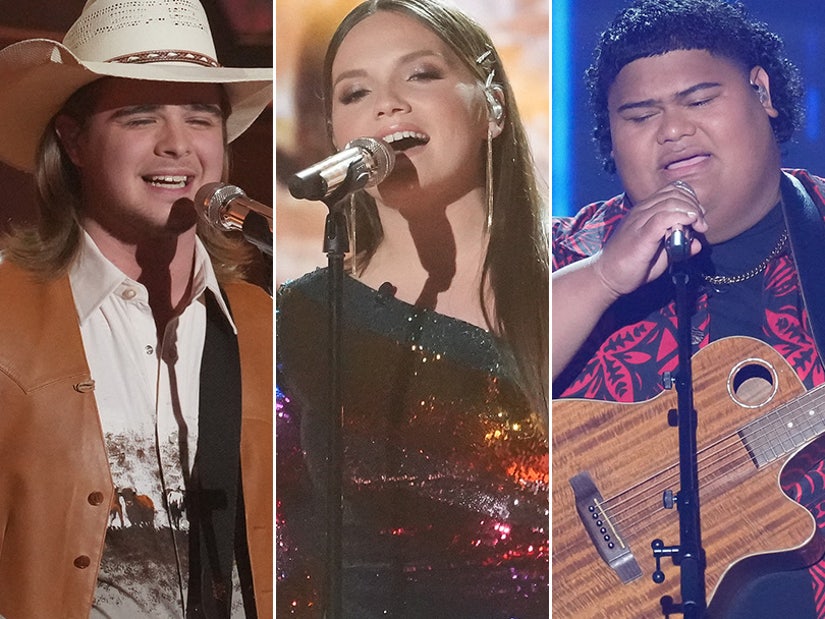 ABC
Colin Stough, Megan Danielle, and Iam Tongi give their all in three rounds of competition -- plus, superstar duets with Keith Urban, Lauren Daigle, James Blunt, Pitbull, TLC, Jazmine Sullivan, Lainey Wilson, Ellie Goulding, REO Speedwagon's Kevin Cronin, Jelly Roll, Kylie Minogue, Ruben Studdard and Clay Aiken.
We're not sure there has ever been a season so stacked with incredible talent as Season 21 of "American Idol." As it comes to a close, all three finalists could potentially win so many previous seasons of this show, but this year, there can be only one.
Iam Tongi has seemed almost inevitable since his audition video went viral, but his journey to this stage has not been without some strong competition. Both Colin Stough and Megan Danielle have the goodwill of the people, as well, and they've had these incredible journeys of growth in self-confidence and performance.
As always, it was a bloated three-hour production to get to the final announcement of the winner, but at least we got to enjoy three rounds of competition from our finalists, as well as duets as part of the night's star-studded extravaganza. The entire Top 21 got in on that fun, performing with some true legends.
Pitbull kicked off a show that included Keith Urban, Lauren Daigle, James Blunt, TLC, Jazmine Sullivan, Lainey Wilson, Ellie Goulding, REO Speedwagon's Kevin Cronin, Jelly Roll, Kylie Minogue, and a powerhouse duo by Season 2's Top 2, Ruben Studdard and Clay Aiken.
As for the contestants, we got to cry along as they all went back as hometown heroes to visit the people and places that made them who they are. They also performed tracks from Urban, who serves as this week's mentor. After the first two rounds, we learned who was in third place.
That meant the third-place finisher didn't get to perform the "Idol" single, released this past Friday, but we've still got it for you. The Top 2 performed their songs live and then the big moment came. Is Iam inevitable or was it a huge upset? There's only one way to find out.
Fair warning, since I'm safe at home, I'm probably going to be a little harsher than my colleagues Lionel Richie, Katy Perry and Luke Bryan. But I might be nicer, too. Maybe.
And just for fun, I'm going to rank the performances from worst to first to see who my favorites are in each round. That way I can see who's the best and then see if you get it right with your votes - i.e., agree with me.
Pitbull (w/ Top 12 Finalists)
("Jumpin," Pitbull f. Lil John/"Give Me Everything," Pitbull f. Ne-Yo, Afrojack & Nayer) It's always interesting to us when hip-hop artists jump on stage during the "American Idol" finale since the show tends not to favor rap. It is, after all, a singing competition. Nevertheless, Pitbull knows a lot about showmanship, charisma, and presence. He certainly knows how to bring the energy up, which is perfect for the guy given the opening spot. You could see that happening when the Top 12 joined him for the joyous backup singing on his second number, all of them with full smiles.
("No Scrubs/Creep/Waterfalls," TLC) Unexpectedly messy on the third track, it seemed like T-Boz and Lucy struggled a bit with the lyrics. Lucy harmonized well enough with the legendary duo, and clearly enjoyed herself up there, but this wasn't a showstopping performance like it could have been. Still, it was nice to see a Lucy having fun on the stage rather than the one who always had her game face and fight on.
Kevin Cronin (w/ Zachariah Smith)
("Take It on the Run," REO Speedwagon) We're not looking to knock a legend, but Zachariah is in the prime of his voice and he was on fire during this performance. It's interesting that he's so home on these classic rock tracks because there's really no one doing that kind of music anymore. We'd love to see fresh stadium anthems and a push to bring rock-and-roll back into the mainstream a bit. If Zachariah is given the chance, he's got the chops to do that -- and he's certainly got the stage presence, too!
Jelly Roll (w/ Lainey Wilson & Oliver Steele)
("Save Me," Jelly Roll w/ Lainey Wilson/"Need a Favor," Jelly Roll) Jelly Roll is an artist who sings from the heart and from his story, as does Lainey, so their duet was beautiful in that way. Oliver went toe to toe with the artist on the second track, showing a lot of strength and grace in his own voice. Jelly Roll was also a very generous partner to Oliver, giving him some of the track's biggest moments, and showing a real camaraderie. He's someone who knows about challenges in life and the grind toward finding himself (in music and life), so it seems he can relate to the hunger these contestants feel to fulfill their life's ambitions. It's very sweet to see.
("Padam Padam/Can't Get You Out of My Head," Kylie Minogue) An international icon bigger around the world even than she is in America, Nutsa reminds us a lot of Kylie throughout her career. She's got that same infectious upbeat energy and fearless performance style. Nutsa joined her for her second song and it was a perfect fit for her whole vibe as a burgeoning pop princess. Vocally, they were both fantastic, harmonizing and in their solo parts. While she's not for everyone's tastes, we wish nothing but great things for Nutsa in her future -- she's just so much fun!
Lionel Richie (w/ Top 12 Finalists)
("Sail On," Commodores) Lionel dipped deep into his own career to pull out this classic, which was a perfect way to look back at the season journey for the judges and the contestants. It's always a treat to get a performance from Lionel, and it was great to see the contestants sharing in the joy of performing alongside someone who's come to mean so much to them on their journey. And we don't care what people had to say about his coronation performance, Lionel sounded great here.
("Wild Hearts," Keith Urban) Keith delivered such a winning performance, he showered himself with confetti. In truth, he's such a consummate performer, he is performing at the top of his game, effortlessly and with real conviction. This was a command performance with great vocals and a lot of infectious energy. It's certainly fun to see the former judge gracing this stage again.
James Blunt (w/ Iam Tongi)
("Monsters," James Blunt) Just two men singing about their fathers with stunning effectiveness. It was just as palpable as it was the first time Iam endeared himself to America with his audition, quickly becoming the most viral audition of all time. Iam got overwhelmed by his emotions at one point and missed a line, but he's so beautifully connected all the time, it only made it more heartbreakingly sweet.
Ellie Goulding (w/ Tyson Venegas)
("Miracle," Calvin Harris f. Ellie Goulding/"Burn," Ellie Goulding) One of the early frontrunners, it was great seeing Tyson cut loose and have some fun on the stage. It was a bit of an unexpected pairing, but Tyson uptempo like this was very effective. He really does have one of those voices that can sound great on anything. He's so young, we really hope he finds a way into the industry because his gifts are incredible.
Lauren Daigle (w/ Megan Danielle)
("These Are the Days"/"Thank God I Do," Lauren Daigle) Nobody does inspirational empowerment as effectively as Lauren these days. She gets us all on our feet and believing in her message every time. It was so touching when she crashed Megan's audition singing "You Say," so it was even better to see them together again (and prepared to perform a duet this time. Side by side, both women have this amazing ability to connect, and it was amazing seeing them do that with the same line and with totally different vocal styles.
Luke Bryan (w/ Colin Stough)
("But I Got a Beer in My Hand," Luke Bryan/"Slow Hand," Conway Twitty) Of course, Luke got the party going with his new track, but he really impressed on what's become a multi-genre classic. In fact, we hate to say this about Colin, but Luke was shining a little brighter on this one. He had a very sweet tone in his delivery. Unfortunately for Colin, he didn't really have any breakout moments that really felt like we were seeing who he is as a performer and artist here.
Jazmine Sullivan (w/ Wé Ani)
("Bust Your Windows," Jazmine Sullivan) The contestant we would have put into these finals ahead of Colin (sorry not sorry!), Wé looked the part with that stunning train and her whole vibe. Vocally, she is always a revelation with so much power, grit and determination. A great pairing, they sounded incredible together -- which we fully expected. Like all three of our actual finalists, Wé really has something special and deserves a chance to get out there and make her mark in the real music industry. We'll be pulling for her!
Lainey Wilson (w/ Marybeth Byrd & Warren Peay)
("Heart Like a Truck," Lainey Wilson) We're still a little surprised Marybeth didn't get further in this competition as she's the most authentic female pure country singer we got this season. If anyone is going to rise from the middle of the final rankings (Marybeth was eliminated at Top 10), we could see Marybeth getting a shot … and we'd say the same for Warren Peay. He wasn't totally consistent this season, but as we saw on this song, when he's on the right track, he's transfixing. His voice is so beautifully broken and unique, filled with palpable conviction. This was a truly authentic country moment.
Katy Perry (w/ Haven Madison)
("Still Need You," Haven Madison/"By the Grace of God," Katy Perry) We feel like we're saying this a lot, but Haven is another young artist with a voice that deserves to be heard. Young female singer/songwriters are having a moment on the charts these days, as an underserved population for far too long, telling their authentic stories, and Haven is doing just that. The fact she got to perform one of her originals on this night (mashed with Katy's original) says a lot -- will anyone else pick up the conversation? Also, we'd totally buy this mashup as these songs came together into something really special.
Ruben Studdard & Clay Aiken
("The Impossible Dream (The Quest)," "Man of La Mancha") Two of "Idol's" favorite Top 2 finalists, and both deserving of the win in their season, Clay and Ruben have become good friends over the years, a kinship that was evident in this performance. While this was an unexpected song choice, wow did both men deliver with soaring vocals that left us breathless and a little choked up. Clay and Ruben are even hitting the road together for "Twenty: The Tour," hitting 50 stops!
Tonight's competition -- there really is one! -- takes place across three rounds. After the first two rounds, a "snapshot" of the live voting takes place, capturing where the votes are at that moment -- and a third-place finisher is declared. Then, the Top 2 conclude the night with one more round of singing and a final tally of the votes declaring your winner. And while we felt confident we knew who the winner would be (for months now), we still stand by this being the most talented Top 5 the show has ever seen (including Zachariah Smith and Wé Ani). Any one of them is deserving of the win -- and in many other seasons, any of them would have won.
("Stupid Boy," Keith Urban - 18, Amory, MS) With that gravel in his voice, Colin has the goods to really make an impactful performance … but this wasn't it. It felt like he was holding back for some reason and we weren't getting the fullness of his gift, or that storytelling ability he usually has to connect us to the lyrics. He still has this naturally beautiful tone, but this is a continuation of him seeming to coast a bit on past glories that carried him into this finale. On any other competition, that would be sweet, but head-to-head-to-head against these incredible competitors tonight, this wasn't it.
("God Whispered Your Name," Keith Urban - 21, Douglasville, GA) Megan is getting stronger on this journey and finally starting to believe in her own strength. She may yet emerge stronger after the break, to use Keith's metaphor. Her voice is such an incredible instrument for everyone who struggles with self-doubt (and isn't that just about everyone). The cry and break in her voice is her secret weapon; it's a sound unlike any other vocalists. Add to that her instinctive ability to pour so much heart into each note and how does she not have a real shot at a career after this?
("Making Memories of Us," Keith Urban - 18, Kahuku, HI) There was beauty in Iam's pain as he clearly connected memories of his father to "Making Memories of Us." Rather than be overwhelmed, though, it was this gorgeous tribute to the memory of the man who brought him music and the artist who brought so much joy to his father and his mother, and subsequently to him. Iam's voice is always so rich, with this incredible timbre that's so hard to define. It's like his whole voice can swallow you up. He sings with more depth than so many other artists, tapping a well of emotion within himself that he then shares with all of us.
ROUND 2: HOMETOWN SINGLES
Every single time, these hometown visits get us. There's something that never gets old in seeing these young innocents get to experience a hint of that superstar life, and feel the love of home on a scale like they've never imagined. It was definitely the waterworks again as Megan touched base with her late grandfather, even getting a bear made from his clothing.
When we first met Iam, he told us he was "priced out of paradise," having had to leave his hometown for the mainland, so it was especially touching that his old high school gave him an honorary diploma as he would have graduated from there this year had he not moved. Iam got to perform with Jack Johnson, while Colin was surprised by Lynyrd Skynyrd's Rickey Medlocke, who showed up as he was talking about his love of 'Simple Man" … before joining him on stage to perform it.
("Either Way," Chris Stapleton - 18, Amory, MS) A little marble-mouthed through the opening verse, but when Colin hit that chorus, he fell right into his sweet spot. Chris Stapleton is the perfect kind of cover for Colin to do because he has a similar grit and ability to connect emotionally when he puts his all into a performance. This was definitely more of it than the first round, but we still don't feel like he's giving us everything he has. He needs to work a little on projecting the softer side of his voice to match the beauty of his grit in the stronger, more melodic moments and he'll find the consistency he's been struggling with a bit.
("Cool Down," Kolohe Kai - 18, Kahuku, HI) Iam proved he doesn't always have to break our hearts with this uptempo Hawaiian vibe that definitely brought the island energy. He was full of an infectious joy that permeated outward, proving that when you have the ability to emote through your voice, you can spread any emotion you're channeling. This was such a fun choice, and as with every performance, he gives all of himself to it. We've seen hints of this side of Iam in past performances, but it was great seeing him lean all the way in to show us how diverse and fresh an artist he could be.
("Faithfully," Journey - 21, Douglasville, GA) Megan can take any song and run it through the natural filter of grit in her voice and we're left with something powerful and poignant. She took this rock anthem and stripped it back into something intimate and beautiful, a perfect tribute both to her hometown and to the faith that has carried her and sustained her throughout this journey. She has always been an effortless performer, but week by week, we can see her starting to believe in her own greatness -- when she finally does, she could well be unstoppable.
We've been thinking Colin should go the past couple of weeks, and we're still thinking he didn't quite rise to this occasion as well as his counterparts. And yet, we're still not feeling confidence that he will go. As we've reiterated in that same span, this is an incredible Top 3 and all of them are worthy of the win, so the margins are razor thin here. But tonight, Colin was on the wrong side of it.
He gave a little more in his hometown, but he's not been connecting as authentically to his performances tonight as either Iam or Megan. Our pick to go at this stage would be Colin, and then we'd be rooting for him to keep growing and finding himself because he really does have an amazing and unique tone to his voice -- and when he's on his game, he's incredible.
The first person sent into the final round of the competition was Iam Tongi, which was the no-brainer portion of this. He was joined by Megan Danielle, who had the sweetest surprised reaction, looking heartbroken for Colin Stough, who had to settle for third. But this was absolutely the right decision as he just hasn't been rising to the level of either of the Top 2.
Since he didn't make it to this final round, Colin didn't get to perform his original single, so we'll drop the video for "I Still Talk to Jesus" here so his fans can get a sense of what could have been -- and may yet still be. After all, we know plenty of artists who've not won this show have gone on to do amazing things, and country music is more supportive of these reality show contestants than most other formats.
Now, back to the competition.
("Dream Girl," Megan Danielle - 21, Douglasville, GA) This was a very appropriate track for this moment, encouraging other young women to dream big and fearlessly. It's also a great song to remind Megan of her own worthiness to own this moment and allow herself to fulfill her own dreams, even as she never internally believed she was good enough to make it this far. She's got that beautifully soulful cry in her voice that is so unmistakably hers, she could break hearts on the right song. We're not sure this song was right for her biggest strengths as a singer, or to overcome the swell of support behind Iam, but it might be enough for her to get a chance. When your opponent is a cultural movement, coming in second is almost like winning in the real world, right?
("I'll Be Seeing You," Iam Tongi - 18, Kahuku, HI) Unlike Megan's track, this song was perfect for Iam's powerful ability to emote a message. On top of that, it touched the hearts of anyone who knows his story about mourning his father. It's a beautifully written song performed in a way it's hard to imagine anyone else singing it as effectively or with as much connection. Iam is able to inject so much passion into every single note, we could feel that power he possesses in every single moment. Head to head and song to song in this round, it felt like Iam had everything going in his favor -- kind of like he has all season long.
Iam had an incredible night, breaking everyone's hearts alongside James Blunt and delivering consistently strong performances in each of the three rounds of competition. Megan is incredible in her own right, going toe to toe with Lauren Daigle and showing just how far she's come in self-confidence. On the night, this is definitely the right Top 2.
Unfortunately for Megan, we couldn't see an outcome that didn't see that rising swell of Iam support carrying him all the way to the confetti drop at the end of the season. It would have taken a force of nature to supplant his foreseen destiny almost from the first moment he sang "Monsters" in that first audition.
The crowd has been behind him in a way we've never seen before on "American Idol," and his audition video surpassing every other "Idol" audition is a testament to his impact on audiences. Not since Fantasia Barrino has it felt so inevitable that one contestant would run away with the whole season. Would that type of journey repeat itself, or was Iam (and America) in for a huge shock?
There's no stopping destiny, and one contestant has had it surging behind him for the entire run of this season. In the end, Iam Tongi getting crowned the Season 21 winner was as inevitable as ABC renewing the show for another season (which they did). It takes nothing away from Megan Danielle, who had an incredible run and deserves every bit as much success as Iam. We'll be rooting for both of them, and congratulate Iam on an unprecedented, and incredible run to the title.
He closed the show with a reprise of Spawnbreezie's "Don't Let Go" and it was just as beautiful this time around. His voice is so special, as is the sweetness in his heart. He's going to be a great ambassador for this show, and hopefully the industry will take a chance on him. We can't remember the last time a contestant rode this much momentum out of a finale -- it would seem foolish to ignore that!
Props to the judges and the contestants for an incredible Class of 2023. We feel confident in saying this is the most talented collective group of artists the show has ever pulled together. The question is, how can they possibly top it next year?
"American Idol" will return in 2023 for Season 22 on ABC -- unless the ongoing WGA strike pushes the network to pull the show into the fall or early winter.