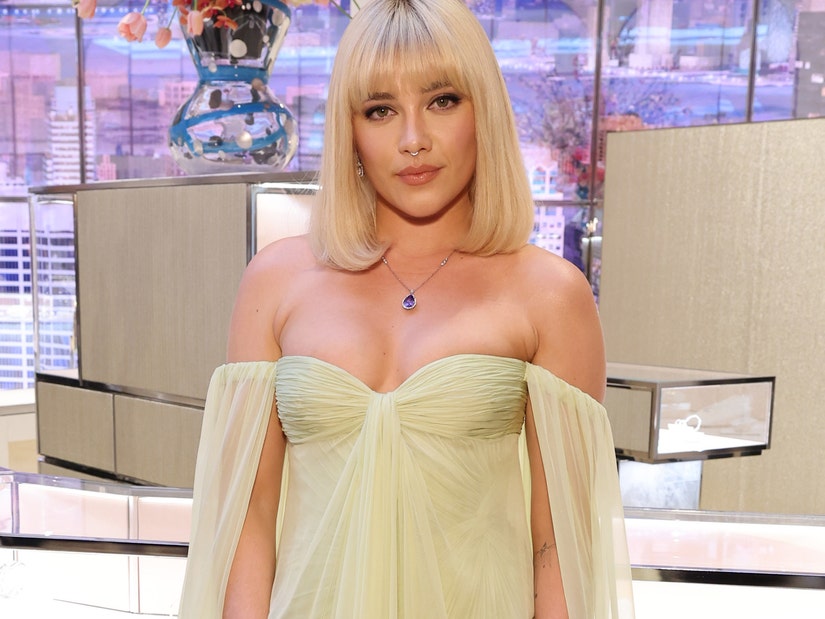 Getty
The Oscar nominee also revealed why she and Timothée Chalamet had to be separated on the set of "Dune: Part Two," and spoke about being told to lose weight early in her career.
In a new wide-ranging interview with Time Magazine for its 2023 Next Generation Leaders issue, the actress explained how playing a wrestler in "Fighting with My Family" further confirmed her decision not to change her body, despite the pressures she faced when she first got to Hollywood.
Pugh previously shared that she was asked to alter her appearance when she was cast in an (ultimately failed) pilot when she was 19. As Time noted, she went on to star in "Lady Macbeth," and returned to Los Angeles to star in the 2019 sports drama, "Fighting with My Family."
"The person I came back to was a female wrestler with muscles and big thighs who made her own name as a champion," the Oscar nominee told Time. "I quite liked that because the last time I'd been there I was told I needed to lose weight -- it was just so not the person I wanted to be."
Pugh has starred in several indie projects, including Ari Aster's "Midsommar" and Greta Gerwig's "Little Women." However, she's also appeared in the Marvel Cinematic Universe, making her debut as Yelena Belova in 2021's "Black Widow." Pugh reprised her role in the Disney+ series, "Hawkeye," and will star in the upcoming Marvel film, "Thunderbolts."
But according to the 27-year-old, "many people" weren't happy with her joining the MCU, to begin with.
"So many people in the indie film world were really pissed off at me. They were like, 'Great, now she's gone forever,'" Pugh told Time. "And I'm like, no, I'm working as hard as I used to work. I've always done back-to-back movies. It's just people are watching them now. You just have to be a bit more organized with your schedule."
Waiting for your permission to load the Instagram Media.
Meanwhile, the infamous "Don't Worry Darling" drama was also mentioned in the interview. However, Pugh didn't address it -- at least not directly.
When Time asked if she's ever been shooting a film, and realized it "was simply falling apart," Pugh said, "Definitely. A whole film set, it's everybody making a huge effort because they want to be there. And if someone doesn't want to be there or if someone isn't pulling their weight, you can feel it. The film feels wrong.'"
Pugh will be seen in not one, but two huge films this year: Christopher Nolan's "Oppenheimer" and Denis Villeneuve's "Dune: Part Two," which hit theaters in July and November, respectively.
For the latter, she reunited with her "Little Women" co-star, Timothée Chalamet, with Time noting that Pugh revealed the two had to be separated because they were "having too much fun."
Read more from Pugh's Time interview, here.