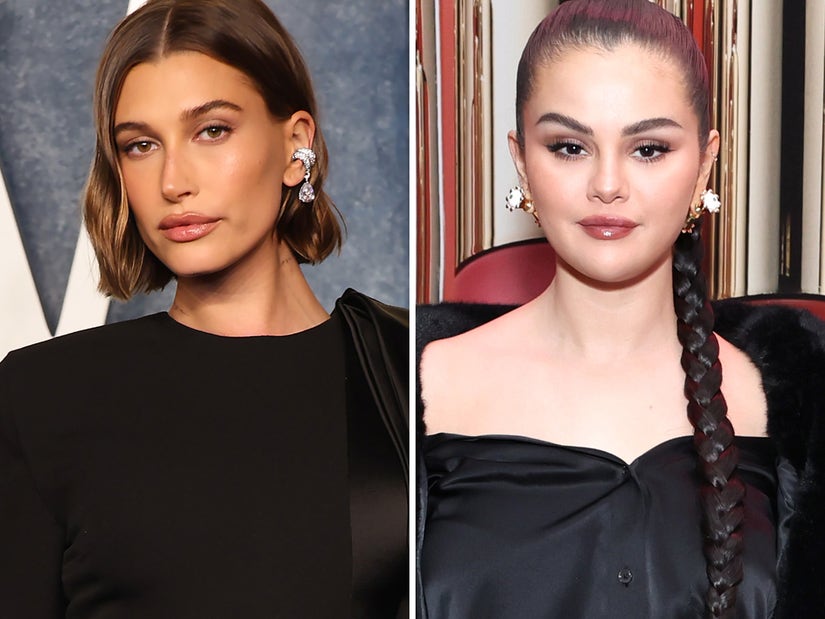 Getty
Selena Gomez and Hailey Bieber do not have beef -- but their fans seem to have nothing but beef with one another on behalf of (and totally unwanted by) both women -- so Hailey is once again telling her followers to leave Selena alone!
Most celebrities welcome fans and enjoy good relationships with them. But something happened with the fan bases surrounding Selena Gomez and Hailey Bieber where a certain segment of them have become toxic supporters -- and the women don't like it or want it!
It's one thing to speak up for someone you are in support of, but it's important to make sure you're saying what they believe or would want to say. That's where the unfortunate disconnect is happening on both sides. And it all stems back to Selena's tumultuous relationship with Justin Bieber.
Four years after Justin and Hailey married, some fans can't get over the fact that sometimes people move on from one another and grow. Selenators have attacked Beliebers and vice-versa, with Hailey taking a lot of heat from the moment she and Justin started dating.
Inevitably, a backlash developed, with Hailey's followers jumping to her defense with an unhealthy offensive attack against Selena. Meanwhile, both women still follow one another, like each other's posts and have even taken pictures together to try and tell everyone they're okay and just get over it ... please!
Alas, the subtle approach doesn't always work, so Hailey went with a far more direct one -- even though she didn't quite name names -- after a fresh onslaught of hateful comments hit Selena's latest Instagram post from the weekend.
Waiting for your permission to load the Instagram Media.
Mind you, Hailey liked the post -- see, everything is cool here -- but that didn't stop her so-called supporters from laying into the "Lose You to Love Me" singer, calling Selena "jealous" and even saying she's "copying" Hailey's style. And those are the nicer comments.
It erupted into an all-out fan war in the comment section, with Selena's fans giving as nasty as she was getting, all of which has nothing to do with Selena's post or anything going on in the reality of either women.
At this point, it's the fans who are fixated, and Hailey is so over them not getting over it!
"If you're leaving mean or rude comments on my behalf on anyone's posts just know that I don't want that, nor do I ever or will I ever support or condone hateful, mean, or nasty comments," she posted to her Instagram Stories Monday night.
"Doing that is not supporting me," she continued. "If you are participating in that you are a part of a culture that I want no part of. Please be nice or don't say anything."
Of course, this led to an onslaught of nasty comments in Hailey's own posts, but at least both women are trying to stay above the fray.
They tried to quell their fans back in March, as well, even working together to try to convince them to calm down. This was after Hailey shared with Selena that she's started receiving death threats among all the normal negativity and bashing.
"This isn't what I stand for. No one should have to experience hate or bullying," she wrote to her own IG Stories at the time. "I've always advocated for kindness and really want this all to stop."
Hailey weighed in then, too, thanking Selena for speaking out and telling their fans they've been "discussing the last few weeks how to move past this ongoing narrative" between them.
"The last few weeks have been very hard for everyone involved and millions of people are seeing so much hate around this which is extremely harmful," she continued, saying moments like this on social media "only create extreme division instead of bringing people together."
"Things can always be taken out of context or construed differently than they were intended," she said, before adding that everyone -- including herself -- needs "to be more thoughtful about what we post and what we say."
It's just a shame that fans who purport to love and support these women seem to be missing their messages over and over and over again.