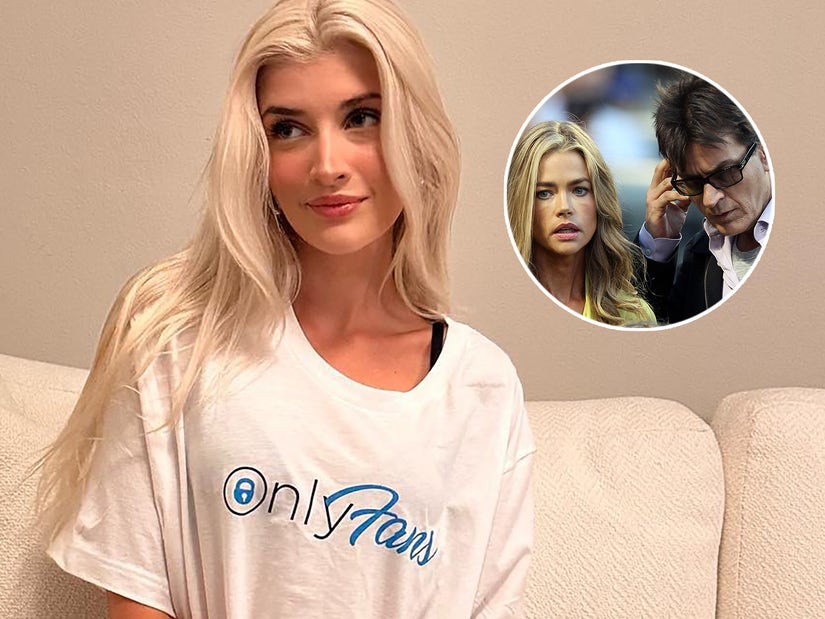 Instagram/Getty
The daughter of Charlie Sheen and Denise Richards, Sami Sheen jumps on TikTok to better explain what she meant when she referred to herself as a "sex worker, after it led to some online confusion as to what exactly she does to make money.
Sami Sheen is a "sex worker," but not a "sex worker" like that ... if that makes any sense. if it doesn't, that's why the daughter of Charlie Sheen and Denise RIchards jumped on her TIkTok to set the record straight.
Fans got confused after Sami posted a video to the platform last week referring to herself that way. She said, "I'm sure most of you know what I do for a living, but if you don't, I'm a sex worker."
She then proceed to get ready, noting, "I already shaved my entire body and put some lotion on. I'm starting laser hair removal soon, so that's going to be a huge game-changer."
Some fans struggled to connect all these pieces and come up with a clear picture of what she did, leading to all kinds of speculation. After all, there are a lot of different ways that descriptor can be interpreted and activities for which it applies.
Shortly after turning 18, Sami shared publicly that she'd started an OnlyFans account. As it's now exactly one year later, some fans wondered if perhaps she had expanded her enterprise ... until finally Sami couldn't take it anymore, jumping back on the platform.
"Okay, I need to clear some things up," she said, looking far more serious than in her previous video. "I am not a p-star. And I don't meet up with people. I don't film myself having sex. I don't do that, but I also have no judgement towards the people do do that. That is just not my line of work and that is not something I'm comfortable with doing."
She then explained that the only reason she described herself as a "sex worker" in the first place is because "my main source of income is from my OF."
"if people did their f---ing research, they would realize that there are multiple forms of s-work," she continued. "I've been doing OF for almost a full year now and I love my job." She went on to question why people are so judgmental about what she's choosing to do for money at this time in her life.
On Wednesday, Sami celebrated her one-year anniversary on the platform with a series of photors where she's seemingly wearing nothing bout a white t-shirt emblazoned with the OnlyFans logo. "Cheers to 1 year with OnlyFans," she captioned it. "I'm so beyond grateful for my subs thank u for always chatting with me."
Waiting for your permission to load the Instagram Media.
Shortly after Sami created her OnlyFans page, dad Charlie told Us Weekly, "I do not condone this but since I'm unable to prevent it, I urged her to keep it classy, creative and not sacrifice her integrity." He was referring there to the fact that Sami was living with her mother.
Following Charlie's statement, Denise released one of her own to Page Six, saying that Sami's decision "wasn't based on whose house she lives in." Denise added, "All I can do as a parent is guide her and trust her judgment, but she makes her own choices."
The following week, Denise doubled down on the support of her daughter with a lengthy post praising Sami for her "confidence" and "ability to be able to shut out" the negativity."
She also noted that she doesn't feel she is in any place to judge what Sami is doing. "I did Wild Things & Playboy," she said. "Quite frankly her father shouldn't be either."
Denise went on to share that she "recently" educated herself about OnlyFans, and suggested that posting bikini photos on the internet subscription service isn't so different from sharing the images on other social media platforms.
"The judgement [sic] because women & men of the adult film industry are on there. I imagine they're on Instagram & Twitter as well," she wrote. "Is there really a difference posting a picture of [y]ourself in a bikini on IG? We've all done it. Because you get paid on Only Fans? I'm pretty sure IG & Twitter & Facebook do quite well off of all of us. Is it so bad to control it & monetize it too?"
It was shortly after this statement that Denise launched her own OnlyFans page.