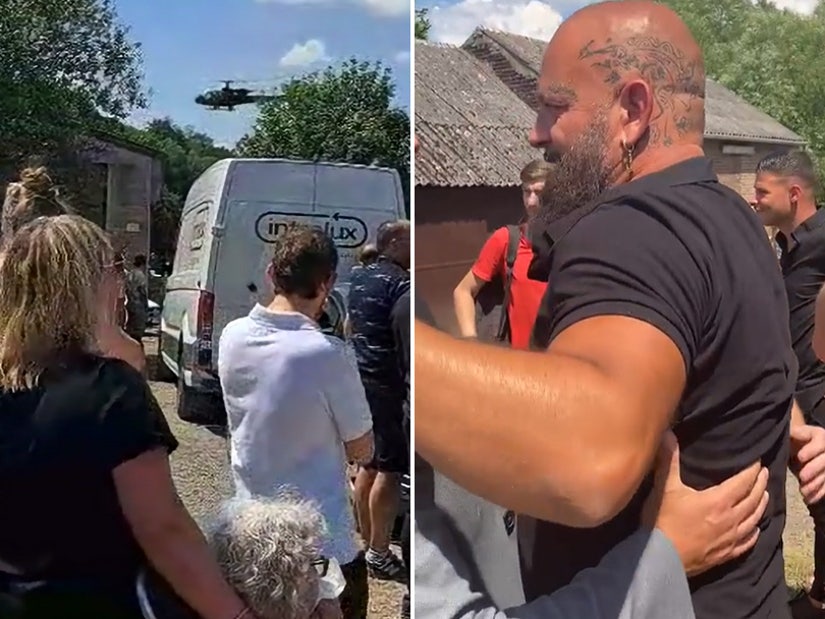 TikTok
A man in Belgium decided to teach his family a lesson about staying in touch by faking his own death and then filming himself as he crashed his own funeral with a dramatic helicopter arrival, triggering a social media backlash.
Social media influencers have done a lot of crazy things for clicks and views, but how many can say they faked their own death? One man in Belgium did just that, saying it was to teach his family a lesson.
The TikToker, 45-year-old David Baerten, roped his immediate family into his "social experiment," which helped him to sell the ruse. He admitted in an interview with French chat show Touche Pas a Mon Poste, per indy100, that he didn't immediately tell his children about the prank.
"Rest in peace, Daddy. I will never stop thinking about you," one daughter wrote, reportedly believing he was dead. "Why is life so unfair? Why you? You were going to be a grandfather, and you still had your whole life ahead of you. I love you! We love you! We will never forget you."
He said that his film crew said they wouldn't film the stunt unless he told his children and sister the truth about what he was doing. Baerten said he himself penned an emotional dedication to himself ahead of his memorial.
According to the 45-year-old man, he wanted to teach his family a lesson about staying in touch, as he felt he'd been getting left out of extended family get-togethers. "I never get invited to anything. Nobody sees me," he explained to The Times UK. "We all grew apart. I felt unappreciated."
"That's why I wanted to give them a life lesson, and show them that you shouldn't wait until someone is dead to meet up with them," he continued.
Baerten waited until mourners had gathered for the service before he made a dramatic entrance -- with his film crew -- by helicopter. "Cheers to you all," he said upon landing. "Welcome to my funeral."
According to a fellow TIkToker, Thomas Faut, Baerten was rushed when he landed, receiving hugs and a lot of emotions. One friend shared video of Baerten being embraced by several people. Clearly not upset, the video was captioned, "You got us. I swear to you, I was in tears."
Baerten said that "only half" of his family showed up for the actual funeral. "That proves who really cares about me," he said.
Ultimately, despite some calling it a tasteless and cruel prank, Baerten initially felt it was a success. "Those who didn't come, did contact me to meet up," he noted. "So in a way, I did win."
At the same time, he admitted on Touche Pas a Mon Poste that he felt some immediate regret, too. "As soon as I started receiving messages from people and videos of them crying, I wished I could cancel the whole thing, but it was too late," he said. "I asked myself, '[Why] have you done this?' but it was too late."
After a tremendous backlash on social media for the stunt, Baerten subsequently apologized for his "monstrous" actions, according to 7 News Australia. "I owe every one of you a huge apology," he said. "I've [made] family members ... do incomprehensible thinks like lying. I lost a lot of friends and family that meant a lot to me."