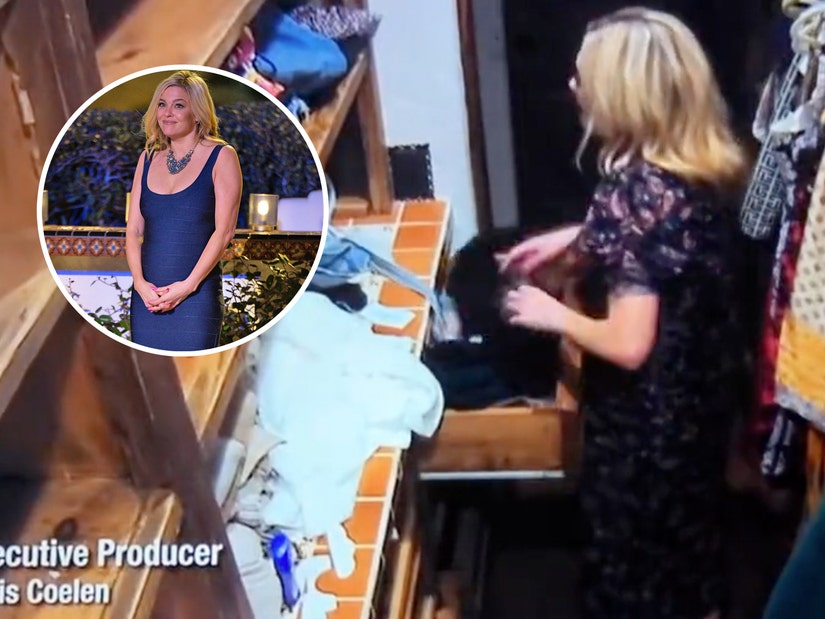 ABC
"I think I overreacted a little bit," she said after the TV breakdown, which came after a clue about Forrest Gump put a massive target on her back.
Tom Hanks may be known as the nicest guy in Hollywood, but his niece had a really hard time controlling her temper when she got booted from the Season 2 premiere of ABC's Claim to Fame.
Hosted by Kevin and Frankie Jonas, the show follows a group of celebrity relatives who share a home and eliminate each other one by one by attempting to correctly guess to whom they're related. On Monday's premiere, it was Carly Reeves, Tom Hanks' niece, who got the boot.
For Reeves, the dead giveaway was a green bench on a "clue wall" inside the home, something most of her costars immediately clocked as being the same one from Forrest Gump. Throughout the hour, she attempted to deflect attention away from the movie, in which Hanks of course starred, before throwing costar Gary Sinise's name into the mix too. But when her deflections also became a little too obvious to some of her fellow housemates, she was identified and eliminated.
After being correctly IDed by contestant Hugo, Carly broke into tears, saying she was "just a little shocked" he chose her. "I was not expecting this at all. I helped you Hugo, I frickin' helped you!" she exclaimed. "If any of them are right, I swear, I hope you go home because of that. But he was smart, he played smart, so I give him credit."
She then walked inside the home to pack up her things, letting out a bloodcurdling scream everyone else could clearly hear outside. She then started going off, slamming the show for giving the contestants what she saw as too obvious a clue about her identity.
"These frickin' clues are so frickin' obvious. Frickin' bench?! It's the frickin' poster of frickin' Forrest Gump, are you kidding me?" she shouted. "Why a bench? Why a bench?! There's literally no benches in any other movie. Even Gabriel found that out, he's not even smart."
"I didn't even get to do any challenges! I don't deserve this," she continued, as the other contestants reacted with shocked faces outside. "I should have more camera time, I should be here longer! No one expected that, no one!"
Speaking with Entertainment Weekly after the show, she reiterated her belief the bench clue was "just too obvious." She added, "It was upsetting, and it was, like, dead center in the fricking middle of the board."
She admitted that she "overreacted a little bit" after getting eliminated, adding, "but I'm an emotional, very dramatic person."
"I was really angry that I didn't get a chance to play as long as some of other contestants. I mean, there was no one to be angry at. I was just angry in general at myself, and at the fact that I was going home," she added. "And then that turned to complete despair and sadness. I even say, like, 'I should get more camera time!' That's just so silly of me to say. But I also was just saying things out of my mouth."
She added that her famous uncle is very aware she was eliminated first.
"Yeah, I told him that. I said, 'Guess what your clue was?' And he goes, 'What?' I said, 'A bench!' He was like, 'Ahhhh,'" she shared. "At first, he didn't understand the game and then I was like, 'It's clues from your movies.' And then he said, 'Oh, okay. Got it. Got it.'"
Though she at first said she hopes he'll watch the episode, she added, "maybe I don't want him to watch it because I don't want to embarrass him for any reason."
She continued: "I hope I don't embarrass him, but I don't think I do ... He's happy for me no matter what. He did ask me, 'Did you make some money?' And I was like, 'Yeah, I made a little bit.' And he said, 'Ok, good.' So, he was happy that I made a little money."
Claim to Fame airs Mondays on ABC.