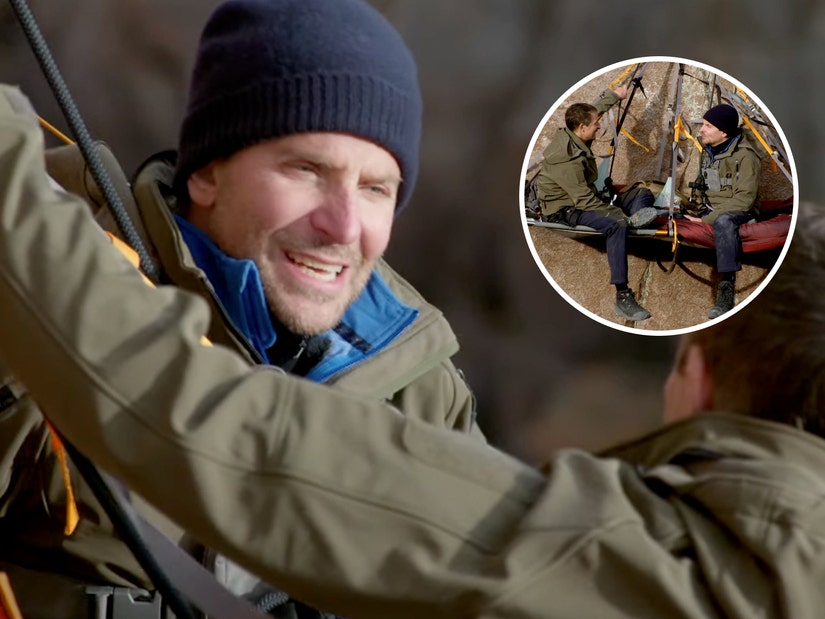 National Geographic
"You learn from your predecessor's mistakes and I'll make tons that hopefully Lea will learn from," said Cooper to host Bear Grylls while discussing fatherhood
Bradley Cooper is opening up about the death of his father and how he views his own role as a father to six-year-old Lea, who he had with ex-girlfriend Irina Shayk.
Cooper is joining Bear Grylls on an upcoming episode of Running Wild with Bear Grylls: The Challenge, and-- while on the side of a canyon in Wyoming-- the two chatted about the death of his father, who passed away in 2011 after a battle with lung cancer.
"Yeah, I wish my dad was around to enjoy more of it, but we all recognize how lucky we've been," said Cooper, 48.
"Yeah, that's a hard thing, isn't it?" said Grylls.
"It was a blessing though," added Cooper. "He gave me a huge gift. He died in my arms. To see that kind of factual example of mortality."
"Did that change how you look at things?" responded Grylls.
"Oh yeah, some ways for the worst," responded Cooper. "I definitely had a nihilistic attitude after, for a little bit. Just like, wow I'm gonna die."
"It was not great for a little bit until I realized I had to just embrace who I actually am and try to find peace with that," continued the A Star is Born actor. "And then it sorta evened out."
Grylls continued to ask Cooper about how this has changed his own approach to fatherhood since he's "had that whole journey" with his dad.
"I mean you learn from your predecessor's mistakes and I'll make tons that hopefully Lea will learn from and then being rigorous with myself to grow," shared Cooper. "To help unburden her with any of my bulls---."
While Cooper and ex-Shayk split in 2019 they clearly have remained very close as they co-parent their 6-year-old daughter, Lea De Seine. The former couple, who began dating in 2015, still take family vacations and appear to have no issues running in the same social circles.
Watch the full preview below: