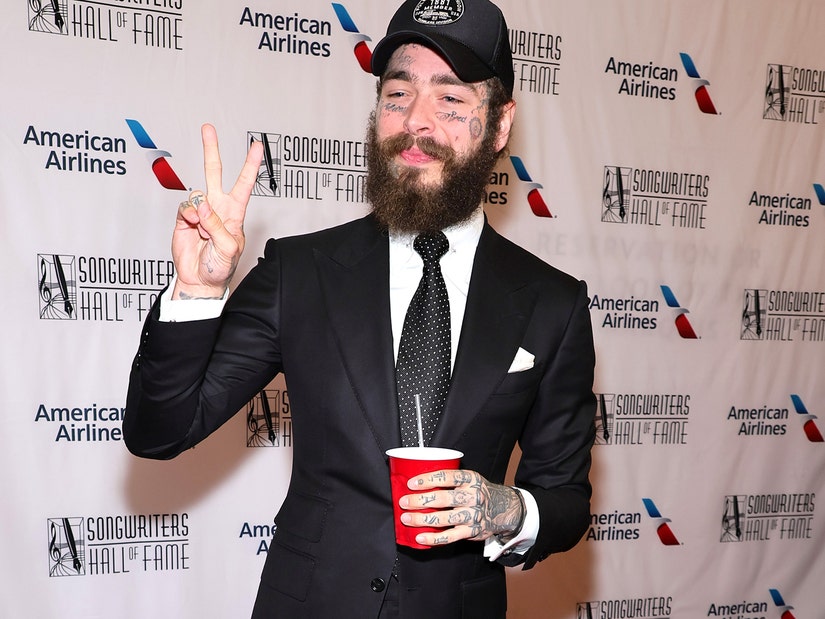 Getty
Though the rapper noted he still does "rage" from time to time, he does things very differently now.
Post Malone is opening up about how fatherhood has changed his partying habits, as well as how some of his past drug use has affected his memory.
While talking with Zane Lowe for Apple Music, the rapper opened up about how welcoming a daughter in 2022 has shifted some things for him -- including his priorities.
"Having a baby really put a lot into perspective, and it's really slowed me down a lot, party-wise, going out and being crazy," said Malone, 28. "I just want to take some time now. And actually you mentioned all the accouterments of success and everything that comes with that. Now I just want to take a second and enjoy it."
"I really love hanging out with my baby, hanging out with the lady, playing video games in my garage working on projects," continued the rapper. "That's what I love to do. So it hasn't been that hard."
Post added that he still goes to "rage" sometimes, but "the difference is I don't rage in social settings. It's usually me and a buddy and we just stay up super late until the sunrise and were just drinking and sitting out on the car and hanging out listening to music. Removing the social aspect of it."
"I used to go nuts but and this is significantly better," noted the rapper.
Post also noted how his drug use has changed in recent years.
"I like shrooms. Not as much as I used to. It's really affected my short-term memory," revealed the rapper. "Maybe it was just a stint of habitual overuse. Daily. But now I take a little bar of chocolate with my buddies, a little square chocolate and just laugh and laugh and laugh."
He also added that he appreciates how many have started to turn to shrooms instead of pharmaceuticals.
"I was talking to a ranger buddy of mine," he continued. "He was a ranger and he was saying they're giving it to guys for PTSD and stuff. And I was like, oh that's cool because a lot of the times, a lot of pharmaceuticals, they have negative reactions often. And it's cool to see that they're giving them this medicine and it's actually working. He was saying his buddy was going through it and it really helped him a lot. I don't know. It's interesting because it's improved. It has improved my view on things."
In February, Post addressed speculation that drug use was the cause of his recent weight loss on Instagram.
"i wanted to say that i'm not doing drugs, i've had a lot of people ask me about my weight loss and i'd suppose, performance on stage," said Malone. "i'm having a lot of fun performing, and have never felt healthier."
"i guess dad life kicked in and i decided to kick soda, and start eating better so i can be around for a long time for this little angel," he added at the time.