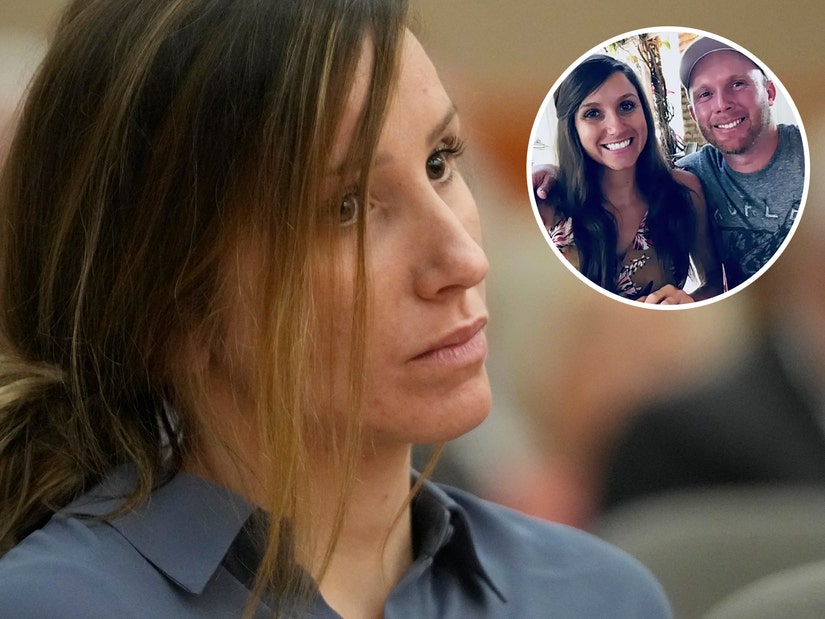 AP/Facebook
Prosecutors now say Richins, who is accused of fatally poisoning her husband, has concocted a series of lies linking her husband's death to him "getting drugs & pills from Mexico."
According to a court filing from last week, via Fox 13 Now, deputies found a handwritten, six-page note from Richins to her mother Lisa, filled with instructions on how her mom should get her brother Ronald to testify on her behalf. She hoped his testimony would throw suspicion onto her late husband himself, accusing him of going to Mexico to get drugs before his death, according to prosecutors.
The letter reportedly began with the words "Walk The Dog!!" at the top in large letters, though the rest of the note had nothing to do with any canines. Instead, according to prosecutors, she claimed her attorney Skye Lozaro "wants to link Eric getting drugs & pills from Mexico," telling her mom, "So we need some kind of connection."
"Here is what I'm thinking but you have to talk to Ronney. He would probably have to testify to this, but its super short not a lot to it. He will need to tell Skye at the meeting next week," she reportedly wrote, before detailing what she allegedly wanted her brother to tell her attorney.
"A year prior to Eric's death, Ronney was over watching football one Sunday and Eric and Ronney were chatting about Eric's Mexico trips. Eric told Ronney he gets pain pills & fentanyl from Mexico from the workers at the ranch."
She allegedly wanted Ronney to say Eric told him not to tell her about the drugs "because I would get mad because I always said he just gets high every night and won't help take care of the kids (there are pictures in my phone of Eric passed out on the floor or chair. Ronney should have texts from Eric talking about getting high as well."
She went on to allegedly say she wanted her brother to testify Eric told him he hid his drugs in an allergy pill bottle in his work truck so nobody would find them, before claiming Eric would hide his drugs in Kouri's bag anytime they traveled together "that way if they were caught, Kouri got in trouble, not him." She also wanted Ronney to say his sister "has never done any type of pills, doesn't like them," per prosecutors.
"*Reword this however he needs to, to make the point. Just include it all*" the letter allegedly read. "The connection has to be made with Mexico and drugs. Ronney will have the messages to prove Eric confided in him about getting high. It can be short and to the point, but has to be done."
Kouri also reportedly wrote about her fears that her mom's phone and home were bugged, asking her mother to meet with Ronney in person. "Tell him I need him to do this. Bring me home and then we will get those damn bitches!" she exclaimed, prosecutors claim.
Per Daily Beast, Kouri also allegedly gave instructions on what some in her inner circle apparently being interviewed by Good Morning America should say about her husband.
She is alleged to have instructed her mom to tell one person to say Eric "would brag to her about how much he drank and did pills in high school," as well as the allegation about him putting drugs in Kouri's suitcase before trips. Kouri is also said to have instructed someone to say her late husband's sisters were "jealous of me because anything they could do, Kouri could do better."
"Everything she had, they wanted," she allegedly wanted someone to say on GMA. "This comes down to jealousy, money, and Eric's partying that they don't want to acknowledge and sadly an accidental overdose."
Lastly, it is claimed she asked her mom to buy her a box of Crest White Strips that her lawyer could slip them to her during a visit. "I'll make sure they can't be found in my cell," she wrote.
In the filing Friday, the State went on to say that during another video conference with her mom, Richins held up a different letter for her mother to read -- adding they believe it was flushed or destroyed. They also requested Richins have no further contact with her mother or brother, believing the letters are examples of witness tampering.
Richins' attorney, however, said the state violated a gag order around the case by filing the letter, believing it could taint the jury pool.
Paramedics responded to the home of Eric and Kouri Richins on March 4, 2022 after getting a call about an unresponsive male. EMS attempted to revive Eric, but he was pronounced dead at the scene. Kouri was later arrested and accused of killing her husband after allegedly procuring a fatal amount of fentanyl from an acquaintance.
In interviews with police, Kouri reportedly claimed that while celebrating the closing on a new home, she made her husband a Moscow Mule, which he drank in bed. She said that she then went to sleep with one of the couple's children due to them having a "night terror," returned to the bedroom she shared with Eric around 3:00am and found him "cold to the touch." She then called emergency services, but Eric could not be revived.
An autopsy then confirmed Eric died from a fentanyl overdose -- with the medical examiner saying the levels in his system were "five times the lethal dosage."
This led to a search warrant of the couple's home, including computers and phones. On her cell, authorities reportedly found communications between Kouri and an "acquaintance" with a background in drug possession in which she first asked about obtaining "prescription pain medication for an investor who had a back injury." According to the docs, after he procured some hydrocodone for Kouri from a dealer, she followed up with them two weeks later asking for "some of the Michael Jackson stuff" -- and requested fentanyl. She allegedly dropped $900 for 15-30 pills on February 11, 2022.
On February 14, Valentine's Day, Eric then allegedly "became very ill" after a dinner with his wife. At the time, he reportedly "believed that he had been poisoned" and even "told a friend that he thought his wife was trying to poison him." Kouri is then said to have reached out for even more fentanyl pills on February 26, 2022 ... before Eric was found dead of an overdose six days later.
In the months leading up to her arrest, Kouri had been busy promoting her children's book, "Are You with Me?", which came out on March 6, 2023 and -- according to the Amazon listing -- "gently guides children through the difficult experience of losing a loved one."
The Amazon listing has since been removed.