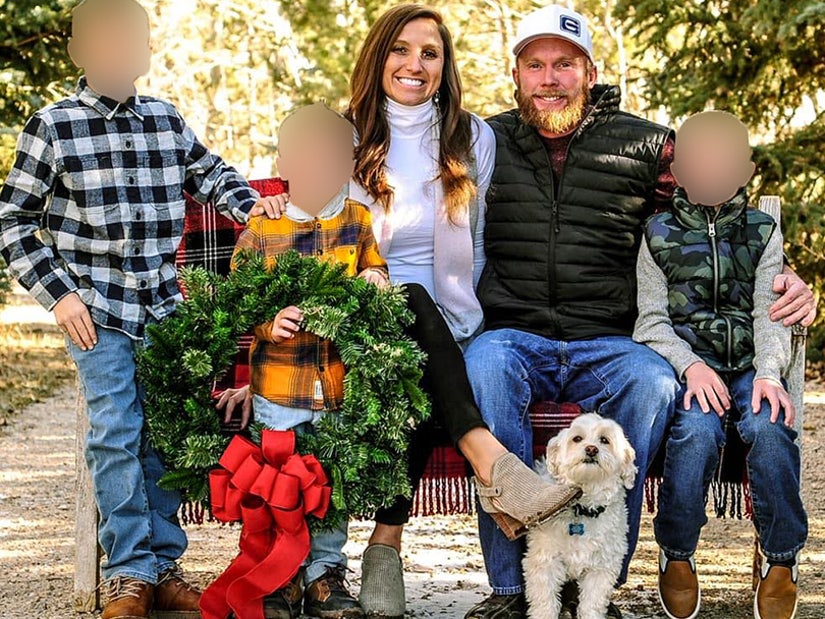 Facebook
An attorney for the victim's family says he was "worth more" to his wife "dead than divorced" -- adding, "This is one of those stories where truth is stranger than fiction."
The husband of the author who allegedly killed him and then wrote a children's book about grief was worried that she might do just that, according to the family lawyer. He also suspected her of cheating on him, but stayed for their three young children.
According to the family attorney and spokesperson Greg Skordas, Eric Richins worried that his wife Kouri might "kill him for the money," and even left written instructions for his family to look into her if anything were to happen to him, per The Daily Mail.
Despite "rumors that Kouri maintained a relationship with somebody else for pretty much the duration of their marriage," Skordas said it never went beyond hearsay and "it wasn't something the family ever discussed with Eric."
When asked why he stayed, Skordas said, "there are three reasons Eric stayed: one is 10 years old, one is nine, and the third is six. He lived for his boys and unfortunately he died for them, too."
In his obituary, Eric was remembered as "a family man, who always strove to be the absolute best father and husband." It added, "He was an attentive and loving father to his three sons Carter (9), Ashton (7), and Weston (5), and a devoted husband to the love of his life, and wife of nine years, Kouri (Darden) Richins"
He was so devoted to his children, "he was a soccer coach, a baseball coach, basketball coach and avid outdoorsman with his boys." Skordas also said that Eric "donated all his pay from coaching to kids who could not afford some of the things his own boy had."
Nevertheless, Skordas said that shortly before his tragic death, Eric had actually begun to consider divorce for the first time. "It was something he and Kouri had both discussed. They had argued over financial issues and both appeared to be a little more realistic about that prospect," said Skordas. "The sad truth is Eric was worth more to Kouri dead than divorced."
According to the search warrant documents, there was also a real estate deal hanging at the time of Eric's death, with Kouri -- a realtor -- determined to flip a 20,000-square-foot unfinished home that was going to cost $2 million. Eric was reportedly against the deal, per KPCW.
They had the property under contract at the time of his death, but his family says he was planning to tell them they weren't going to go through with it. Kouri closed on the house the day after his death. Two weeks later she put it back on the market for $4.8 million. It's currently under contract with an asking price of $3.75 million.
Kouri was arrested this past Monday for his death a little over a year ago. A search warrant filed in connection to that arrest included the statement that Eric told his family "if anything happened to him, she was to blame."
He purportedly told members of his family to make sure and "check Kouri out" because he "didn't want her to get away with anything." It was so serious for Eric that he included instructions in his Living Trust and Estate on what to do if he disappeared or was "detained under duress."
"I will be considered incapacitated if I have an unexplained disappearance or absence for more than 30 days, or if I am detained under duress. My disappearance, absence, or detention under duress may be established by an affidavit of my Trustee," he wrote in the Trust. He listed his sister Katie Richins-Benson as his trustee, not Kouri.
He instructed his trust to limit Kouri's access to his $3.6 million estate and look into the "legitimacy" of any of her requests for money, offering only "discretionary distributions." His intention was to "preserve as much of the trust assets as possible" for his children.
Kouri reportedly only learned she had been cut out of the will after his death, on the same day she closed on that house. She later sued for control of the estate.
The records also indicate that Eric believed his wife had previously tried to kill him multiple times, including a trip to Greece a few years ago. "After his wife gave him a drink, he became violently ill and called his sister saying he believed his wife had tried to kill him," the records state.
Now that Kouri has been charged with Eric's murder, Skordas said it's a "bittersweet" experience for the family after enduring months of "hell." "They are hopeful justice will be served but, in some ways, now they have to live Eric's death all over again," the attorney said. "As more information comes out realizing how that happened is painful."
Skordas said that Eric and Kouri's children will "in all likelihood lose both their parents," but added that "they are together and being looked after by a family member. Eric had a close and extended family who will raise those boys with as much love as if he had been alive to do it."
"This is one of those stories where truth is stranger than fiction," Skordas added. "The fact that she went on to write a book about overcoming grief is just unbelievable."
In the months leading up to her arrest, Kouri had been busy promoting her children's book, "Are You with Me?", which came out on March 6, 2023 and -- according to the Amazon listing -- "gently guides children through the difficult experience of losing a loved one." In a post about the book Kouri herself shared on Facebook, she wrote, "I lost my husband unexpectedly last year and we have 3 amazing young boys! As I was trying to find books for my kids that would help comfort them at nights, I really couldn't find anything! So I wrote my own."
Just days before she was arrested, she also shared a video to Facebook of the couple and their children. She captioned the post, "Life is just so damn hard without you here! The cards I have been dealt seems like a game that just can't be played."
"If anyone has young kids or knows someone that has lost a parent or a loved one, I hope this book brings them a little comfort and peace," she added.
Paramedics responded to the home of Eric and Kouri Richins on March 4, 2022 after getting a call about an unresponsive male. EMS attempted to revive Eric, but he was pronounced dead at the scene. This week, Kouri was arrested and accused of killing her husband after allegedly procuring a fatal amount of fentanyl from an acquaintance.
In interviews with police, Kouri claimed that while celebrating the closing on a new home, she made her husband a Moscow Mule, which he drank in bed. She said that she then went to sleep with one of the couple's children due to them having a "night terror," returned to the bedroom she shared with Eric around 3:00am and found him "cold to the touch." She then called emergency services, but Eric could not be revived.
An autopsy then confirmed Eric died from a fentanyl overdose -- with the medical examiner saying the levels in his system were "five times the lethal dosage."
This led to a search warrant of the couple's home, including computers and phones. On her cell, authorities reportedly found communications between Kouri and an "acquaintance" with a background in drug possession in which she first asked about obtaining "prescription pain medication for an investor who had a back injury." According to the docs, after he procured some hydrocodone for Kouri from a dealer, she followed up with them two weeks later asking for "some of the Michael Jackson stuff" -- and requested fentanyl. She allegedly dropped $900 for 15-30 pills on February 11, 2022.
On February 14, Valentine's Day, Eric then allegedly "became very ill" after a dinner with his wife. At the time, he reportedly "believed that he had been poisoned" and even "told a friend that he thought his wife was trying to poison him." Kouri is then said to have reached out for even more fentanyl pills on February 26, 2022 ... before Eric was found dead of an overdose six days later.
Kouri was charged with aggravated murder and possession of a controlled substance with intent to distribute on Monday. Kouri will next appear in court on May 19 for a detention hearing.