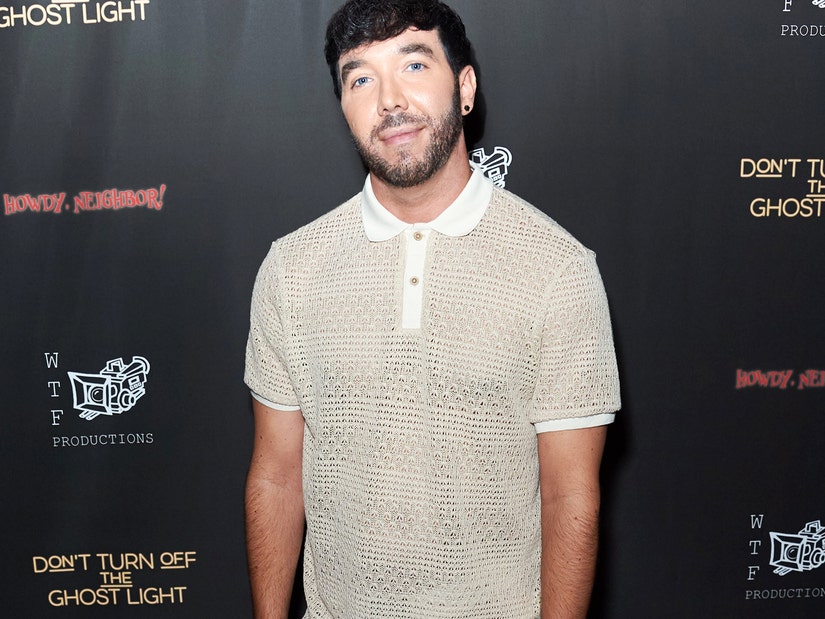 Getty
"I would have these silver rods that I would have to hold in my hands," the So Random! star claimed, adding, "They would try to build up your tolerance for the electric shocking until it was painful."
Matthew Scott Montgomery is speaking out about his experience with gay conversion therapy.
While appearing on Tuesday's episode of Christy Carlson Romano's Vulnerable podcast, the Disney Channel alum -- who starred on the Sonny with a Chance spinoff So Random! -- recalled attending a "reparative therapy" program after he came out to his parents at 18.
Montgomery, 34, detailed how he would attend conversation therapy on his days off from Disney Channel, noting that Disney was "really great" to him and had "nothing to do with" his decision.
"No one knew," he told Romano, 39. "My castmates did not know at the time ... it was a secret."
The North Carolina native said he came out to his parents in March 2010 while at a restaurant at the popular Los Angeles shopping center at The Grove.
"It was bad," Montgomery recalled. "My mom, like, collapsed, sobbing when she found out."
He said his parents left town, before his dad called him the next day, and said they were returning to LA, and wanted him to "introduce" himself to them.
"My parents sat there, and my dad puts down this huge stack of research he'd done, and he was like, 'Being gay is a choice, and I have set you up with reparative therapy to go there now,'" Montgomery said, noting that "reparative therapy" is "another name" for conversion therapy.
Since he was 18, the actor said he "technically went to conversion therapy at my own free will."
"You have to understand that in the environment that I grew up in, you're taught that you deserve to be punished all the time," Montgomery said, later adding, "At the time, the career stuff was going so well that I was, like, still in this broken prison brain of thinking, 'I'm on red carpets. I'm on TV every week. This is too good, I should be punished on my days off.'"
The Shake It Up star said he initially attended conversion therapy on his days off for an hour and a half, before six months later, he was going three hours a week. Montgomery said he attended therapy at a facility in Los Angeles led by Dr. Joseph Nicolosi -- the late clinical psychologist known for his practice of "reparative therapy" -- but his son, Dr. Joseph Nicolosi Jr., was his therapist.
Montgomery said the center was "Christian and prided itself on being a Hollywood place," adding that it was directed at "gay men who wanted to be turned from gay to straight and make it as a straight movie star in LA."
He said it started as talk therapy, before it later "turned into" him being assigned "homework."
"I had a textbook that I had to fill out equations in it -- they were basically like science equations -- and what they taught there at this place is there's no such thing as a gay man," Montgomery claimed. "There are straight boys who are born with sensitive, artistic temperaments who have emotionally overbearing mothers and emotionally unavailable fathers."
Montgomery added that he had to "fill out worksheets every night" in which he had to "trace it back" when he was "feeling SSA (same-sex attraction)" to a possible moment of feeling insecure or ashamed. The Jane the Virgin actor said other "homework" included playing football and apologizing to his father for "being a sensitive, artistic little boy."
Montgomery said he then underwent shock therapy.
"I would have these silver rods that I would have to hold in my hands," he claimed, adding, "They would try to build up your tolerance for the electric shocking until it was painful."
According to Montgomery, he would be told to "imagine scenarios" -- such as hugging a straight man -- and would be given a "zap to [his] hands" to "zap that out of you."
One day, he said he "just kind of woke up," noting that the "healing" of being an actor helped him. He recalled a play he worked on, in which his character "was abused for being gay" before he was adopted by the family next door who "loved me."
"I think that was the therapy I actually needed," he reflected, "because I got the experience of what it was like to have a family not only love me, but celebrate me and really accept me."
Montgomery went on to recall becoming close friends with queer stars -- such as Hayley Kiyoko and Demi Lovato -- and how they became his chosen family.
"Demi's family. That's my family, that's my soulmate," he told Romano. "That's the person who loves me the deepest. At that point, I was able to begin to carefully curate a life that was filled with love and art and expression that was satisfying me and making me so happy in a way that I had never been before."
At the end of the conversation, Montgomery looked at the camera and directed a message to those who have been -- or might be considering -- conversation therapy.
"If you're listening to this and you either have been through conversion therapy or thinking about it or your parents or making you or somebody's making you, there's nothing wrong with you," he said. "There's not a thing in the world wrong with you. You are loved. You deserve to have a perfect beautiful life."
For those who need help or would like more information, click here to access The Trevor Project's resource center.