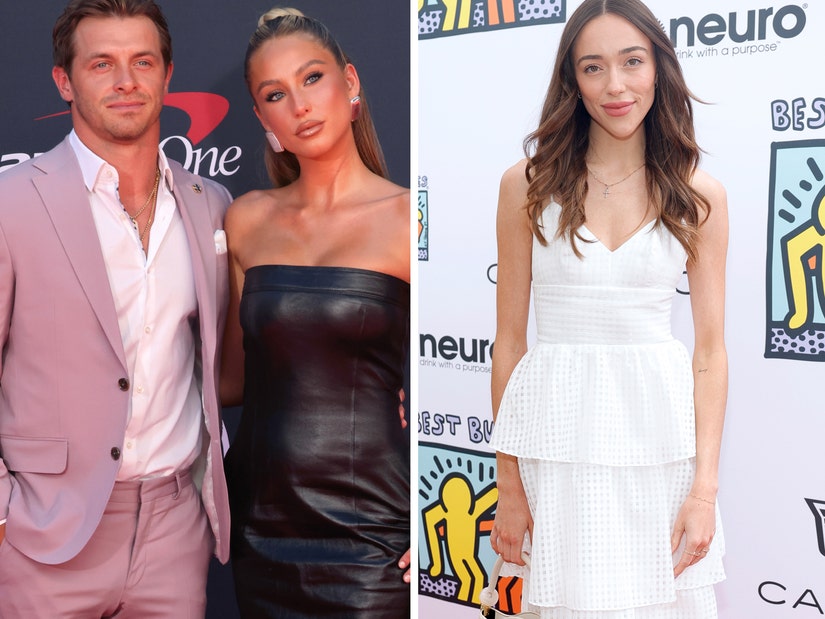 Getty
The 22-year-old social media personality addressed the rumors that her romance with the NFL star began before he split with ex Sophia Culpo.
Alix Earle is speaking out on the rumors that her current romance began while her boyfriend was still in a relationship with another woman.
On Wednesday's episode of the Call Her Daddy podcast, the 22-year-old social media personality -- who is dating Miami Dolphins player Braxton Berrios -- set the record straight on the cheating allegations, claiming her romance with Berrios, 27, began after he split from ex Sophia Culpo.
Waiting for your permission to load the Instagram Media.
"This past summer, you were getting scrutinized on the internet. People were calling you a mistress. Some people were calling you a homewrecker in regards to the NFL player that you were hooking up with. Can you confirm, were you hooking up with him when he was in a relationship?" Call Her Daddy host Alex Cooper asked Earle, who described the situation as "so triggering."
"When I was reading these comments, I was bawling my eyes out to my friends, and they were like, 'Hello, Alix, this stuff normally does not get to you.' I spent my childhood thinking this is basically the worst thing you could do to another human, so why the f--k would I do that?" said Earle, whose father, Thomas "TJ" Earle, had a public affair with Ashley Dupré while he was still married to Earle's mother, Alisa. (Dupré became known for her involvement in the 2008 New York Governor Eliot Spitzer prostitution scandal, which led to the resignation of the then-New York governor.)
"No, they were not together," Earle asserted of Berrios and Culpo.
When Cooper asked Earle how she believed the cheating rumors started, Earle said, "I guess the ex-girlfriend had started posting things alluding to unfaithfulness in the relationship online, and I was seen hanging out with this guy. So, everyone kind of just pointed fingers at me."
The University of Miami alum said she didn't hesitate to ask her beau "for the receipts."
"I was probably more psycho than she was," Earle continued, adding, "I was like there's just no f--king way this happened. I was checking everything. We have probably been over this probably a hundred and ten times because I was like, if you did that to a person, obviously of course, you'll probably do that to me too, and if I did that to someone else, I wouldn't be able to live with myself."
Back in June, Culpo seemingly threw shade at Berrios and Earle's then-still rumored relationship. The 26-year-old reality star -- who is model Olivia Culpo's younger sister -- said her relationship with Berrios "didn't end well or honestly," noting that "a lot of trust was broken."
At the time, Culpo posted a TikTok video -- which she later deleted -- that appeared to be targeting Earle with a man some have identified as Berrios.
"Give it a few but call me when the love bombing ends," Culpo captioned the since-deleted TikTok, per People. "I gotchu #girltok #narcredflag." After people immediately thought she was shading her ex, Culpo removed the post and jumped on the platform to clarify.
"I'm sorry the internet has their panties in a wad. It wasn't that deep," she said in the new post. "I'm literally getting texts from my friends like, 'I'm thinking of you, are you doing okay?' I'm good. I'm good. The internet is wild, but we're good."
Berrios, meanwhile, spoke out the next day on social media. Taking to his Instagram Stories at the time, the professional athlete addressed the rumors that he cheated on Culpo with Earle.
Despite Culpo talking about "betrayal," Berrios said they had a "healthy" relationship.
"It was a good relationship, it was a healthy one," he said in the video. "And towards the end of it, we had conversations along the lines of we just weren't working out. So when we split back in January, that's why."
Again avoiding any specifics or naming names, he did emphasize that "it had nothing to do with anything else. It had nothing to do with anybody else, for that matter." Instead, Berrios said they "just didn't work out, and that's okay."
"It's been very weird and sad to see kind of what's gone on since then," he added. "I've been quiet because it's totally out of character for me to talk about my private life, publicly. But I feel like it needed to be touched on now."
Back in March, Culpo revealed she and Berrios had called it quits after two years of dating. Earle and Berrios first sparked romance rumors in April, but weren't spotted in public together until the following month. The pair appeared to confirm their relationship when they made their red carpet debut as a couple at the 2023 ESPY Awards in July.