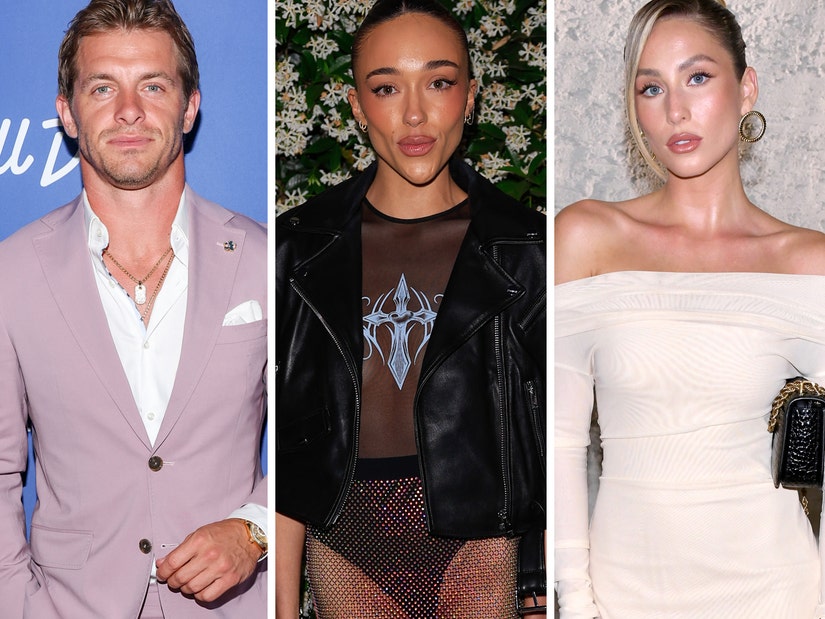 Getty
While the reality star has accused her ex of infidelity, Earle has claimed her romance with Berrios began after he split from Culpo.
While appearing on Wednesday's episode of her sister Aurora and Kristen Gaffney's Barely Filtered podcast, the reality star recalled how she found out about her ex's alleged infidelity, claiming she first received the news from her older sister, Olivia Culpo, in February.
"Technically, first I found out from Olivia because she was there [in Arizona for a Super Bowl party]," the youngest Culpo sister said. "She calls me, and she's like, 'I'm so sorry I want you to hear this from me, he's cheating on you.'"
"I just remember my stomach drops. I want to throw up," she continued. "I call him, and I go, 'Is there anything you want to tell me?' I never heard this tone in his voice, [and he said], 'No.'
The Culpo Sisters star said the moment "shattered" her because she felt Berrios seemed like a "different person" from the one she knew.
"We had a long conversation," Culpo recalled, adding, "And one of the last things I will never forget him saying to me was: 'I really wouldn't go forward with that story because that's not how I remember it.'"
The 26-year-old also claimed she received further "confirmation" through one of Braxton's teammates. (Braxton was a player on the New York Jets until 2022 before signing with the Miami Dolphins in March 2023.)
"Someone we know was doing some digging for me around the team, and that was how I got confirmation that this wasn't the first girl also," she said. "[Berrios] was like, 'Ladies don't have to know about tonight,' and this teammate was like, 'I'm single, so, it's fine.' [Berrios] goes, 'Oh, well I'm having fun tonight.'"
TooFab has reached out to a rep for Berrios for comment.
Back in March, Culpo revealed she and Berrios had called it quits after two years of dating. Earle and Berrios first sparked romance rumors in April, but weren't spotted in public together until the following month. The pair appeared to confirm their relationship when they made their red carpet debut as a couple at the 2023 ESPY Awards in July.
During her appearance on the Barely Unfiltered podcast, Culpo shared where she stands with Earle, 22.
"I think at the end of the day, he was one that had the loyalty to me," she said. "She might not have been aware. Who knows what was said."
According to Culpo, she "reached out" to Earle amid the drama. "I was like, 'Hey, I just want to say that I'm sorry this is turning into girl versus girl. You don't owe me anything,'" Culpo said.
"I ended it with, 'I really hope he's better for you,'" she added. "I was really just at a point where I was like, 'I want this to end. The back and forth.' ... And she agreed, we were like, 'This just needs to stop.'"
The podcast episode was released on Wednesday, the same day Earle's appearance on the Call Her Daddy podcast dropped, something that didn't go unnoticed by fans on TikTok.
During her interview with Call Her Daddy host Alex Cooper, Earle shared her side of the story, claiming her romance with Berrios began after he split from Culpo.
"This past summer, you were getting scrutinized on the internet. People were calling you a mistress. Some people were calling you a homewrecker in regards to the NFL player that you were hooking up with. Can you confirm, were you hooking up with him when he was in a relationship?" Cooper asked Earle, who described the situation as "so triggering."
"When I was reading these comments, I was bawling my eyes out to my friends, and they were like, 'Hello, Alix, this stuff normally does not get to you.' I spent my childhood thinking this is basically the worst thing you could do to another human, so why the f--k would I do that?" said Earle, whose father, Thomas "TJ" Earle, had a public affair with Ashley Dupré while he was still married to Earle's mother, Alisa. (Dupré became known for her involvement in the 2008 New York Governor Eliot Spitzer prostitution scandal, which led to the resignation of the then-New York governor.)
"No, they were not together," Earle asserted of Berrios and Culpo.
When Cooper asked Earle how she believed the cheating rumors started, Earle said, "I guess the ex-girlfriend had started posting things alluding to unfaithfulness in the relationship online, and I was seen hanging out with this guy. So, everyone kind of just pointed fingers at me."
The University of Miami alum said she didn't hesitate to ask him "for the receipts."
"I was probably more psycho than she was," Earle continued, adding, "I was like there's just no f--king way this happened. I was checking everything. We have probably been over this probably a hundred and ten times because I was like, if you did that to a person, obviously of course, you'll probably do that to me too, and if I did that to someone else, I wouldn't be able to live with myself."
Despite Culpo talking about "betrayal," Berrios said they had a "healthy" relationship.
"It was a good relationship, it was a healthy one," he said in the video. "And towards the end of it, we had conversations along the lines of we just weren't working out. So when we split back in January, that's why."
Again avoiding any specifics or naming names, he did emphasize that "it had nothing to do with anything else. It had nothing to do with anybody else, for that matter." Instead, Berrios said they "just didn't work out, and that's okay."
"It's been very weird and sad to see kind of what's gone on since then," he added. "I've been quiet because it's totally out of character for me to talk about my private life, publicly. But I feel like it needed to be touched on now."