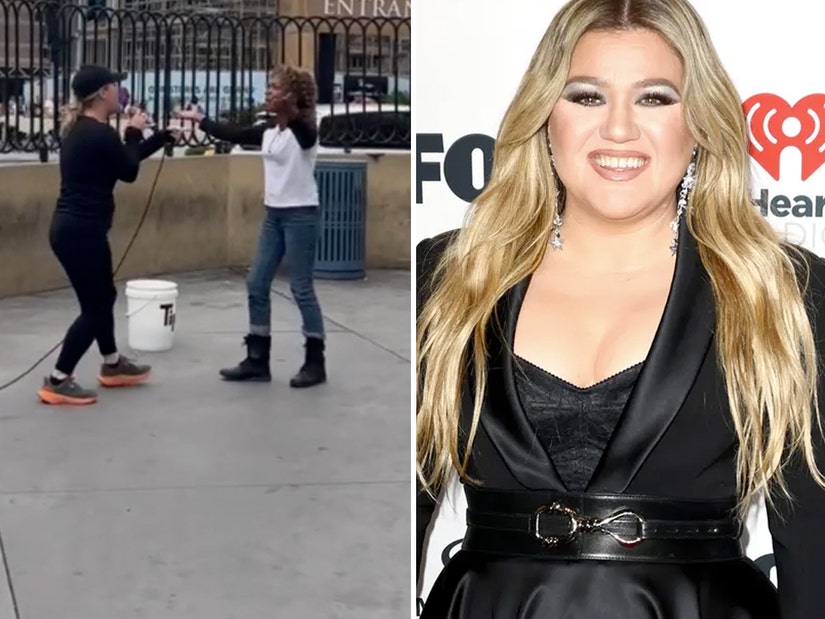 Instagram/Getty
Kelly Clarkson gave one fan a surprise of a lifetime when she joined a Las Vegas street performer for an impromptu performance ahead of her appearance at the iHeartRadio Music Festival.
Kelly Clarkson gave one fan the surprise of a lifetime following an impromptu performance in Las Vegas.
In a video posted to Clarkson's Instagram, she shared the special moment she joined a Las Vegas street performer for a quick riff.
In her post, Clarkson revealed she was on her way to a soundcheck for the iHeartRadio Music Festival, which took place in Sin City over the weekend, when she came across a woman "killing some Tina Turner."
Waiting for your permission to load the Instagram Media.
It's then that The Kelly Clarkson Show host said the woman, who didn't recognize her at first, asked her to join in before being wowed by Clarkson's rendition of Turner's "What's Love Got to Do with It?"
Dancing alongside the dressed-down Clarkson, it took the woman several moments before she realized just who it was behind the mic.
"Are you f---ing kidding me?," she yelled before greeting Clarkson with a huge hug.
"I was on my way to soundcheck for @iHeartRadio tonight in Vegas and was tipping this incredible woman killing some Tina Turner and then she asked me to sing and had no clue who I was, and then it hit her, and it made my day!," Clarkson wrote Saturday while sharing a clip of the performance. "She gives the best hugs and sings her tail off! See ya tonight Vegas ❤️#iHeartFestival2023."
The surprise performance came as a shock, not only for the singer on the Vegas Strip, but for onlookers and tourists as well, with the American Idol alum garnering a crowd as she put her iconic vocals on display.
The moment also earned the reaction of the internet, with fans and celebs alike taking to the comment section to sound off.
"You can see the moment she realizes it's you 😂😂 so funny," one user wrote, with another commenting, "Her 'are you effing kidding me' is the best thing I've heard all day. The joy in her voice is everything ❤️."
American Idol host, Ryan Seacrest, also commented on the post, writing, "So good 👏🏻."
Check out the video of the surprise moment above!