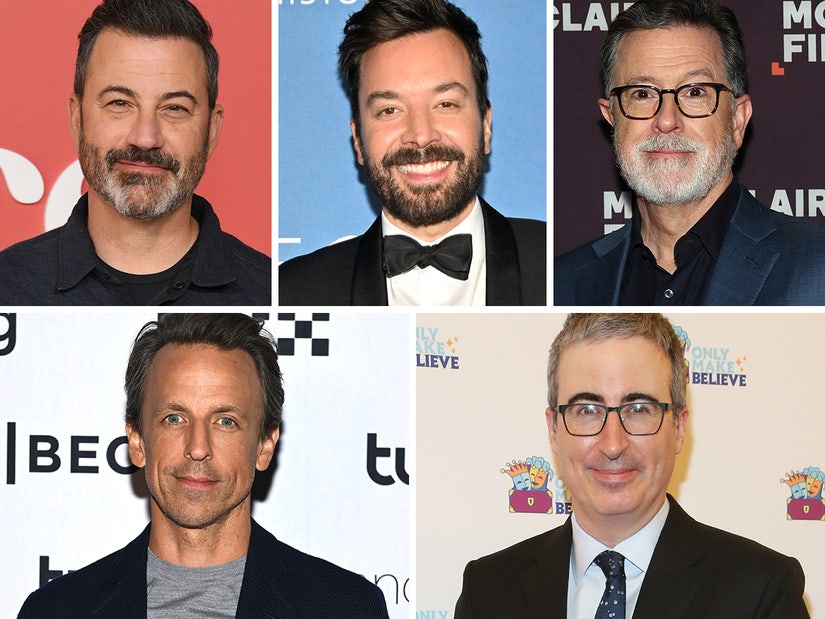 Getty
After the 148-day WGA strike ended on Wednesday, all of the major late-night hosts have announced when their shows are returning -- and they're coming back in a hurry!
The late-night television landscape is wasting no time returning to normal now that the WGA strike is over, though they may not look completely normal when they return. But they are returning, and soon!
Comedy Central announced that The Daily Show will return on October 16, though there is still no permanent host following Trevor Noah's retirement. The Late Late Show has not yet announced its plans. It has been in reruns since James Corden stepped away from the show and throughout the strike.
The "Strike Force Five" comedians made their announcement through the social media for the shared podcast which they first created as the WGA strike was continuing with no clear end in sight. The podcast was developed as a way for them to raise proceeds to pay their show's production teams.
As part of their announcement, the quintet effectively ended the podcast, which had been scheduled to run for 12 episodes, though they did promise a "few more" installments. In the post, they wrote that with "their mission complete," they would be returning to their respective shows.
"Of course, in a greater sense, the Strike Force 5 will never end, because Strike Force 5 is not a place, Strike Force 5 is not a people, Strike Force 5 is barely a podcast… nay, Strike Force 5 is an idea, an idea that five men could talk on top of each other for 12 episodes, and maybe somebody would listen," their statement read. "As we say goodbye, we would like to thank all those somebodies. Truly, you were the heroes. We were mostly the heroes, but you were there, too."
They went on to thank their teams and families, and offer a humorous apology to Conan O'Brien because he'd "agreed to do the pod, but Stephen forgot to send him any possible dates, and then the strike ended."
They did promise there were still a few more episodes to go on their joint venture, "unless Ryan Reynolds cuts off the cash." The group has completed eight of their planned 12 episodes; it's unclear how many more they plan to have.
While many of these shows are able to return to production, they may still look quite different. Due to the ongoing SAG-AFTRA strike, actors are unable to talk about or promote their works, so many of them will not be able to appear on any of the shows.
As for SNL, while its cast is under a different contract that isn't impacted by the SAG-AFTRA strike, they would suffer the same challenges in not being able to book actors. There are still other options for hosts, so that's not a huge issue.
One possible wrinkle would be if any of the cast chooses not to perform in solidarity with the actors strike. No official announcements about the show's return have been made.