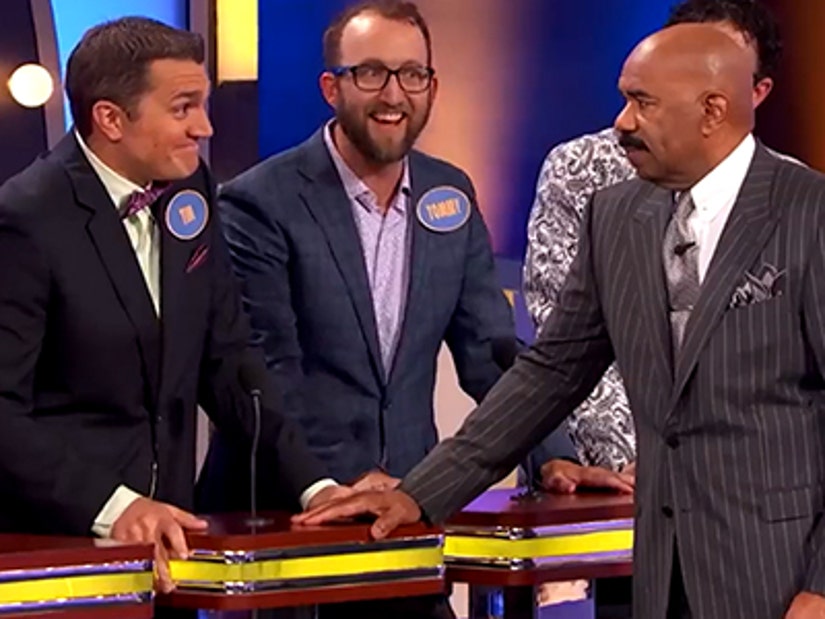 Fremantle
Timothy Bliefnick, who cracked a joke about regretting marriage on Family Feud in 2020 and was convicted of her murder in May 2023, says the joke was not proof of premeditation.
Some jokes are funny in the moment, but don't age well. Some jokes make you cringe in the moment and then become horribly prescient. That's what happened when Timothy Bliefnick cracked a joke about marriage on Family Feud.
A contestant in January 2020, host Steve Harvey presented Bliefnick with the question, "What's the biggest mistake you made at your wedding?"
"Honey, I love you," Bliefnick said of wife Rebecca, "But ... said, 'I do.'" The strong negative reaction from the audience led him to quickly explain he was trying to guess what was on the survey, not speak on his own relationship.
Timothy Bliefnick, who was arrested Monday and charged with two counts of first-degree murder and one count of a home invasion, taped an episode of the 'Feud' back in 2019. Steve Harvey asked "What's the biggest mistake you made at your wedding?" His answer -- "Saying 'I do.'" pic.twitter.com/ixoxRJCFKj

— That Guy Shane (@ProfanityNewz) March 16, 2023 @ProfanityNewz
"Not my mistake! Not my mistake!" he said, insisting, "I love my wife." He then added, "I'm gonna get in trouble for that, aren't I?" It was the second answer on the board.
In May 2023, Bliefnick was convicted of murdering his wife.
Now, in a preview of a new interview for 48 Hours set to air this Saturday at 9pm ET on CBS, Bliefnick is saying that people are reading way too much into this joke. He insists it's definitely not proof of premeditation.
"It wasn't said with any malice or bad intentions," he insisted. "It was supposed to be funny." Based on the audience reaction, it wasn't.
On May 31, Bliefnick was convicted of two counts of first-degree murder. His wife Rebecca was found dead in her home on February 23 by a family member after having been shot 14 times at close range, per the Associated Press.
Speaking at his sentencing on August 11, per TVLine, Judge Robert Adrian counted down each shot, saying, "You researched this murder. You planned this murder. You practiced this murder. You broke into her house and you shot her 1, 2, 3, 4, 5, 6, 7, 8, 9, 10, 11, 12, 13, 14 times."
"I don't know how long it took you to do that," the judge continued. "Some of those shots were fired while she was lying on the ground, and you did all of that while your children were upstairs at your house, lying snug in their beds."
Timothy Bliefnick received three life sentences for the murder of Rebecca Bliefnick without the possibility of parole.