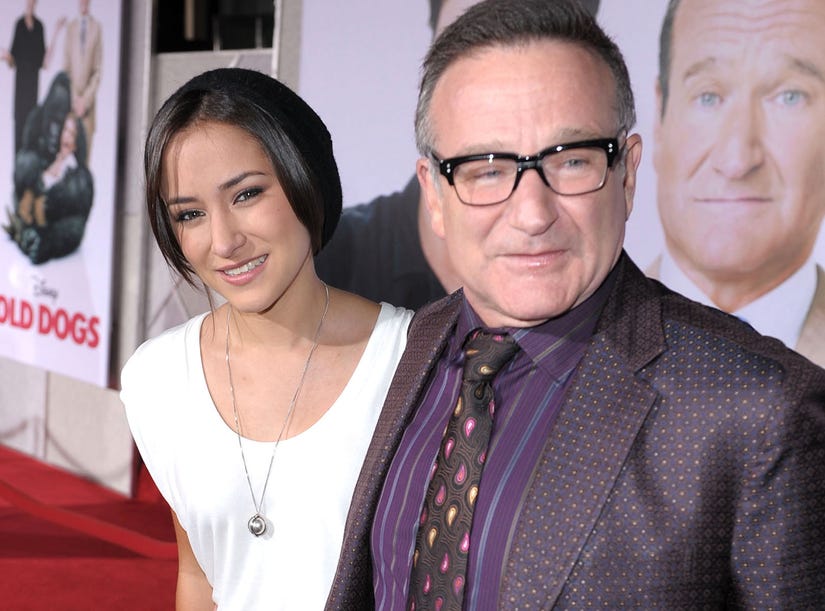 Getty
Tom Hanks also publicly spoke out against a commercial allegedly using his likeness without permission as well.
In a post shared to her Instagram Story over the weekend, Zelda called out the "disturbing" way artificial intelligence software is being used to mimic her father's voice and likeness.
"I am not an impartial voice in SAG's fight against AI," Zelda wrote Sunday, touching on SAG-AFTRA's pushback against AI in the film and television industries. "I've witnessed for YEARS how many people want to train these models to create/recreate actors who cannot consent, like Dad."
The 34-year-old actress continued, "This isn't theoretical, it is very very real."
"I've already heard AI used to get his 'voice' to say whatever people want and while I find it personally disturbing, the ramifications go far beyond my own feelings," Zelda said of her father, who Williams died by suicide at the age of 62 in 2014, following a battle with anxiety, depression and Parkinson's disease.
She added, "Living actors deserve a chance to create characters with their choices, to voice cartoons, to put their HUMAN effort and time into the pursuit of performance."
Calling AI's re-creation's of artists, both living and deceased a "facsimile of greater people" at best, Zelda noted that when the software gets it wrong, it's very much like a "horrendous Frankenstein monster cobbled together from the worst bits of everything this industry is, instead of what it should stand for."
The use of artificial intelligence has been at the center of both the SAG-AFTRA and WGA strikes, with writers officially able to gain protection against AI in their new contract last month.
"AI can't write or rewrite literary material," the contract states. Additionally, if a company uses a writer's material to train AI models, the WGA can deem that to be prohibited. Companies must inform writers if material was written by AI, and writers can't be forced by employers to use it.
Sean Penn, Bryan Cranston, Jamie Lee Curtis and more have voiced their concerns over the use of AI in Hollywood, with Tom Hanks speaking out as the latest victim of an AI-produced ad campaign.
Taking to Instagram Sunday, the Cast Away actor said a new ad that uses his image to promote a dental plan is fake. "There's a video out there promoting some dental plan with an AI version of me," Hanks wrote. "I have nothing to do with it."
Waiting for your permission to load the Instagram Media.
Hanks too has previously addressed the artistic challenges AI presents in the film and TV industries, sharing his personal experience with artificial intelligence software during an appearance on The Adam Buxton Podcast in May.
"The first time we did a movie that had a huge amount of our own data locked in a computer -- literally what we looked like -- was a movie called The Polar Express," Hanks said of the 2004 film.
"We saw this coming," he continued. "We saw that there was going to be this ability to take zeros and ones inside a computer and turn it into a face and a character. Now that has only grown a billionfold since then, and we see it everywhere."
"I can tell you that there [are] discussions going on in all of the guilds, all of the agencies, and all of the legal firms to come up with the legal ramifications of my face and my voice -- and everybody else's -- being our intellectual property," He said ahead of SAG and WGA's months-long strikes.
What's particularly troubling, Hanks added, is that outside of the understanding that a re-created image of him or another actor has been done by AI, there will be nothing to tell viewers that it's not actually him they're watching onscreen.
"Anybody can now recreate themselves at any age they are, by way of AI or deep fake technology... I could be hit by a bus tomorrow and that's it, but my performances can go on and on and on," Hanks noted. "Outside of the understanding that it's been done by AI or deep fake, there'll be nothing to tell you that it's not me and me alone, and it's going to have some degree of lifelike quality."
To see more actors showing their support for the Hollywood strikes, check out the gallery below.