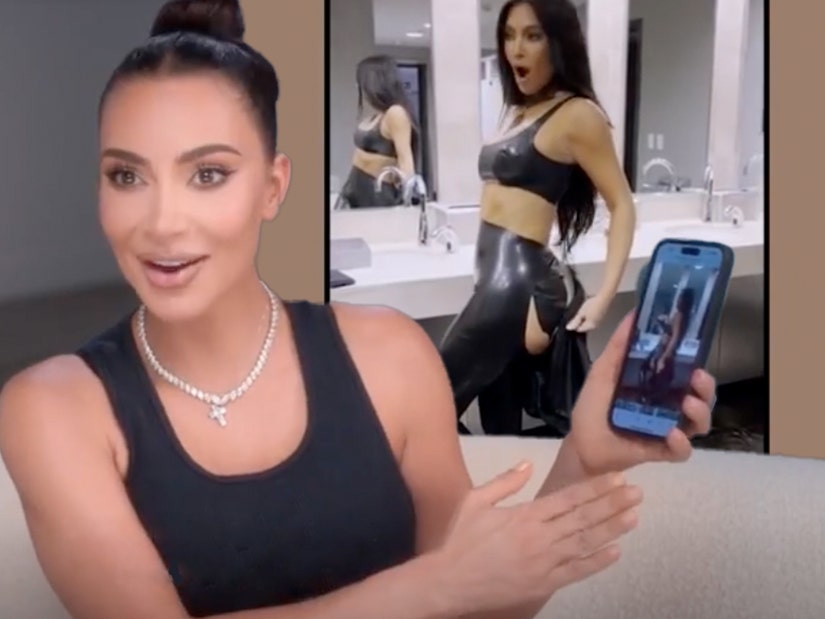 Hulu
"It's stuck to my f--king ass. It hurts so bad," the reality star exclaims in a preview clip for next week's episode of The Kardashians.
Kim Kardashian felt a rather unusual breeze during a speaking engagement earlier this year.
As shown in a promo for next week's episode of The Kardashians, which aired at the end of Thursday's episode, the reality star struggled with a wardrobe malfunction while speaking on a panel at the iConnections' Global Alts Conference in Miami in February.
"My whole butt is out!" Kim exclaimed in a confessional, holding up her phone for the Hulu cameras.
The teaser then cut to a clip that appeared to have been shot on a cellphone. In the video, the SKIMS founder can be seen reacting to a wardrobe malfunction in the bathroom. Kim wore a chic all-black ensemble, complete with a skin-tight black latex crop top with matching pants and boots. Her pants, however, had a giant, gaping hole in the back right in the middle of her derrière.
"It's stuck to my f--king ass. It hurts so bad," Kim said in the clip, before recalling in the confessional, "I just was dying inside, sitting up on stage, like, feeling a breeze, like, in my ass."
It was revealed if the incident happened before or after the mom of four spoke on the panel. However, as shown in footage and photos from the conference, Kim added a black blazer on top of her crop top, and the jacket was so long that it reached her thighs, covering the hole in her pants.
It's likely viewers will get the full story -- including how the wardrobe malfunction occurred in the first place -- when the full episode of The Kardashians drops next Thursday on Hulu.