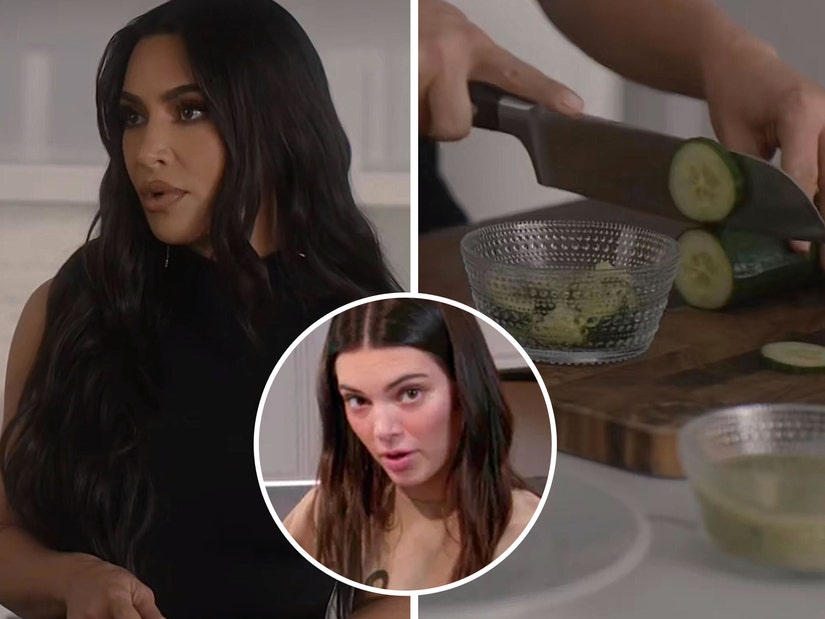 TikTok / Hulu / FX
Fans believe Kim flawlessly slicing the vegetable as a not-so-subtle reference to Kendall's viral cucumber incident from The Kardashians last year.
At one point during the AHS: Delicate episode, Kim's Siobhan makes a meal for Emma Roberts' character, Anna Victoria Alcott, after she suffered a miscarriage, telling her she "need[s] real food." While the two are in the kitchen, Kim can be seen flawlessly slicing a cucumber.
"This is orgasmic," Roberts' Anna tells Kim's Siobhan, who replies, "It's the Green Goddess dressing that went viral on TikTok."
The fact that Kim cut a cucumber specifically -- out of all vegetables -- in the episode didn't go unnoticed by fans, who did not hesitate to make the connection to when Kendall infamously had trouble slicing a cucumber in a 2022 episode of The Kardashians.
"NOT KIM CUTTING CUCUMBER LMFAOOO AHS KNOWS EXACTLY WHAT THEYRE DOING," a person wrote on X, while another added, "kim cutting the cucumber. i see what they did there."
"Kim cutting the cucumber was def a nod to Kendall," a fan posted.
"Stop it not them making Kim cut a cucumber in AHS," another user said. "Kendall eat your heart out."
"Cucumber-gate" went down following a May 2022 episode, which featured Kendall attempting to chop a cucumber, revealing her apparent lack of skill in how to do so. The model was subsequently trolled online, with Kendall admitting on social media that the whole thing was "tragic."
She addressed the viral moment a little over a year later in an interview with WSJ Magazine, saying she does, in fact, know how to cut cucumbers.
"Let me just say I successfully cut 'The Cucumber,'" Kendall said in the June 2023 interview. "So if anyone says I cannot cut cucumber, I physically cut the cucumber and I did it tastefully. I didn't hurt anybody. So I can cut cucumbers."