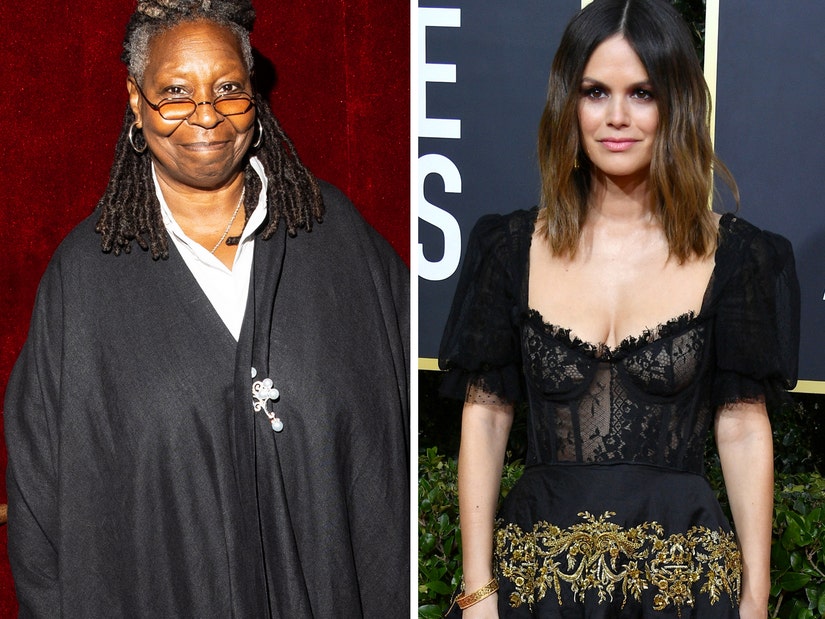 Getty
"If he's happy with you and you're having a good time, why are you bitching?" The View moderator said after Bilson said she'd find it "a little weird" if a single man in his 40s has only slept with a few people.
update 10/6/2023 1:15 am PT
The actress spoke to Entertainment Weekly after Goldberg went in on her on The View for saying on her podcast Broad Ideas that she'd find it "a little weird" if a single man in his 40s had only had four sexual partners. There was a little more nuance to it than that, but Goldberg definitely was not on board with this assessment.
"We make it a very safe open place to discuss anything, and we were just talking," Bilson told EW. "I have the power to edit our podcast, and I chose to keep the conversation as a whole in, because a lot of the time in life, you say something, and maybe you have a minute and you reflect on it."
This was referring to her later acknowledging that it wasn't "fair" of her to break down someone's sex life at all, anyway. She tried to clarify with EW that she was actually trying to say that the "little weird" stance might have been something she would have held years ago.
"The point I get across is that it doesn't matter, and maybe in the past I would've looked at it [judgmentally], but I wouldn't do that anymore. I made it clear that I don't want to sound judgmental, it was important that that point get across, not what I said initially."
Bilson chose to speak out because she felt that Goldberg and The View were picking a sound byte rather than highlighting the full conversation on the topic. She did, however, say she's also reconsidered her own words and no longer stands by her initial statement at all.
"It was a flippant comment that I was just talking with friends, and then I retracted it, because even talking about it now, I'm like, I don't actually believe that," she explained. "That's why I think it's important to stand up for it and clarify."
"Whatever's out there, a clickbait comment, if you go on to listen to the conversation as a whole, and hear what I have to say, it actually isn't what was first presented," Bilson added. "I think it's important to hear a whole conversation before casting your own judgment or criticism on something."
Bilson's co-host Olivia Allen also spoke with EW, saying that because they purposefully edit their show to be like actual conversations, "people should listen to the whole episode before passing judgment."
original story 10/5/2023 2:51pm PT
On Thursday's episode of The View, Goldberg and her cohosts addressed Bilson's recent remarks she made on her podcast, in which she said she'd find it "a little weird" if a single man in his 40s has only slept with four people.
And it's safe to say Goldberg was not a fan of Bilson's comments. The View moderator slammed the actress for "bitching" about being "concerned" over the number of sexual partners a man has had.
"I'm sorry, I think it's very odd that you're concerned that he's had sexual partners -- any sexual partners. Why is it your business?" Goldberg said.
"Listen, men, traditionally, were taught to have many sexual partners. That's how it was," she continued. "Men could go and do whatever they wanted to do, and women were not supposed to. Now, that has been shifting, and young women have been bitching about, you know, 'Why are you telling me what I should be [doing?]' Now, it's happening [the other way around], and you're mad. I don't understand."
"If he's happy with you and you're having a good time, why are you bitching?" she concluded.
On Monday's episode of her Broad Ideas podcast, Bilson, 42, shared that she believes it's "weird" if a single man in his 40s has a "really low" body count.
"This is gonna sound so judgmental, but if a dude is in his 40s and he [has] only slept with four women ... but it all depends," she said. "Maybe he's been in decade [long] relationships, totally respectable."
However, she went on to clarify, "It's not fair for me to say, either way. … A person is a person."
The O.C. alum has been quite the open book when it comes to her sex life, including what she likes and doesn't like in the bedroom.
While appearing on the Women On Top podcast back in May, Bilson revealed her most and least favorite sex positions.
"I like missionary. I've learned that if you want to have an orgasm during sex, you have to be on top," she said. "But missionary is my favorite. I want to be f---ing manhandled."
As for her "least favorite" position, Bilson shared, "Doggy ... depending on the actual d---. Because it can go so deep and hurt."
Nearly two weeks later, the Jumper actress claimed she lost a job over her candid comments on sex.
"A single mom, a woman, lost a job because they were being candid and honest and the subject was sex," she said on an episode of her Broad Ideas podcast. "First of all, I said it in a joking manner in the interview, like, 'Yeah, I wanna get f--king get manhandled.' Basically, it's like, okay give control or take control in the bedroom, whatever."
"I've been floored honestly," she added, "Everything was set in motion and I lost the job. It sucks."