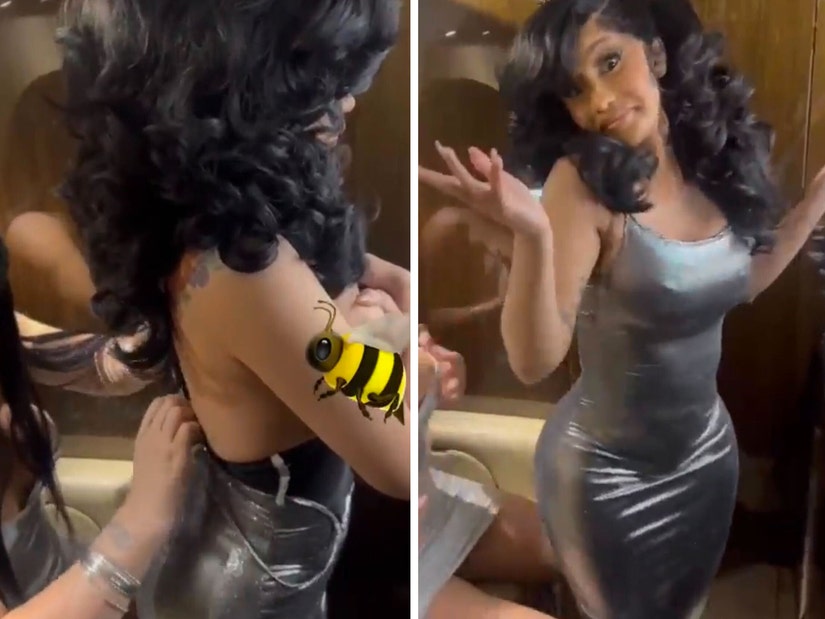 Twitter
"Teamwork make[s] the dream work!!!" the rapper wrote alongside the video she shared on X.
Earlier this week, the rapper posted a video on X, formerly known as Twitter, in which she and her team used a TikTok hack to alter her dress while on a plane.
In the clip, Cardi -- who was rocking a silver metallic gown -- went briefly topless as someone from her team utilized a hair tie to take in her dress in the back to make it fit her body better. The "Bongos" artist posed for the camera, before turning around and covering her chest with her arms -- and also added a bee emoji -- while her pal worked magic with the hair band.
And the TikTok hack was a success. After the member of her team finished altering her dress, Cardi pulled up the straps and turned around to see the end result in the mirror. "Wow!" she said.
The Grammy winner was seemingly impressed, throwing up her arms in a shrug to the camera, before the person filming asked to see the back of the dress.
Cardi turned around, revealing that a bundle of fabric had been bunched together at her waist, with the alteration looking like it was a part of the gown the entire time. In typical Cardi fashion, she then danced a little for the camera.
"So my stylist wasn't on the plane with me so Patience and my makeup artist did this TikTok hack to take my dress in… would you try this???" she wrote alongside the video. "Teamwork make[s] the dream work!!!"
One thing is for certain: we will definitely be trying this hack in the near future!