Getty
Gwyneth Paltrow opened up about her relationship with her ex-husband's girlfriend, Dakota Johnson, calling her a "wonderful person" in a new Instagram Q&A Thursday.
The Goop Founder revealed how she feels about the fellow actress during an Instagram Q&A Thursday, calling Johnson "a wonderful person."
"We're actually very good friends," Paltrow said of Johnson, who has been dating her ex-husband, Chris Martin, for more than five years. "I love her so much. She's an adorable, wonderful person."
This isn't the first time the Oscar-winning actress has sang Johnson's praises. Back in 2020, Paltrow opened up about her relationship with the Fifty Shades of Grey star during an interview with Harper's Bazaar.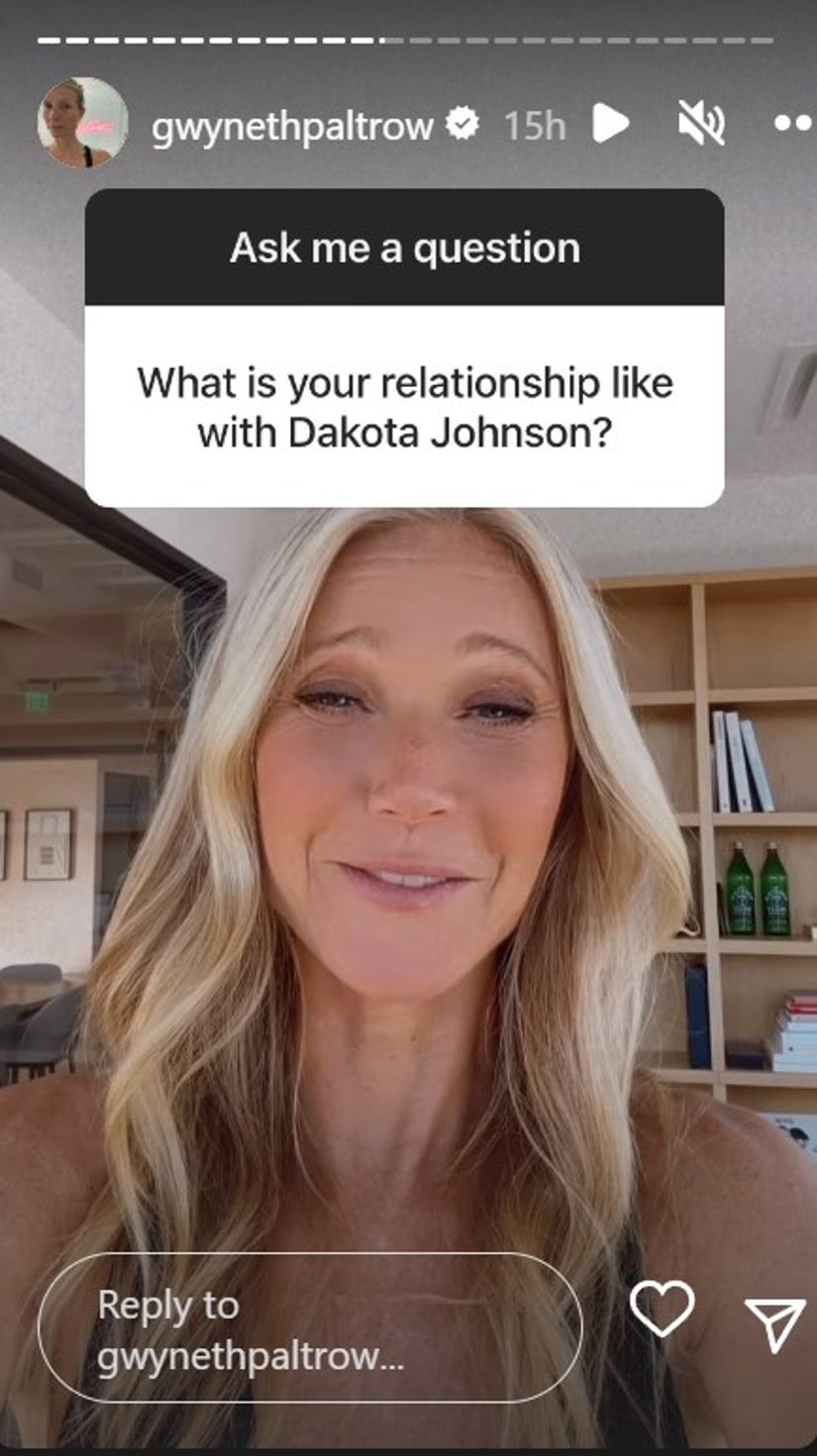 Instagram
"I love her," Paltrow said. "I can see how it would seem weird because it's sort of unconventional. But I think, in this case, just having passed through it iteratively, I just adore her."
She continued, "I always start to think of the ampersand sign -- what else can you bring in, instead of being resistant to or being made insecure by? There's so much juice in leaning into something like that."
Paltrow and Martin were married for 10 years before "consciously uncoupling" in 2014, and finalizing their divorce in 2016. Since then, Paltrow has moved on with husband, Brad Falchuk, marrying the TV writer in 2018, with Johnson and Martin coupling up a year prior.
The Shakespeare in Love actress and the Coldplay singer, who share two children, daughter, Apple, 19, and son, Moses, 17, have very much remained a family since their split, spending holidays together, and marking major milestones alongside their children.
Waiting for your permission to load the Instagram Media.
They've also included their new partners in the mix, with both Johnson and Falchuk often taking part in both public outings and family activities.