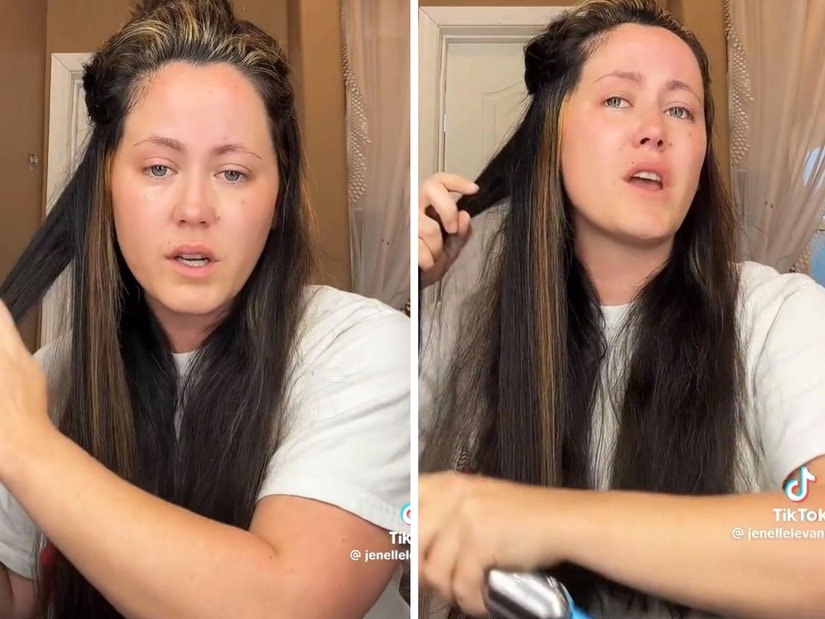 TikTok
Jenelle posted a tearful clip of herself lip syncing to Kesha's hit, "Praying," amid struggles of her own, as her husband, David Eason, faces abuse accusations for allegedly hitting her son Jace.
Jenelle Evans is "praying" amid the recent allegations of abuse against her husband, David Eason.
In a new video shared to Evans' TikTok account Thursday, the former Teen Mom star is seen emotionally lip syncing to Kesha's heartbreaking ballad, "Praying," while straightening her hair.
Looking into the camera as she mouths the words, tears begin to form in the mother of three's eyes.
"I'll just say this as I wish you farewell/I hope you're somewhere praying, praying," Kesha sings. "I hope your soul is changing, changing."
Evans appears to hold back sobs as her eyes well up, passionately singing along to the track.
The clip ends with the TV personality belting out the lines, "And you said that I was done/Well you were wrong, and now, the best is yet to come."
The heartfelt video comes amid allegations that Eason has been accused of abusing Evans' 14-year-old son, Jace.
While Evans, who also shares daughter, Ensley, with Eason, and son, Kaiser, with ex Nathan Griffin, has chalked it up to Jace being a rebellious teen, sources with direct knowledge told TMZ that they're being investigated because Jace allegedly told cops David assaulted him.
Jace was reportedly found with visible marks on his neck and arm, and the alleged assault is believed to have been captured on a Ring camera -- the footage is now in the possession of police and CPS.
Eason has also addressed the allegations, saying that police reports "have been falsified and the truth is already apparent to everyone involved."
Evans additionally posted a video montage of photos of Jace and Eason, similarly shared by her husband, with the caption, "What they don't see online… 🧡☀️."