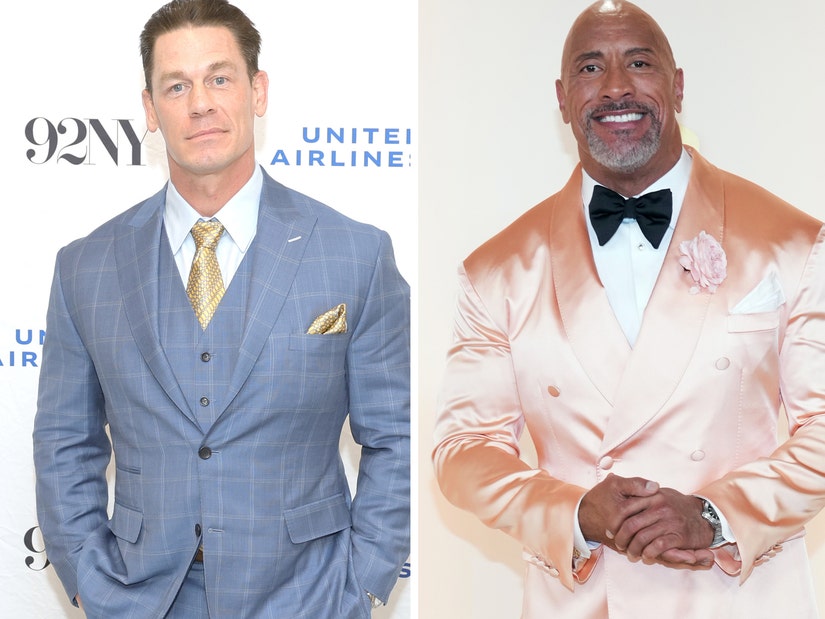 Getty
John Cena and Dwayne Johnson's feud started back in 2011 when Cena criticized the wrestler-turned-actor for moving away from the ring to pursue a career on the big screen.
The bitter back-and-forth started in 2011, when Johnson began pivoting away from the ring and onto the big screen, a move the angered Cena at the time, as he felt Johnson was abandoning the WWE to become an actor.
During a press conference for WWE Fastlane, Cena, who would go on to follow in Johnson's footsteps, was asked about his own hypocrisy in feuding with the fellow wrestler-turned actor.
"If you've been following what I've tried to do, especially as of late, publicly and personally to Dwayne Johnson, I've stated that although I thought I was trying to do what's best for business, I went about it the wrong way," he said of starting the feud. "I violated his trust and I made allegations about his perspective that I knew nothing about."
He continued, "And deep down, I was a fan. I wanted The Rock back [in WWE]. I wanted to do anything to get The Rock back, but I did it the wrong way."
Cena fully admitted where he went wrong with Johnson, adding that he's since apologized and learned from his mistakes by feuding with the Fast X actor.
"I didn't do it the respectful way, so I had to eat a little bit of crow. I had to say 'I'm sorry and I was wrong,' because I am sorry and I was wrong, and that's a very humbling experience. Dwayne is a hell of a guy...," Cena added. "I became who I despised. I see that perspective and I understand it. It was a great learning experience from my mistake with feuding with The Rock."
Spending more time on set that on the mat these days, Cena also addressed returning to wrestling amid the Hollywood strikes.
"I made it perfectly clear you can't do both because of the liability insurance. If I were trying to juggle both that's very selfish because I'd put a whole lot of people in the movie business out of work if something happened to me," he explained.
Cena continued, "I stopped a project in the middle of [the strike], and I can't talk about it because of the strike we're in. We're in the middle of it. As soon as we get back to work, we go back to work. I don't control any of that."
While he's likely to resume filming once the strikes subside, OG fans of the wrestler get the chance to see him in the ring once more, with Cena back for a brief story arc.
"I'm crossing my fingers and hoping we can find a resolve that everyone is happy with," he added. For right now, I think this is the best way I can help... by coming home to my family."