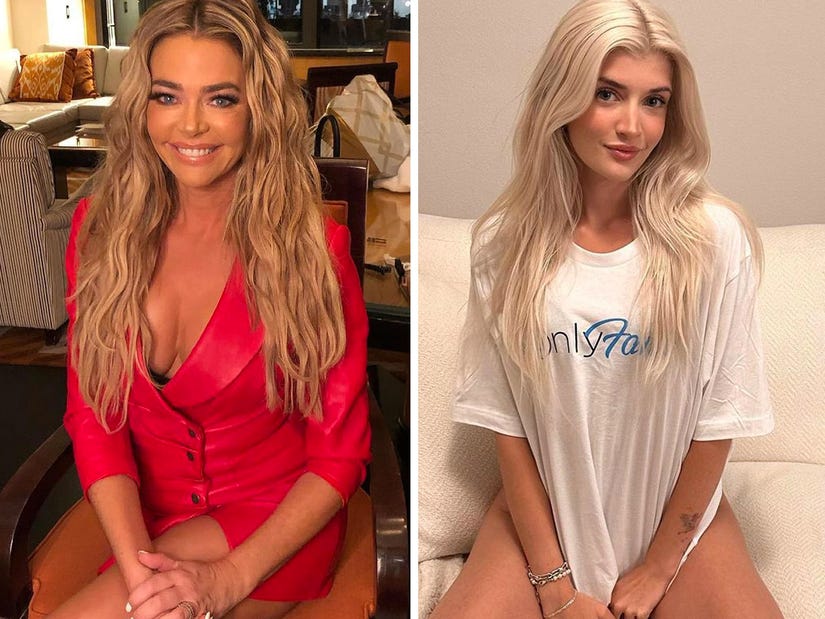 Instagram
Richards was slammed online after she promoted a collaboration between her and her 19-year-old daughter, Sami -- with one person writing: "Denise is really turning OnlyFans into an OnlyFams."
"Should my mini me @samisheen and I do another collab?" Richards asked her subscribers, who, per a screenshot shared on Reddit, pay $25 a month for access to her account.
Richards' post, which featured a photo of the mother-daughter duo in full glam with sultry expressions on their faces, was instantly met with backlash from the actress' longtime fans.
"this is f--king WEIRD beyond words and one of the sickest s--t I've seen on this app. what does she even mean," one Reddit user commented.
"Mini me has undertones that I cannot support in this context. Do better Denise," another wrote.
Another Redditor added, "Denise is really turning OnlyFans into an OnlyFams."
The overall consensus from fans was the post was "weird" and "creepy," with some even questioning Richards' parenting and labeling Charlie Sheen, Sami's dad, who has been known for his outward antics in the past, Sami's most "sane parent."
Sami has been open about joining the adults-only platform, and has been creating content there since June 2022.
Richards joined the app in solidarity with her eldest daughter shortly after.
The pair previously collaborated in July 2022, with Richards sharing some of the details of their joint photoshoot with Us Weekly.
"It's gonna be something that's gonna be really editorial and beautiful. I'm excited," she said at the time. "I've shot with both my daughters for different magazines, and it's been a long time, so it's gonna be fun to be able to do a shoot with [Sami] now that she's a little bit older."
As for Charlie, he previously told the outlet that he wasn't exactly thrilled about Sami's decision to join the app, but because she doesn't live with him, noted that he doesn't have much say in the matter.
"I do not condone this but since I'm unable to prevent it, I urged her to keep it classy, creative and not sacrifice her integrity," he said at the time.
Sami, meanwhile, has described herself as a sex worker, though she's clarified that she does not film herself performing sex acts nor is she a porn star.
"I am not a p-star. And I don't meet up with people. I don't film myself having sex. I don't do that, but I also have no judgement towards the people [who] do that," Sami explained in a TikTok video. "That is just not my line of work and that is not something I'm comfortable with doing."
She then explained that the only reason she described herself as a "sex worker" in the first place, is because "my main source of income is from my OF."
"if people did their f---ing research, they would realize that there are multiple forms of s-work," she continued. "I've been doing OF for almost a full year now and I love my job."
Sami is also working off the app, modeling and recently appearing in a campaign for designer Alexander Wang.
See Sami's first-ever photoshoot below.