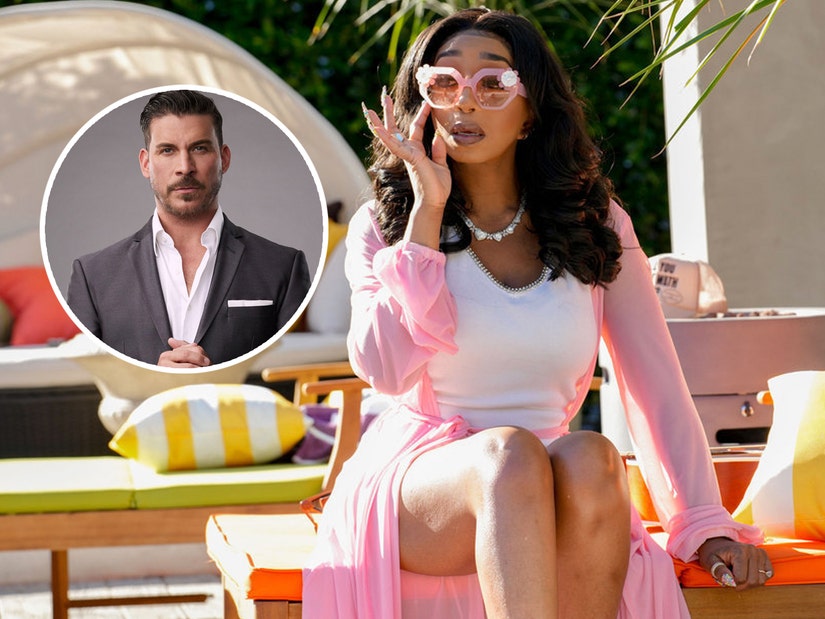 E!
The stars of House of Villains open up about living with Tiffany "New York" Pollard -- with Omarosa calling her behavior "manufactured" and Corinne Olympios defending her new BFF.
There's a reason Tiffany "New York" Pollard is known as the HBIC of reality TV, a title she lived up to while filming the new series House of Villains.
The reality veteran -- who got her start way back in 2006 is one of the many TV baddies sharing a house for E!'s new competition series.
Competing alongside her former political aide to former U.S. president Donald Trump and Apprentice breakout Omarosa Manigault Newman, 90 Day Fiancee's Anfisa Arkhipchenko, The Challenge vet Johnny Bananas, Love Is Blind star Shake Chatterjee, Survivor icon Jonny Fairplay, Love & Hip Hop: Miami's Bobby Lytes, Corinne Olympios from Bachelor Nation, Vanderpump Rules alum Jax Taylor, Bad Girls Club's Tanisha Thomas.
Going into the house, Pollard knew she was going to lean into her image "and be a super villain" to "remind the public why they fell in love with you to begin with." But while the public will surely love the fireworks she brought to the house, some of her costars were left in tears.
"She made me cry. I literally, I don't want to say cried my eyes out, but I teared up for sure," Jax told TooFab, after she called him "demon possessed" with a "ugly" heart early on in the competition. "I was like, I don't even know you and I thought about it afterwards, she doesn't even know who I am, I couldn't believe it, the stuff she said about me, she doesn't even know me."
"She was ferocious, below the belt with me," he added. "I had a couple nice conversations with her too. Like I said, I've never met her in my life and I don't know why I rubbed her wrong."
"You didn't deserve that," Omarosa told Jax during our interview.
While an explosive trailer for the season shows The Apprentice alum also gets into it with Pollard, Omarosa said she wasn't "really affected by it because so much of it is manufactured." Quipping New York probably came with a "notepad" of reads, O also said "the screaming, insulting kind of thing" isn't "part of my gameplay."
"That feeds her base, there's just so many more layers to the three of us," she added, referring to both Jax and Anfisa.
Bobby Lytes was pleasantly surprised to see New York in the house -- saying "you're not a gay guy unless you're a fan of New York, she's the HBIC" -- but her behavior also struck him and costar Johnny Bananas as odd.
"We're at the table, no one had been eliminated and she came for the entire house. We're trying to have a bonding meal, she gets up out of nowhere ... we didn't do nothing to her, she goes, 'Sorry, I can't eat at a table filled with peasants. I'm going up to my room,'" recalled Lytes. "I was like, yes! New York called me a peasant!"
Thomas said the comment was "unprovoked as hell."
"Everybody else, it seemed like everyone else we were all in the same group, we had dinner together. She would isolate herself but she would pick and choose ... when she would make an entrance, someone is getting lit on fire and then she is turning around and leaving," added Bananas. "I remember the first night when I got torched by New York, I was just like, wow, that just happened."
Being called out by Pollard, it seems, is a badge of honor.
"That's how I felt. When she came down and called me a reptile, alien motherf--ker, that was awesome," added Bananas. "I couldn't look her in the eyes, I thought I'd turn to stone."
Pollard's roommate in the house, Olympios, had a much different experience with the star, however.
"I think I have to say I am so lucky and so thankful I had Ms. Tiffany as my roommate," she told TooFab. "She had my back from the moment I stepped in that house and it was honestly just like, it's gonna surprise a lot of people. But we were like magnets and I'm thankful for our friendship."
"When I say ebony and ivory, piano keys, I'm the chocolate part, she's the vanilla part, she's my girl," added Pollard, before Corinne said the two "bring the best out of each other."
We'll see just how true that is when House of Villains premieres Thursday, October 12 on E!