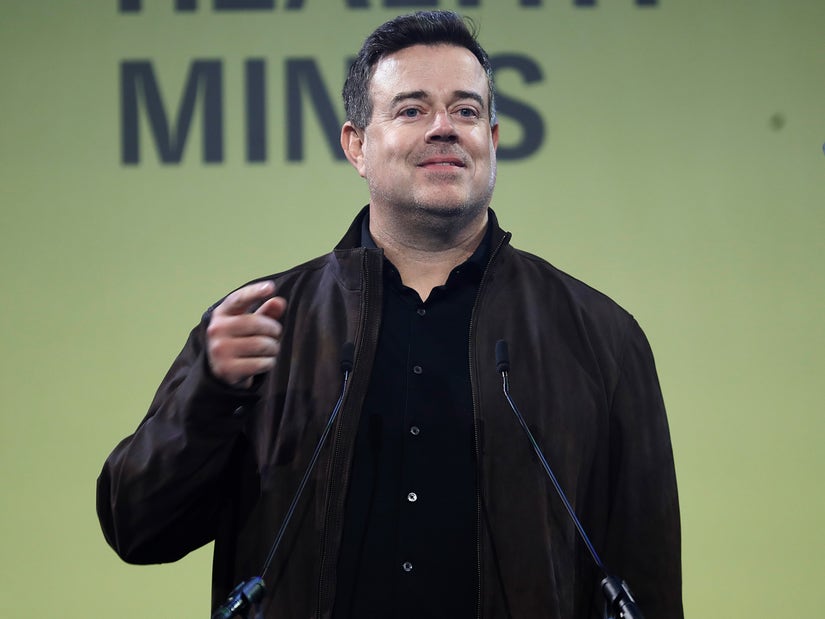 Getty
"Out of nowhere in my dressing room, I felt what I can describe as a snap in my brain," Carson said while speaking at the inaugural gala for Project Healthy Minds on World Mental Health Day.
Carson Daly is recalling the first time he suffered a panic attack.
While speaking at the inaugural gala for Project Healthy Minds on World Mental Health Day on Tuesday, per TODAY.com, the TODAY cohost -- who also hosted the gala -- opened up about his journey with generalized anxiety disorder, revealing he experienced his first panic attack during his time as host of Total Request Live.
"One September day, I thought I was going to die," Carson, 50, began. "I was in my dressing room and I could sense all the normal live buzz of the show before it went on. I could hear the crowd outside. I could hear horns honking, normal Total Request chaos, very usual."
"Then something very unusual happened to me," he continued. "Out of nowhere in my dressing room, I felt what I can describe as a snap in my brain."
"My heart started to race, and fear went through my body," Carson added, noting that it felt "somebody cracked one of those cold compresses at a Little League game and put it on my neck."
"I could see my producer talking to me in the doorway, totally normal expression on his face, saying something about Hanson, probably," he said. "I couldn't hear him. It looked like he was talking in slo-mo. I was literally leaving reality. I thought, my God, I'm having a a stroke in front of Hanson. It passed in 30 seconds, but it felt like 30 minutes."
The television personality said he ultimately was "able to get through it," and "did the show on autopilot." However, he admitted that "beneath the surface, I was absolutely terrified that whatever had just happened to me, it could happen again at any moment."
Carson said he then went to the doctor, who ran "a battery of tests," and told him that he was "100 percent physically healthy" and had suffered a panic attack. He was shocked as he believed he had something physically wrong with him.
"I've never heard of a panic attack, much less considered it," Carson explained. "What was the trigger of this panic attack? ... I don't know. As it turned out, the panic attack was a symptom. Stress and anxiety were the cause. I needed to slow down. I needed to make my unmanageable life manageable."
Waiting for your permission to load the Instagram Media.
However, The Voice host said he still continued to suffer from panic attacks.
"If you've never had an intense fight-or-flight response, the urge to literally drop everything and run, it's like an out-of-body experience," Carson said. "We call it derealization. Sometimes I can even see myself from above. ... This was not an ideal way to live."
Carson shared that he then took "the single most important step in my mental health journey," and opened up to a friend about his struggles. As a result of this step, the radio host went on to seek treatment for his anxiety. He started visiting a therapist and learned ways to help him manage his anxiety, including medication, meditation, and breath work.
"That doesn't mean I'm never going to have a panic attack again. The body can always trick the mind," said Carson, who is now helping others who
"Mental health is no longer the Scarlet A on our chest. It is the bright red 'S' on our chest. We're superheroes," he said. "We're the avengers of a galaxy, jocks and misfits, all with their own issues coming together to help people and who knows, maybe even save the world."
If you or someone you know needs help with mental health text "STRENGTH" to the Crisis Text Line at 741-741 to be connected to a certified crisis counselor.