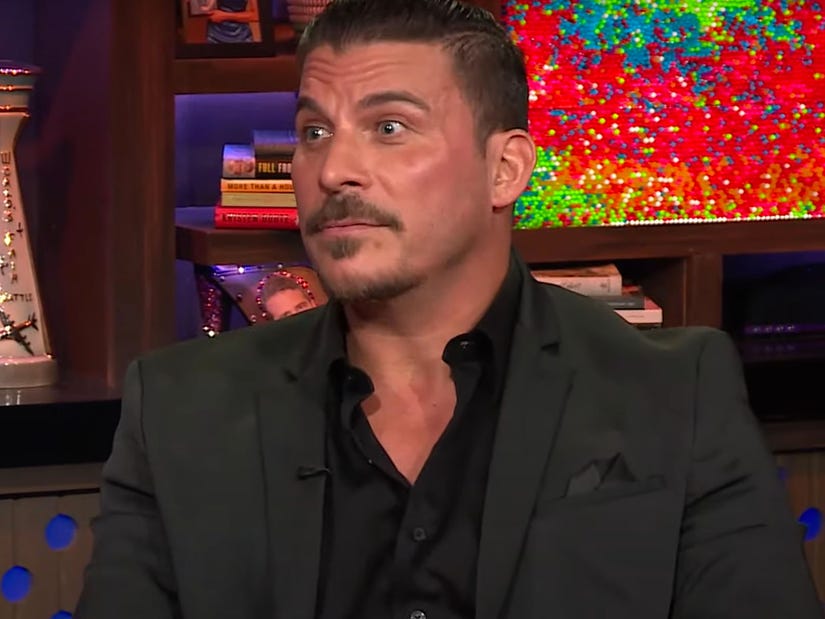 Bravo
The Vanderpump Rules star claimed an issue with his faulty first-class airplane seat caused the flight delay, and explained why he refused to sit in coach and instead chose to get off the plane.
Jax Taylor is setting the record straight on the recent headlines about his role in a delayed flight from New York to Los Angeles.
Earlier this week, a source told Page Six that an incident on a flight from JFK to LAX involving the Vanderpump Rules alum and his seat caused a major flight delay, and "made the plane two-and-a-half hours late because they were already on the runway, and it was raining."
The insider claimed the delay resulted in more problems for other passengers, specifically international ones, noting that 13 international passengers who had to make connecting flights only had "an hour to deplane and get to the other terminal before the doors closed."
While appearing on Thursday's episode of Watch What Happens Live with Andy Cohen, the 44-year-old reality star shared his recollection of events, claiming the issue stemmed from him having a broken seat.
"The seat reclined ... I was first-class, sat down. I took a nap before the plane took off," Jax recalled, adding that he was asked to return his reclined seat into an upright position before the plane took off, but the seat "didn't go back up."
"What am I supposed to do? It's a regulation. The seat [has] to be in an upright position," he continued. "They're like, 'You can sit back in coach or we have to turn the flight around.' I'm like, "I have to go home and take care of my child, you have to turn the flight back, then."'
Andy then chimed in, confirming that the flight had to be turned around because Jax refused to sit in coach. Jax -- who shares 2-year-old son Cruz with wife Brittany Cartwright -- said he had to be in first class in order to sleep. And apparently, he couldn't sleep in coach.
"I wanted to sleep ... I was sitting in first class. There was nothing else available. You're going to put me in the middle seat?" he explained, adding. "Come on, it's a long flight and I've got to get up, take my kid to school. I want to sleep."
According to Jax, no one else had to get off the plane except for him.
"They just let me off. I got out of the flight," he said. "Very simple -- You can't take off in a reclined seat ... the seat didn't work ... got on another flight. Simple.
Meanwhile, also during his appearance on the late-night show, Jax participated in a game of "Do You Regret It?!" in which Andy presented him with a handful of his infamous actions from his time on Vanderpump Rules -- everything from his Stassi Schroeder tattoo to the time he stole sunglasses on a cast trip to Hawaii -- and shared whether or he regretted it.
At one point, he was asked if regrets "demoting" Tom Sandoval from best man to a groomsman for his 2019 wedding to Cartwright. (As Pump Rules fans can recall, the demotion came after Sandoval openly criticized Jax and Brittany for initially hesitating to fire their wedding pastor, who had made homophobic remarks.)
"No -- he should have never been at my wedding. I should ha Jax told Andy, who asked about where he stand with Sandoval.
"We've talked. I'll leave it at that," Jax said.