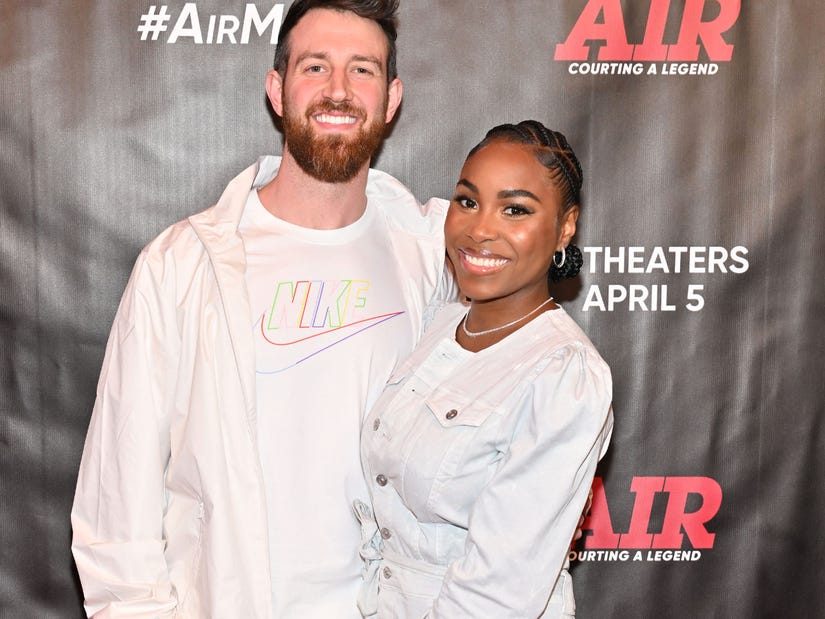 Getty
"People may think getting married the way we did is crazy, but I've always trusted my instincts."
Since Love Is Blind's premiere in 2020, singles from around the country have been taking part in Netflix's dating show meets social experiment in the hopes of finding their perfect match.
After couples build a bond without ever seeing each other inside the LIB pods, they must get engaged in order to meet face-to-face. Then, they're given just four weeks in the real world to figure out if they're ready to tie the knot.
While just a small percentage of contestants actually end up saying "I do" at the altar, even fewer couples actually stand the test of time. Over the course of the show's five seasons, only seven couples are still together.
Read on to find out which Love Is Blind couples have proven that love is truly blind…
1. Lauren Speed-Hamilton & Cameron Hamilton
Lauren and Cameron fell in love during the first season of Love Is Blind and are still going strong. The couple are approaching their 5 year anniversary and seem more in love than ever. Since appearing on the show, they have shared their lives with fans on social media and even started a family YouTube channel. As for their upcoming anniversary, Lauren and Cameron are considering renewing their vows in Las Vegas.
"I just think Vegas would be fun. We could bring our family and loved ones there," Lauren said in a YouTube video. "I want to go to one of the cheesy Vegas chapels in, like, a retro looking wedding dress and just Vegas it out."
2. Amber Pike & Matt Barnett
Amber and Matt also fell in love during season 1 of Love Is Blind and despite getting a rocky start to married life outside of the show, they're still making it work. The duo will celebrate their fifth wedding anniversary in November 2023 and say they don't care what anyone has to say about their reality show romance.
"People may think getting married the way we did is crazy, but I've always trusted my instincts (even the crazy ones) and they haven't steered me wrong yet and thankfully your crazy instincts work damn near perfectly with mine. Happy Anniversary @barnettisblind I wouldn't trade our crazy life over these last 4 years for anything. 😘🥰❤️," Amber wrote on Instagram.
Waiting for your permission to load the Instagram Media.
3. Alexa Alfia & Brennon Lemieux
Alexa and Brennon have been going strong since the minute they connected in the pods during season 3. While fans thought their lifestyle and religious differences might hinder their relationship, they're closer than ever two years into their marriage. They even celebrated the milestone with a trip to Israel and Italy. As for how they make things work, the couple say it's all about communication.
"It really is just restructuring how you say things and how you go about it. Sometimes I'll just sit down and be like, 'Hey, I feel like lately I've been doing a lot of whatever,' or he will say that. And 'If you could just help out a little bit more, that'd be great.' We don't really have big issues," Alexa told People. "We both try to make each other's days easier and I feel like that we just kind of lean on that. Especially if I know that he's having a really long day, I'll just do more and I'm not going to comment on it like, 'Oh, I did this.'"
Waiting for your permission to load the Instagram Media.
4. Colleen Reed & Matt Bolton
Colleen connected with a few people while in the pods during season 3 but in the end, Matt won her heart. After saying "I do" on the show, the couple admitted that they struggled during the first six months of marriage and didn't live together for financial and logistical reasons. The pair actually didn't move in together for two years, finally taking the plunge around their two year anniversary in June 2023.
"God sent me this angel in a very unorthodox way," Matt wrote on Instagram. "Allowed us to learn and grow by facing us with challenges, but also let us completely open up to each other and we fell in love. Love is never easy and it takes work, but I wouldn't want it with anyone else. Through the ups and downs, the joy and the adversity, you taught me to be patient and never run from problems…Here's to us little squrl!!🥂❤️❤️"
Waiting for your permission to load the Instagram Media.
5. Chelsea Griffin & Kwame Appiah
Despite some disagreements while filming Love Is Blind, Kwame and Chelsea are still together after saying "I do" The couple moved to Seattle together after filming wrapped and are enjoying marriage, two years into their relationship. Since tying the knot, the pair have been traveling and growing deeper in love.
"Our goal this summer was just to focus on each other and enjoy our marriage, and I think we thoroughly fulfilled that goal. We'll continue that goal and add some cool things into the mix this next year," Chelsea told People in September 2023.
She later added, "I think obviously it takes a long time to get to know a human. I think a whole lifetime. But what we knew about one another when we got married, it's just so much deeper now. So I think that is a great blessing and is a really good thing that we have going for us."
Waiting for your permission to load the Instagram Media.
6. Tiffany Pennywell & Brett Brown
Tiffany and Brett connected during season 4 of Love Is Blind and were a perfect match. After tying the knot, Tiffany moved to Portland to be with Brett and since then, the pair have been traveling while getting to know each other. In May 2023, they celebrated their one year anniversary.
"Yesterday Tiffany and I celebrated 1 year of marriage!" Brett wrote on Instagram. "It's so surreal to even type that considering just 7 weeks prior I was a single man. When I left to film the show, I totally expected to get sent home in the first week or so but there was a greater hand at play. I'm 100% certain Tiff and I never would've crossed paths had it not been for LIB. It had to happen this way and I'm grateful I took a gamble and it paid off."
Waiting for your permission to load the Instagram Media.
7. Zack Goytowski & Bliss Poureetezadi
While Zack initially proposed to Irina in the pods, things didn't work out and he got a second chance at love with Bliss. The pair tied the knot and after recently celebrating their first anniversary, they're looking forward to the future. The couple say they can't wait to expand their family somewhere down the line.
"A year ago today when I uttered those two words, I do, I was already in awe of Bliss. She embodied everything I had ever wished for in a wife. But over the next year I would learn she is so much more than I ever could have imagined," Zack wrote on Instagram.
He continued, "She always finds beauty and meaning in the smallest things, like the sigh a puppy makes when it's overwhelmed with happiness. She never gives up on her goals, no matter how hard they are. Her resilience and tenacity is enough to break the best team of car salesman. She would buy plane tickets and fly across the country to meet with her family if they needed her without even asking a question. Her compassionate and nurturing heart leaves me in awe. She is everything I was looking for and things I didn't even know I should have been looking for. I feel so honored and proud to call her my wife."
Waiting for your permission to load the Instagram Media.