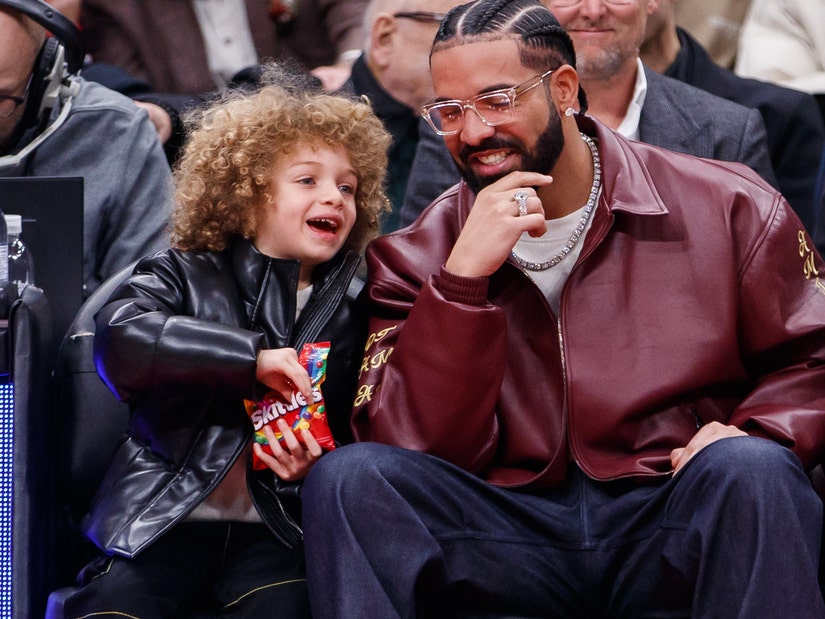 Getty
The song comes out after Adonis designed the rapper's album cover and spent the summer with his famous father.
Drake's 6-year-old son Adonis just released his own music.
Drake took to Instagram to announce his son's song, writing, "Happy birthday my son…MY MAN FREESTYLE OUT NOW" accompanied by a clip from the music video.
Adonis is credited with writing the song with producer Lil Esso.
"Don't talk to my man like that/ I like it when you like it/ My, my, my, my man/ My, my, my, my man/ Don't talk to my man like that," Adonis raps in the song.
The song also details his day before playing basketball and can be seen playing the sport with his friends in the accompanying video.
"I was waiting for this moment to arrive/ I was driving in the car and I smash my car/ I was playing in on my iPad and I broke my iPad/ I'm going to my house, seeing my dad/ I am saying hi to my dad and I have to go change/ I'm playing basketball," he sings.
"FOR ALL THE DOGS," he wrote alongside the art on Instagram. "Cover by Adonis"
Drake's son has gotten a front row seat to his father's career, with the 5-year-old cutie even attending one of his dad's shows earlier this year. When performing in Los Angeles back in August, the star had one ask of his fans: to keep their undergarments intact -- as concertgoers have been recently throwing their bras onstage to the rapper.
Waiting for your permission to load the Instagram Media.
"Look, to be honest with you, I can't talk about titties tonight in LA because my son is at the show for the first time," said Drake at the show, in footage caught by fans.
"So we've got to keep this real PG tonight," continued the "Hotline Bling" rapper. "Y'all keep your bras on. Throw them up here another night."
Adonis, born in 2017, is the son of Drake and French artist Sophie Brussaux. The boy has made several appearances on Drake's Instagram over the past few months, including in a picture of Adonis and Drake's mother, Sandi.
The child was also posted getting his hair braided by Drake in an adorable moment (above).