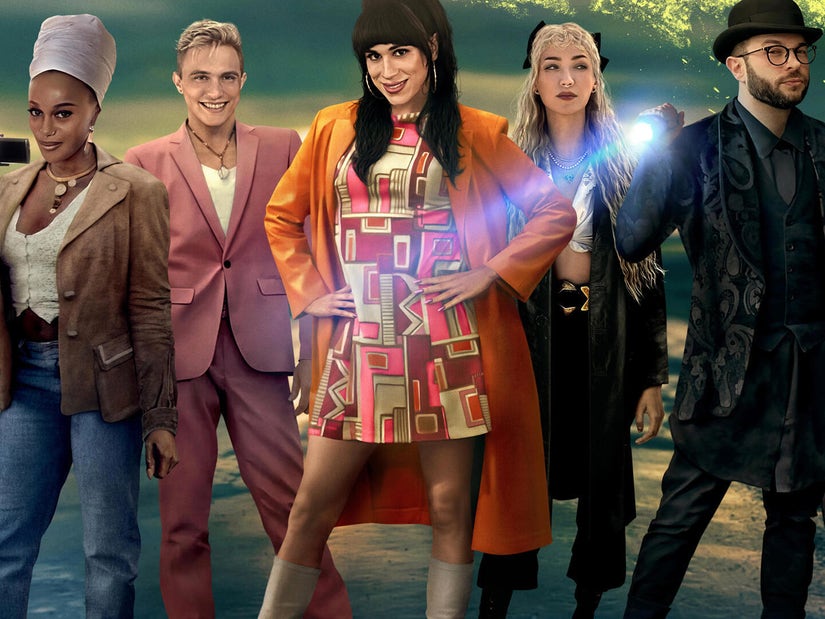 Hulu
Juju Bae, Ken Boggle, Roz Hernandez, Alex LeMay, and Logan Taylor open up to TooFab all about the new ghost hunting series, with Boggle sharing a story about how the crew protected him after he said he encountered a rather unkind individual in a small, haunted town.
Move over, Fab 5. There's a new queer fivesome in town.
Meet the cast of Living For the Dead, a new ghost hunting series from the creators of Queer Eye and actress Kristen Stewart. And it's safe to say, Living For the Dead -- which debuts Thursday on Hulu, just in time for Halloween -- isn't your average ghost hunting show, as it mixes scares with a lot of heart.
The series follows "five fabulous, queer ghost hunters criss-cross the country, helping the living by healing the dead. As they explore some of the world's most infamous haunted locations, they'll shed light on those not seen and illuminate untold stories. Together they'll push past boundaries to bring acceptance to the misunderstood - living and dead."
In an interview with TooFab, Ghost Hunties -- Juju Bae, Ken Boggle, Roz Hernandez, Alex LeMay, and Logan Taylor -- along with EP Rob Eric, opened up about some of their favorite spooky and emotional moments from the series, and recalled working with Stewart, who also serves as the narrator on the show.
Boggle, a tarot card reader, is at the center of the first major tear-jerker moment in the series. During the premiere, in which the cast visits a haunted Clown Motel in Tonopah, Nevada, Boggle broke down in tears after the group met a mother who spoke about her love for her non-binary child.
"I was rattled by a mother who was doing her best to respect her non-binary child, and struggling with pronouns," he told TooFab. "Seeing her really do her best to support her child, it hit me in a way that I couldn't wrap my brain around of what would happen in my life if my parents had done that for me or if they hadn't disowned me and made me homeless at 15 years old. And I just sort of broke down. And Roz was very kind to take me into a bathroom and let me have this moment."
"And, for her to say, 'We're not going to abandon you, we're not going to reject you.' It, for me, it was the first time my mind clicked and said, 'Okay, don't be afraid. These people have your back,'" he added. "And from Juju, Alex, Logan, and Roz, they never once faltered in that. So that was the really important part for me, was right there in Episode 1 when I got to have this real connection with the team."
On a lighter note, Hernandez's most memorable spooky experience came when the group visited a strip club in Las Vegas, The Palomino.
"These were some spirits that were being rude," said Hernandez, a paranormal researcher. "And I am very scared of this kind of stuff, and I had a moment where I was like, 'You know what, I'm in Las Vegas,' and I stood up to these ghosts, and I reminded them, 'You get to haunt a strip club. I just went to some horrible places you could be haunting. This is a great place to haunt. If you wanna stay here, you better act correct.' And that was very empowering for me."
The ghost hunters also recalled their experience working with Stewart, revealing whether or not they tried to get her involved in some investigaytions.
"She was really wonderful to work with and super understanding," said LeMay, a paranormal tech expert. "I mean, it was a very intense experience because we're pushing our own boundaries as far as how scared we can be sleeping in these extremely haunted locations. She was there for filming a couple of episodes, and it was really great having her there and just having somebody who was interested in the paranormal and had an outside view that she could bring to us as we were going through it ourselves."
Taylor, a psychic, shared that Stewart was happy to watch from the sidelines. "She's like, 'Good on you for doing it. That's you,'" he said. "She loved it, but she don't wanna hunt with us, you know, she wants to watch it from the back, which is great. But she was awesome."
Bae, the group's "resident witch," also only had good things to say about Stewart, praising the Oscar nominee's "grounding energy" and "level of calm."
"She gives great advice," she told TooFab. "She kind of really helped, at least for me, especially with the last episode, like me even finding my words or what I'm saying and being intentional about my thoughts on what's happening in the investigations. She was so amazing to work with."
"We didn't really pull her into the investigations too much, but she was around for one in particular," Bae added.
Hernandez also said Stewart may posses some special abilities herself.
"We don't know how she did this, but a lot of times when we would be just out there, we'd be sitting in the RV driving, and we would just hear her voice," Hernandez said. "It would just come through somehow. She definitely has magical powers."
Meanwhile, amid such a scary time for the queer and drag community, the group spoke candidly about whether or not they felt concerned for their own safety while filming in certain locations. Boggle, in particular, recalled an incident from Episode 1, in which he said he encountered a rather unkind individual while celebrating his 39th birthday.
"Everybody, the cast, and the production company, took me out to have a good time. And we went gambling, and we went into this bar," he shared. "The people who were working there were lovely, but there was a local who was very off-putting. [He was] staring down Juju, staring down Roz. It made everybody uncomfortable. And toward the end of our time at that bar slash casino. He looked at me and said, 'Your parents must be terribly disappointed in you, looking the way you do and being where you are. They have to be ashamed of you.'"
Boggle said he's "dealt with that kind of mentality my whole life," and tried to "diffuse the situation," before producer CJ Romero stepped in.
"[He] was like, 'Absolutely not. This is not happening. ... I see how you were looking at Juju,' he recalled. "He stood up and was like, 'Get Ken out.' They surrounded me, took me out. I never once felt afraid, although in retrospect why I should have. But in the moment, CJ was up. Even the people who did audio and the people who were on the backend of the program had my back."
"They literally took me across the street, and we did karaoke until 2:00 a.m. It was amazing. So a relatively dangerous, scary situation turned out to be absolutely nothing to worry about because the team took amazing care of us," he concluded. "I felt totally safe from before then, and on."
See more from the cast of Living For the Dead in the videos, above!
All eight episodes of Living For the Dead are available now on Hulu.