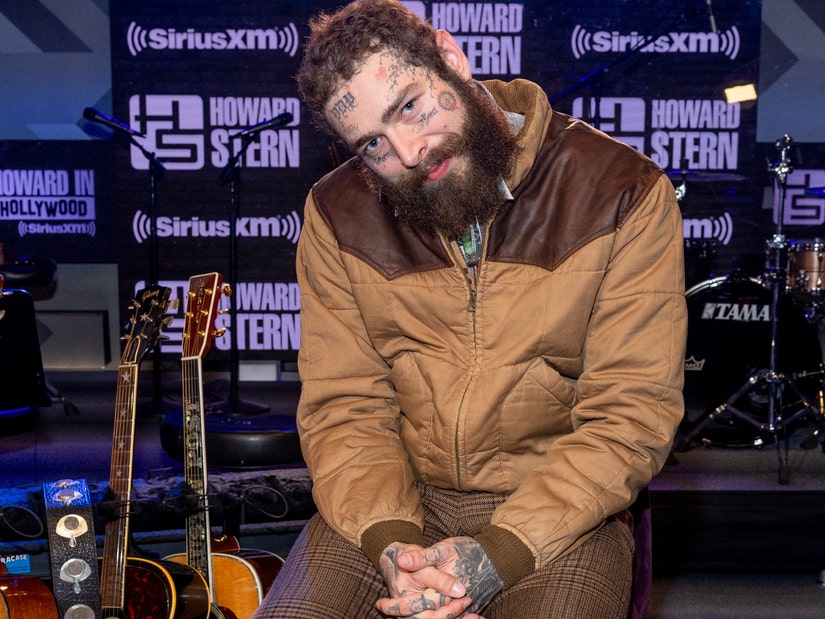 Getty
The rapper also detailed a fateful game of beer pong with Travis Kelce and how he complained to Taylor Swift about potential cheating.
Post Malone is sharing how he lost over twenty pounds on his latest tour, and it's as simple as changing his diet.
"I was like, 'You know what, I'm gonna eat grilled chicken, I'm gonna eat carrots, and I'm gonna have a little bit of white rice,'" he said of changing his eating habits. "Hot sauce has no calories in it. I was blown away!"
"On tour, I stopped eating a lot of fried stuff [and] pizza," shared the rapper, adding that when you're in an unfamiliar city after a show around 2AM, it can be hard to find healthier options to eat.
"I lost 20 pounds doing that, and I was like let's keep going. Let's keep building," he said of his healthy changes. "And we just kept f---ing rocking and rolling."
Malone also opened up about hanging out with Taylor Swift recently, and he called the singer, "genuinely one of the most kind and considerate [people] … and a f---ing hell of a songwriter. Holy shit. Amazing."
And speaking of Taylor Swift, Malone also recounted his penalty after losing to beer pong against her new beau, Travis Kelce.
"I think you played him and Patrick Mahomes in beer pong and lost," recounted Stern. "What was the penalty?"
"I had to get a Kansas City Chiefs, a Patrick Mahomes and Travis Kelce tattoo," revealed Post, joking that the tattoo was "well hidden".
"It's on my arm," he confessed, before Stern added that it's embarrassing to lose to the pair in beer pong.
"They're athletes!" defended Malone, adding that fatherhood has weakened his abilities. "It did affect my beer pong skills. It automatically takes two points off."
Post isn't letting go of the moment either, as he recently mentioned it to Swift when the pair hung out.
"I told Taylor, 'Those elbows were crazy and you can't have elbows crossing over the table,'" he said. "So, I'd like a rematch."
"I'd like to say here, on the Howard Stern Show: Travis Kelce, Patrick Mahomes—I am so ready."