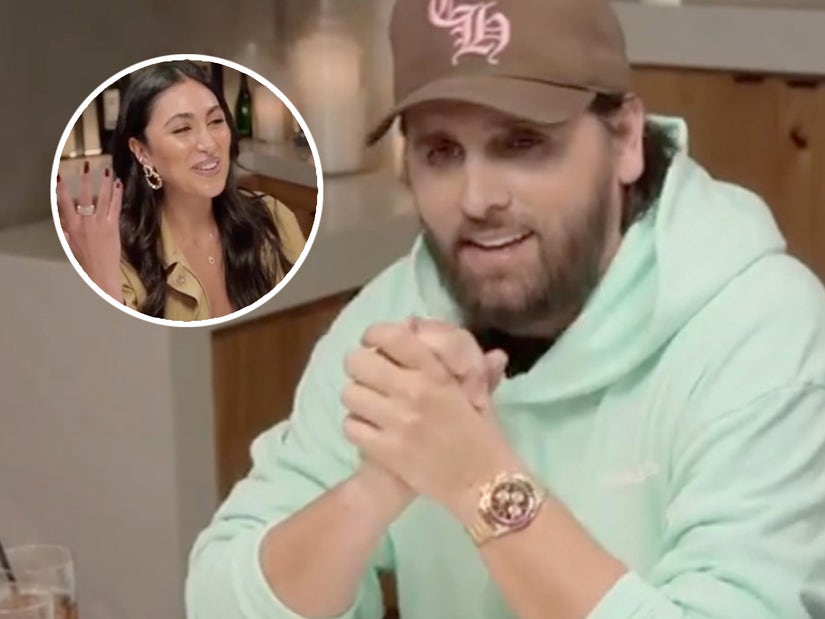 Hulu
Penelope roasts her father for dating younger women, Rob chimes in with his NSFW thoughts, before Kris and Scott both address his flirtations with Khloe.
As they both visited Scott at his home, Kris wondered whether he was seeing anyone. "I've been too focused on the kids and me," he said, adding that his back was still in pain and left him feeling like he would need surgery. Disick also said he felt lonely "all the time" and couldn't "live with just having my kids" anymore.
When asked what he was looking for in a woman, he looked at Khloe and quipped, "How tall are you?" He then kept the flirtatious vibes going, saying of Kardashian, "She's funny, she's kind, she's sweet, she's cute. She's got all the characteristics I want."
"Obviously, I would never look at Khloe sexually, even though I make jokes like that," he added. "I just need somebody who doesn't give up on somebody. I have been through a lot of different things. I'm not easy, I'm perfect."
In a confessional, Kris said she thought Scott "probably has a crush" on Khloe -- before noting "everyone has a crush on Khloe." She added, "If we could just find somebody who comes close, we know what he's looking for" -- before calling up Rob Kardashian and asking what kind of woman he thought Disick needed. Rob's blunt (and bleeped) reply: "A **** whore."
As Kris and Khloe spoke with Scott, his daughter Penelope walked into the room and said her dad should date someone "older." When Khloe said her father was thinking about getting with someone in their late 20s, P exclaimed, "20s?! You're 40. You're not gonna date someone 19." He, naturally, said he would ... but admitted "it's not a good look."
His daughter also said she should look for someone with a "good personality," who's pretty and "goes to the gym, because you need to go to the gym also." She also made it very clear she wanted him to have a girlfriend.
With that, Kris and Khloe were on the case, taking his wishes to a matchmaker, who set the pair up with five candidates, all 29 and older. They were into the first woman, Celine, right off the bat -- as she was a nice Jewish girl who wanted children and already looked like one of the Kardashians. When another woman said she was looking for someone "loyal" and "strong," Khloe cracked, "Scott's not your guy!"
After vetting the five women, they set Scott up on a blind date with Celine -- as cameras awkwardly followed them to dinner. They had some good banter, with Scott getting vulnerable and also opening up about his late parents during the date. When it was over, he said he felt like she should be his "life coach," due to her unflappable happiness.
"She was optimistic and happy and positive about so many things in life that I really found a lot of good from her," Disick told Kris after. "She couldn't have been nicer ... I probably talked to her more than I talked to girl I dated for years."
The only red flag he saw was that she had never really dated anyone long term before, saying he hoped for someone with a little more experience in the relationship department. He also told Kris, "I do appreciate you went to be matchmaker and set me up. I think it was good for me, to get my out of my comfort zone."
Jenner said if the blind date route wasn't what he wanted, she could always call up someone at ABC and get him on The Bachelor, stat. That, however, sounded like "a nightmare ... or a bad porno" to Disick, who politely declined the offer.
New episodes of The Kardashians drop Thursdays on Hulu.