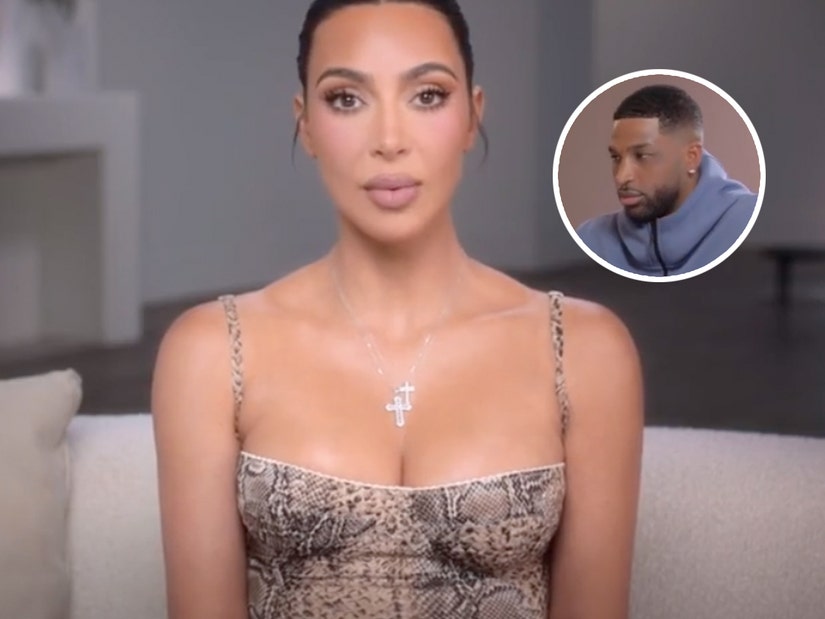 Hulu
While Kim said "you want to obviously hate him" for his "f--ked up" behavior, Kardashian also explained the personal reason she's still friendly with him.
On Thursday's new episode of The Kardashians, Kim explained why she still had a soft spot for Tristan -- after his past affairs and paternity scandal -- while also acknowledging his completely "f--ked up" behavior.
"I know you guys are gonna hate me for this and you're gonna hate us," she shared in a confessional after speaking with Khloe and mom Kris Jenner about Tristan temporarily taking up residence in her sister's home with his brother Amari while his home was under roof repairs.
"It's so crazy because he's such a good friend and such a good dad, but he just couldn't get it together in that area of being a faithful boyfriend," she continued. "You want to obviously hate him for that, yeah, of course his actions and who he was, so f---ked up. I can't deny that, we've had our talks about it, we've had our fights about it and we've had our arguments about it."
But, she continued, Tristan has done "so many decent things" -- including helping her out with her own children when she was going through issues with Kanye West.
"When he saw me struggling with my kids, he stepped up, he started showing up to the games, he picked Saint up, takes them to dinner and will always come to my defense, especially if it's stuff with me and my ex," she shared. "I just never forgot that, so I'll never really throw someone away and act like I don't feel they can grow and evolve."
That's basically where Khloe stood as well, acknowledging all he put her through in the past -- including cheating and hiding a pregnancy with another woman from her -- while hoping for nothing more than a close, friendly, coparenting relationship going forward. In the back half of the episode, Khloe and Tristan sat down together for a very honest conversation about their past, present and future ... where he referred to her as his "person," while Khloe made it crystal clear she was not interested in anything romantic.
New episodes of The Kardashians drop Thursdays on Hulu.