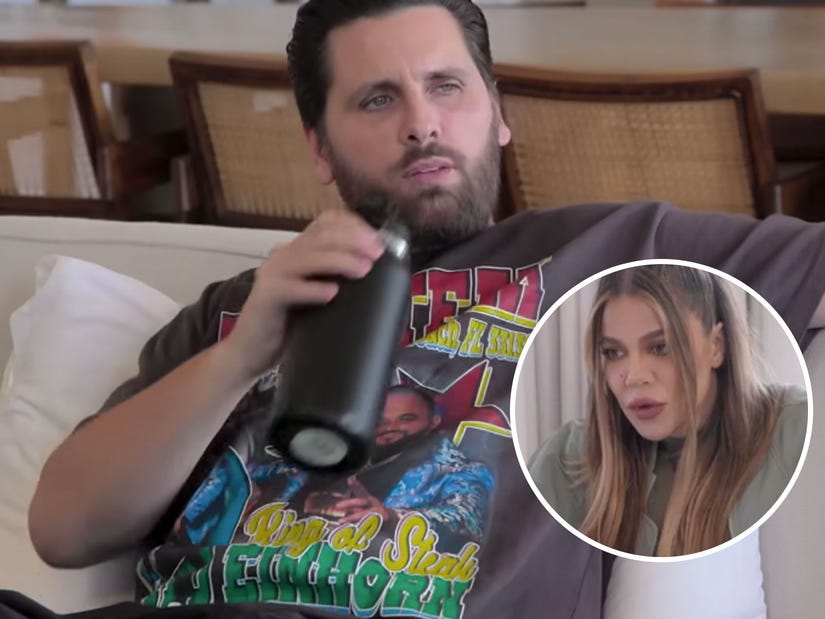 Hulu
Scott reveals why he's put on "a lot of weight," before he reveals issues with sex as Khloe says he's "deteriorating before our eyes."
At the top of the hour, Khloe stopped by his home to do some gossiping about everything going on in their lives, with Disick first commenting about his health as Kardashian explored his refrigerator.
"I've gained a lot of weight here because of my back. Ever since that car accident, it got worse over time," he explained, referring to the 2022 incident in which he flipped his Lamborghini. Per TMZ at the time, speed appeared to be a factor.
Scott explained that he hadn't actually gone to a doctor to address his problems, later admitting that the only help he sought was with a spiritualist who recommended he do mushrooms. Khloe, however, suggested he start physical therapy and using an E-stim machine, before recommending her own therapist.
"I think Scott maybe needs a little pep talk because this is probably the unhealthiest I've seen him. He's barely mobile and it's all from his back," she said in a confessional, before joining him to visit the therapist and go over his MRI results. "I think Scott needs to realize, these things are fixable. You can't let it get you down," she added.
In the doctor's office, Scott explained that after the accident, "everything has changed in my life."
"I haven't been able to run around, I gained weight," he said, before calling the shrooms suggestion "insanity." He added that the injury also affected his sex life, saying that because he "can't move" he's "terrible" in the sack. "No motion for me, that's pretty damn hot," he joked before -- after Khloe said that should be his motivation to get back on track -- he cracked, "Get back on the wagon to f--k!"
"Good news and bad news with the MRI. You're kind of on that cusp of possibly needing surgery. The good news is you can save it without during surgery. But you need to be locked in. You have a little window, but it's closing on you," the therapist told him, before Disick said he really did not want to get open back surgery.
"You're so young, you can't live like this," Khloe added, before telling him to not "be a p---y" when it came to the E-stim machine. "You are actually deteriorating before our eyes and I"m not gonna let that happen," she added as the physical therapist got to work.
After the appointment, Disick said he was "feeling good," adding that visiting the therapist was better than "getting possibly abused" by Khloe. He also joked, that if he committed to therapy and recovered in time for his 40th birthday, maybe "something" -- as in sexual -- could happen between him and Khloe. Her reaction: "You might have bumped your head as well."
While Khloe wasn't down, Disick does appear to get himself back out there dating-wise in a preview for next week, which saw both Kris Jenner and Khloe playing matchmaker for Kourtney's ex.
New episodes of The Kardashians drop Thursdays on Hulu.