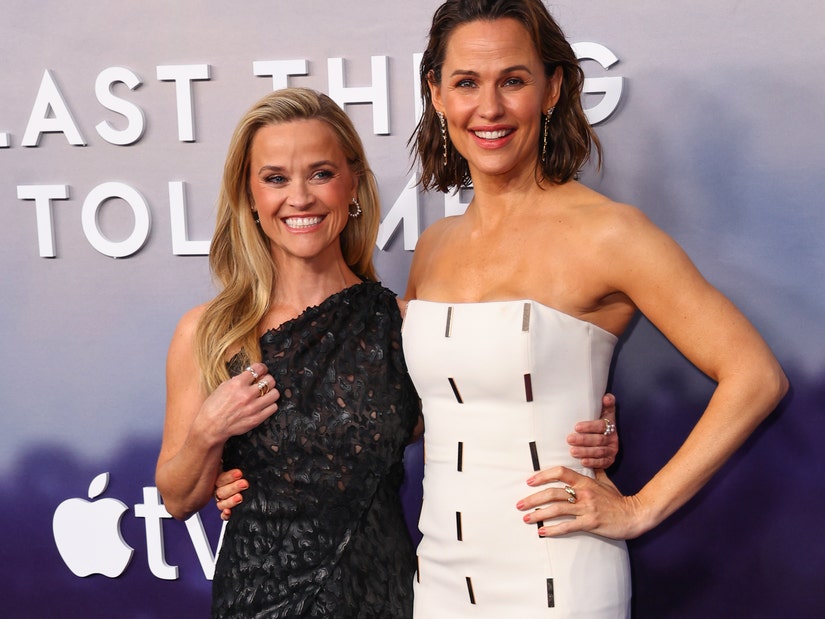 Getty
Jennifer Garner spoke about her special relationship with Reese Witherspoon during an event for the actress' media company, Hello Sunshine.
During a panel at discussion at Hello Sunshine, Witherspoon's media company's inaugural Shine Away Event Saturday, Garner revealed that Witherspoon supported her during a "very public, very hard" moment in her life.
"I think back to going through a very public, very hard moment in my life, Garner said. "She was right there and the way I needed to get through it was dance cardio. And I danced cardio'd so hard, we broke her foot, but she kept going!"
"Just keep dancing, ladies. Just keep dancing," Witherspoon quipped.
Waiting for your permission to load the Instagram Media.
"It was like, OK, we worked out at 7 on vacation, we're going to work out again at 2," Garner recalled. "She was like, 'I'm going to be there. I'm going to be there.'"
While Garner did not go into detail about that hard moment in her life, the pair have each gone through very public divorces -- Garner from ex Ben Affleck and Witherspoon from Ryan Philippe and most recently, Jim Toth.
Elsewhere during the panel, Garner continued her praise of Witherspoon, detailing the way the Morning Show actress has helped her with every day things like finding a pre-school for her kids.
"She'll also look at you and say, 'OK, you need to be finding a preschool,'" Garner, who shares Violet, 17, Seraphina, 13, and Samuel, 11, with Affleck said. "'This kid is 2 and a half and they need to start next month. You actually have to get on this.'"
Garner and Witherspoon's relationship extends beyond friendship as well, with the pair teaming up for the AppleTV+ mystery series, The Last Thing He Told Me, earlier this year.
While Garner starred in the lead role, Witherspoon served as the show's executive producer, via Hello Sunshine. In discussions about the production company, Garner shared how Hello Sunshine has afforded her and and other actresses to the opportunity to openly speak about the industry.
"Those meetings happened at Reese's house. And it was the first time I'd ever sat down with that many actresses in the same room that we weren't passing each other in an award show in big dresses, where we just sat," the 13 Going on 30 alum shared. "We've been siloed off the one place."
She continued, "The place that doesn't happen, the place that started the change where that no longer can happen is Hello Sunshine. It's just true."
The pair have often publicly shared their love for each other over the years, with Witherspoon posting a birthday message for Garner back in 2017, and the duo frequently commenting on one another's feeds.