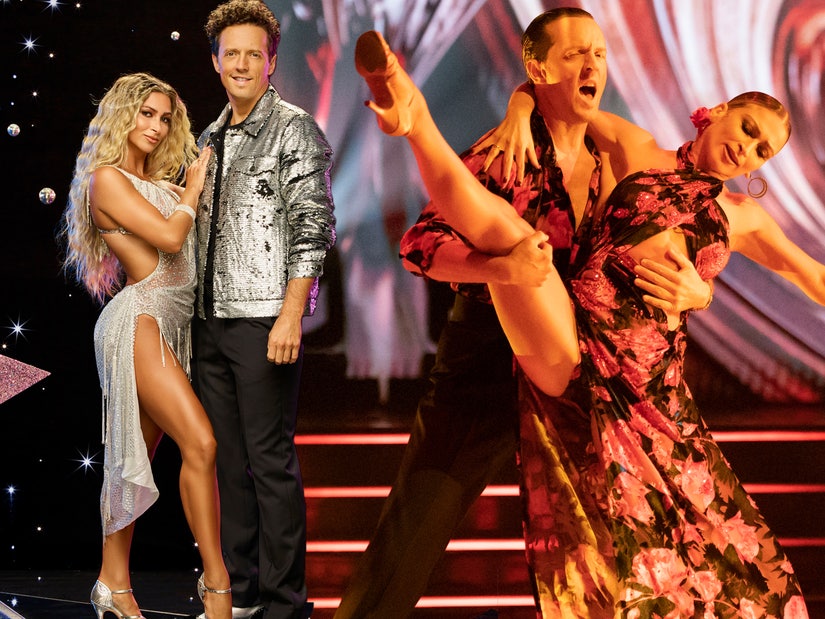 ABC
The singer-songwriter opens up about finding his groove on DWTS, the sweet story behind his Most Memorable Year song, and being told by Standards & Practices to put on a previously-worn dance belt.
Jason Mraz is waiting for his Mirror Ball trophy to come.
The singer-songwriter has been crushing it week by week on Season 32 of Dancing with the Stars, on which he's paired with pro Daniella Karagach. The two have found themselves near the top of the leaderboard while tackling the Cha-cha-cha, Rumba, Jive and the Foxtrot, winning raves from viewers surprised to see him doing so well.
This week, the pair will be back in the ballroom with a Quickstep set to Willie Nelson's On the Road Again, as Mraz highlights 1999 as his Most Memorable Year.
Keep reading to see what he told TooFab about the challenges of DWTS so far, why 1999 was such a big year for him in retrospect, what he thinks of his competitors and why ABC finally made him rock a dance belt for last week's Disney night.
TooFab: Congrats on the season so far, you've been crushing it each week on Dancing with the Stars. Even some fans have been surprised by your performance and how well you've been doing. Is that something you've been surprised by as well?
Yes, I am also quite surprised. I have always enjoyed movement, but I always felt like I put humor in front of my dancing and my dancing was always something that was more of an individual expression and I felt like I did something different every time I danced. I had low expectations coming into this, where I would have a dance partner and learning routines and ballroom holds. I thought, okay, I can learn a dance routine but I thought I might lose myself in it and be very stiff. What I've learned is I'm still able to put my personality into the routine and that's what my partner has been great at. She's definitely a pro at drilling the technique and making sure that I'm doing it right, but she's also making sure I'm still sitting on top of that dance and I'm having fun.
TooFab: It comes across! The hips are moving, the personality is there.
Thanks! I think what it is is that I've just been a little shy over the years and that's how I put humor in front of it, because I never want anyone to take me seriously. But now that I'm taking it seriously and giving myself permission to move, I do feel like my hips are loosening up and my posture is improving and even my strength and willingness to show up every day, it's a tighter and harder schedule I've had in a long time. But as much as I hate it, I think I equally love it.
TooFab: Your last dance was the first where you had to be really serious, it was ballroom, was that more of a challenge because you didn't have that humor to fall back on as much?
Yeah, exactly. And I was really struggling with the ballroom holds. In the end, by the time I got my feet right, I kind of forgot about my arms and my upper body and so it takes me, I've noticed, it takes me a few days to marry the two. If I get my arms right, then I forget what my feet are doing. So this week, we're dancing another ballroom dance, so I was able to take things I learned from the foxtrot and apply them quickly to this Week 5 dance. So this week is a little better, but yeah, last week, Disney Week, I definitely struggled a lot.
TooFab: This week's theme is Most Memorable Year and I believe you're highlighting 1999 with On the Road Again. What has it been like to reflect back on that time while you were preparing for this?
For me, gosh, it was about 24 years ago I decided to quit school, move out West and pursue my dream of playing original music. I didn't know what that life would look like, I'd play in house concerts, coffee shops, bars, street corners, whatever, but I knew that was the life I wanted to pursue, being a singer-songwriter. It was a very scary decision to make and while moving to California, on the road, literally, Willie Nelson's On the Road Again came on the radio and it just landed on me in a way that I never heard before and I absolutely just bawled with tears in my car because of both the fear of what I was getting myself into but also the immense gratitude and joy that I had for taking the risk and taking a chance on this life of being a touring musician.
I loved being on the road and seeing things I may never see again and that's what the lyrics sing about. And so here I am 24 years later, I've been all around the world thanks to that stupid kid who decided to bet it all on me and thanks to the music of Willie Nelson, it's been a through line of my career and he's been a bit of an idol and a mentor for me as I see him at 90, still doing the life of a singer-songwriter on the road, still writing songs and entertaining people, it's been a constant source of inspiration. I'm happy to be dancing to his music this week, for him and for my younger self.
Waiting for your permission to load the Instagram Media.
TooFab: Now we follow you on Instagram and saw you post about finally being given a dance belt last week — despite Daniella promising you wouldn't get one. How'd that conversation go ... and it's a hand me down?!
You know, shoutout to the wardrobe department, they make incredible clothes every week. But when we finished our dress rehearsal, the network said, 'Hey, Standards and Practices can still see a little too much through your pants, we're gonna give you a dance belt.' I thought, okay, fair enough. But I was not expecting to be given some reruns from past episodes [laughs] but I'm a team player and I am here for all of it. And, if anything, wearing a former contestant's chonies gave me a little luck to get through Disney 100 Night.
TooFab: That's a good way to look at it. Now for you and Daniella, do you feel any specific competition with Pasha and Ariana? I know a lot of people are hoping for a husband and wife showdown in the finale.
I think they keep four couples for the finale, so I do hope to see Daniella and Pasha be a part of that and that end result, I would love to see that for them. They're both incredible and they both deserve it. At the moment, there's no competition. We're all just learning and having so much fun and cheering each other on. Actually, we don't think about the elimination -- no one does -- until that last 10 minutes of the show when they announce it's elimination time and you see everyone's faces, it's like, oh no, we forgot about that part. Just the tragedy of losing another friend at the end of every episode is the hardest part of this experience.
TooFab: Every season, they impresses with the cast reveals every year. When you heard who you'd be competing against, is there anyone in particular you were most excited to meet -- or, maybe now that you've met everyone, you're surprised you've been able to become close with them?
I always enjoyed the comedy of Alyson Hannigan and I grew up watching The Brady Bunch, so of course I knew Barry Williams right off the bat. I was familiar with Lele Pons' incredible social media run as a comedian and stunt performer as she does her comedy. When I met Xochitl Gomez, right away, she was just so animated and such a wonderful person. She definitely has what it takes to go all the way to the top as well. My niece is a big Vanderpump Rules fans, so she gave me a heads up that I would very much like Ariana and she was right. We all made fast friends on this and I've really enjoyed getting to know everyone and I'm sad already seeing a few people go.
I think I have to. Fans are gonna expect it now and this show has taught me I can do a lot in 60 seconds, but what I'm gonna need to find is someone in my band or our tour I can dance with. That's gonna be tough. I think I can convince Daniella or Pasha or both to come to our tour rehearsals and give us a couple of pointers, maybe help my band and I come up with a step or two that would delight the audience. I would enjoy it.
Dancing with the Stars airs Tuesdays on ABC.