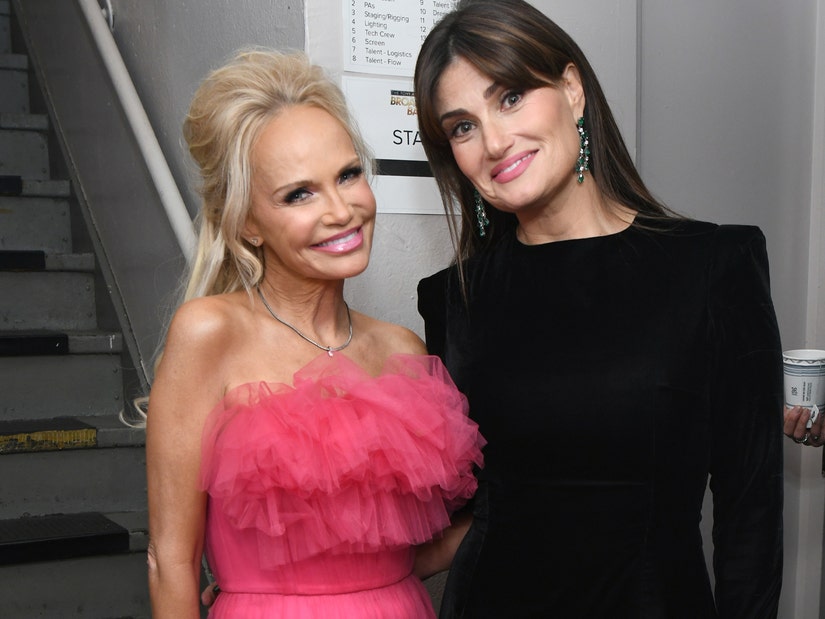 Getty
"I was very emotional. I tried to push it out, I mean, if only people knew," Chenoweth recalled, setting the record straight on rumors she and Menzel fought backstage.
Wicked original stars Kristin Chenoweth and Idina Menzel are taking a walk down memory lane -- or shall we say, the yellow brick road -- in honor of the award-winning Broadway musical's 20th anniversary.
In a wide-ranging interview with Vulture, published on Tuesday, the actress -- who originated the roles of Glinda and Elphaba in the Broadway production -- reflected on their journey starring in Wicked together, and addressed rumors that they fought behind the scenes and didn't get along.
Chenoweth, 55, -- who starred as Glinda -- and Menzel, 52, -- who played Elphaba -- set the record straight.
"I'd like to speak on this. After a certain amount of time after we opened, my mom was dealing with cancer," Chenoweth recalled. "I was emotional and I was thinking about some other things. To me, there was no way that I would win a Tony. Yes, it's the two girls as leads. But it's Elphaba's story. I needed to deal with that part of me. I was very emotional. I tried to push it out, I mean, if only people knew."
"Unfortunately people like to do that to women," Menzel said. "They can't be supportive of one another. You have to put all this conflict in there."
"We were so tired," Chenoweth added, to which Menzel agreed, adding, "We were tired and extremely supportive of one another. We'd been doing it for, before San Francisco, three years of workshops."
Chenoweth later noted that some people "enjoyed the rumors" that she and Menzel were feuding backstage, sharing that they even considered poking fun at the speculation with a hilarious gesture.
Waiting for your permission to load the Instagram Media.
"If I could go back in time, I'd be like, 'I know what y'all are doing. Stop," she said, before recalling, "At one awards presentation, I said to Idina, 'Can we go out and I'll have on my neck brace and you have your head wrap and maybe a crutch?' I wanted it to look like we were beating up on each other."
"Just take the piss out of it all," Menzel added. "Because then it's so outlandish."
The two also expressed how they shared a sister-like bond, not unlike their characters.
"It becomes a family. I'm sure, as a sister, I got on her nerves sometimes," Chenoweth explained. "I'm positive I did. I get on my own nerves most of the time. But you also know what the other one's going through. Nobody else can know that but us."
Chenoweth and Menzel went on to note how one of the musical's most popular songs, For Good, in which their characters say farewell, almost mirrored their relationship as well.
"I think that song 'For Good' was …," Menzel said, to which Chenoweth finished her sentence, saying, "Very healing."'
Waiting for your permission to load the Instagram Media.
"Whatever was going on in our own lives, it was nice to always be able to come to that at the end of a show," Menzel continued. "We would always look at each other and say, 'I got you. You got me. We're making this thing together. We love each other.' People were saying stuff out there, and we were good at trying to bring it back to the two of us, because that's all that matters."
Wicked opened on Broadway on October 30, 2003. At the 2004 Tonys, the musical received a whopping 10 nominations, including Best Musical, and Best Actress for both Chenoweth and Menzel, with the latter taking home the Tony.
Chenoweth departed the show in the Summer 2004, while Menzel left in 2005, before reprising the role in the original West End production until 2006.
In nearly 20 years since Wicked first premiered on Broadway, it's been adapted into productions all over the world in 16 countries.
As fans know, the musical has spawned a two-part film adaptation starring Ariana Grande and Cynthia Erivo as Glinda and Elphaba, respectively. The films are set to be released in November 2024 and 2025.
Read Chenoweth and Menzel's full interview with Vulture, here.