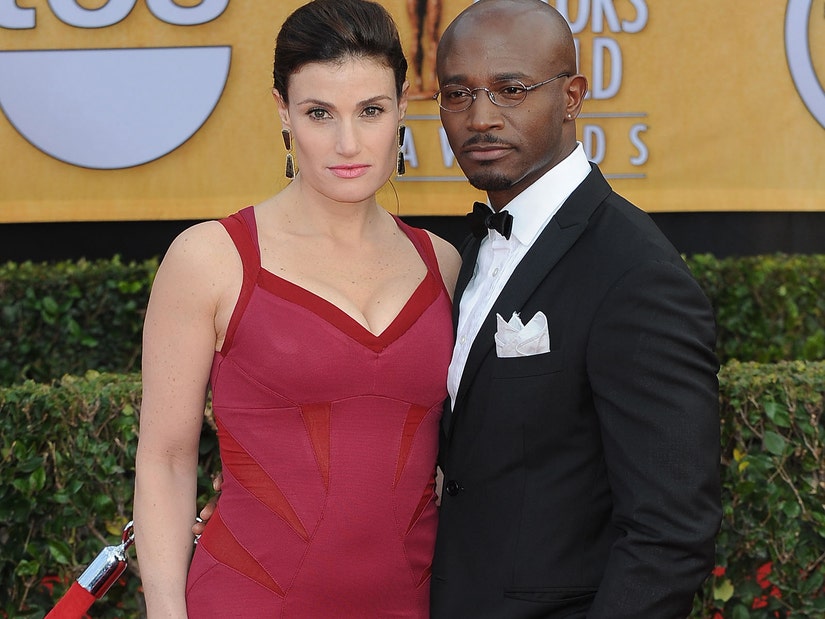 Getty
Idina Menzel and Taye Diggs met on the 1996 production of 'Rent' and got married in 2003. The former couple went on to welcome a son, Walker, 14, in September 2009 before going their separate ways in December 2013
During an appearance on the Dinner's on Me podcast, the Frozen star told host Jesse Tyler Ferguson that it wasn't competition for success in their careers that contributed to their demise, but rather the All American actor's decision to marry outside of his race that she said earned him backlash from his community.
"It's very complicated. I mean, [we're] very supportive of each other, always," Menzel said of their marriage and eventual divorce. "The thing that came into play more, I would say, is the racial, interracial aspect of it."
She continued, "When you're in the theater, it's just not a thing. We all love each other and sleep with each other, but when you leave that cocoon, that bubble, and now in his case […] he was on the cover of Essence and Ebony and being interviewed by all of these Black journalists, and I think, he had his own stuff to deal with that and it seemed like there was disappointment in the community."
Waiting for your permission to load the Instagram Media.
Menzel said that she took on some of that disappointment as well, which became increasingly apparent to her once Diggs wed "some little white Jewish girl from some show we don't even remember."
She added, "So, I took that on too... Anyway, that's stuff that we had to deal with. So it was less about being successful and more about just that kind of stuff, you know?"
The backlash extended beyond private chatter and into their public lives, with Diggs often asked for solo shots when they'd attend red carpets together.
"You know it's the, 'Can we get a picture of him by himself,' you know,'" the Enchanted actress shared.
The two Broadway actors met on the 1996 production of Rent and got married in 2003. The former couple went on to welcome a son, Walker, 14, in September 2009 before going their separate ways in December 2013.
Diggs meanwhile, has briefly touched on the interracial aspect of their relationship in the years since their split, telling Redbook in July 2014 that he understood the public disappointment surrounding their split, "There weren't a lot of couples like us in the theater community -- and I know there aren't a lot of performers as talented as she is… and then you have the whole mixed [race] thing. It was easy for people to root for us."
Since their split, Menzel has moved on, marrying singer-actor Aaron Lohr, with Diggs most recently coupling up with Love and Hip Hop: Hollywood star Apryl Jones.