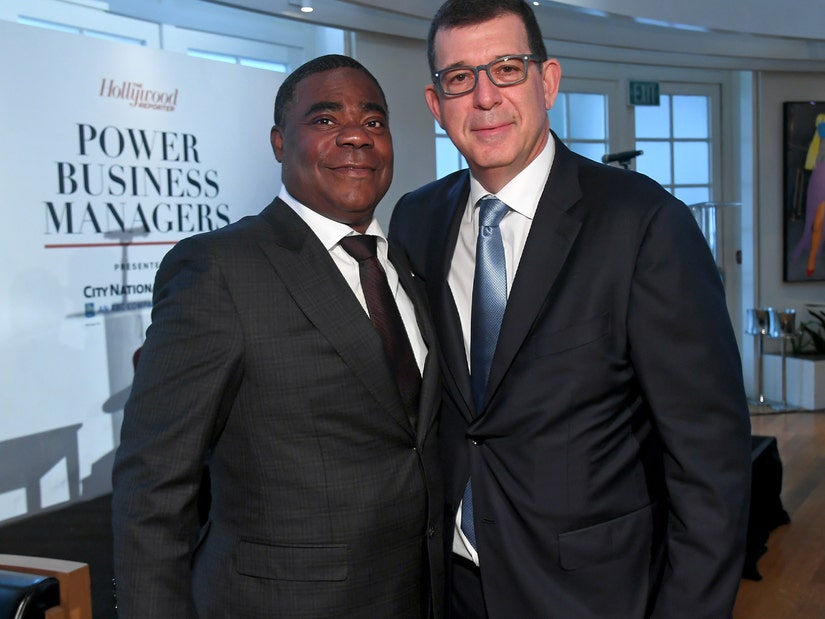 Getty
"I love you, I'll always love you," Morgan said to Landesman. "You mean a lot to me. You were there for me."
Tracy Morgan celebrated his longtime business manager, Mark Landesman, this week saying "I don't know where I'd be without you, bro."
"Whenever I want to buy a new Ferrari, Mark is always here to say, 'No, Tracy,'" said the comedian. "If it wasn't for Mark, I would've had 26 Ferraris and a terrible tax problem."
Morgan also joked that he asked to purchase the Brooklyn Bridge, Empire State Building, and even the Staten Island Ferry, to which Landesman told him, "No Tracy, my other client Pete Davidson already owns it."
Morgan also spoke about the pair's bond, as Landesman was even the first person to at the hospital when Morgan got into a car crash in 2014.
"I love you, I'll always love you," Morgan said to Landesman. "You mean a lot to me. You were there for me."
"He's more than just a business manager, he's more than just a friend, Mark is like a member of my family," he continued. "From the bottom of my heart, thank you for all that you've done and all you've done for me."
In his acceptance speech, Landesman said that "our relationship can go much deeper for some; our clients rely on us for so many non-financial matters and seek our advice on so many lifestyle issues and as such, we are all considered very close and trusted fiduciaries."
He also opened up about what it was like learning of Morgan's hospitalization, which he saw on the news.
"My immediate reaction was to get to the hospital as soon as possible, because I knew Tracy just completed his estate plan and I was named his power of attorney and health care proxy," said Landesman.
"After walking into the emergency room, I was escorted into the conference room, briefed on the situation and was introduced to numerous doctors. I then realized Tracy's family were heavily relying on me for guidance and to help interpret the situation," he explained.
"Very tough decisions had to be made; Tracy's recovery was long and difficult. I visited him throughout the hospital and then at the rehab facility, which went over several months. I tried to keep the spirits positive, and there was so many unknowns ahead of him: What kind of recovery would Tracy have and would he ever be able to work again?"
Now years after the scary accident, their relationship is back to normal business.
"I'm happy to say my relationship with Tracy is totally back to normal," he shared. "I talk him out of buying all the Ferraris. I tell him, 'Don't buy this, don't buy that, don't buy the Brooklyn Bridge and save your money.'"