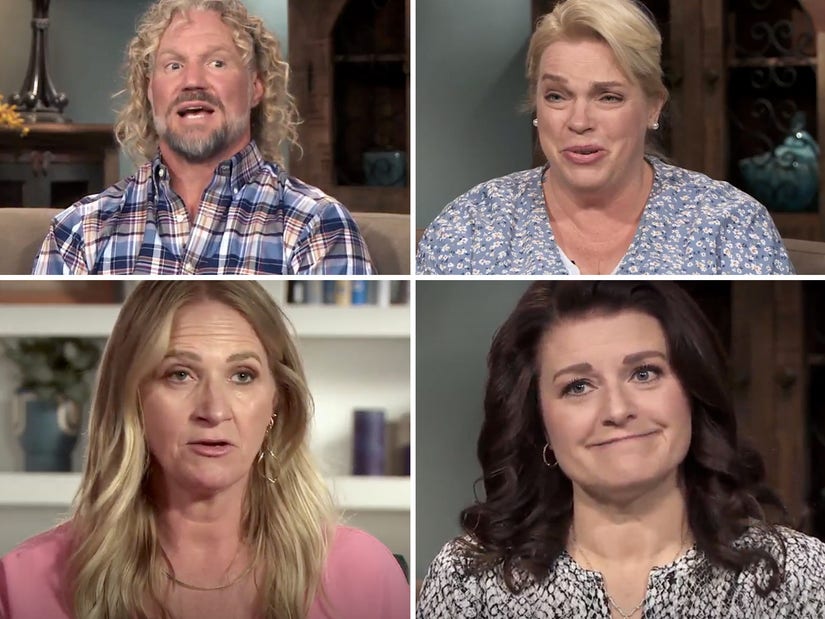 TLC
On Sister Wives, Janelle reveals falling out with Robyn and Meri, gets pity from Christine and explains whether she'd enter another polygamist marriage if she can't get out of "friends with benefits" stage with Kody.
It's not just the relationships between Kody Brown and his Sister Wives that have fractured in recent years, but also those between the women themselves.
On Sunday's new episode, a conversation between Janelle -- who is separated from Kody -- and Christine -- who has left him completely -- highlighted the shifting dynamic between them and both Robyn and Meri amid their ongoing issues with the polygamist patriarch.
At the time of filming, which was around Easter, Janelle hadn't seen either Robyn or Meri for six months -- meaning almost all of the holiday season and then some. "Haven't run into them, haven't seen them," she shared, adding that she wasn't exactly rushing to either.
"I don't really care if I interact with Robyn and Meri from here forward," she continued, before explaining in a confessional that while she and the former were able to be cordial one-on-one, she "struggled so hard for so many years" when it came to the latter. "I don't have the desire to put in the effort for someone who's so personality wise, so different from me," added Janelle.
When the topic of a potential family reunion came up during their chat, Janelle said that while she doesn't "really have any desire to go seek them out," the she said she would be down with attending an event like that once a year.
"I would do a family reunion again, just to get the kids together, absolutely," added Christine. "I wouldn't have great conversations with Meri or Robyn or Kody."
In separate confessionals, however, Robyn and Kody didn't seem to hyped about it happening anytime soon. Though Robyn said it would be "asking for trouble" since they have no real resolution when it comes to their ongoing issues currently, Kody shut it down entirely -- saying, "After the trash talking Christine has done to me, I would never want to do a family reunion with her at this point."
As the conversation progressed, Janelle opened up about her birthday date with Kody -- saying that, overall, it felt like a platonic outing. She said she didn't even want him to come inside when he dropped her off after, something she felt really good about. Christine, however, felt nothing but pity.
"The more I hear, the more I'm just sad for her, to be honest. She's my friend and I want to see her happy," she said. "Not living this life where her husband takes her out for her birthday and then drops her off and home and goes to his wife and then he hasn't talked to her for two weeks. Call it like it is and get out of Flagstaff, sorry, it's just sad."
Janelle felt like Christine was giving her the "poor you" treatment, something she said she didn't want.
"Oh no, I'm fine, we are not reconciling, I'm not hoping he's going to come around, I'm not settling for less than I deserve and it's just wild to me that I keep getting this vibe from Christine, 'You deserve more,'" she said. "Of course I do and I'm taking it for myself, I'm doing more!"
Janelle went on to say she was "more at peace" now without Kody around and said that, in the future, she wanted to be with someone who would be more of a "companion" to her. She also told Christine she would be down for plural marriage again, adding that, overall, she likes being in one. Christine, again, wasn't feeling it.
"It's hard to hear coming from my perspective, but I wouldn't live polygamy again," said Christine, saying that she wouldn't want to be the reason for "the amount of heartbreak the other wives" would experience when someone else joins the family.
Janelle also said she would consider saying with Kody if things truly changed, even though she doesn't see that happening.
"If he could fully engage with me as a marriage partner again," she said of her conditions. "We've been friends with benefits for years. I'm ready now for something a little bit more. If he were to give me what I needed in a relationship, I would stay."
"I think plural marriage works if everybody's really trying to make it work," she added, saying she was "happy" and "content" for the time being.
"He's not gonna stop being Robyn's husband to be Janelle's," Christine reacted in a confessional. "She has an amazing husband. Looking in, it's everything that I ever wanted in a husband, is what Robyn ... I can't even say that because I"m so disgusted by Kody's behavior, disappointed, appalled.
"Kody's not gonna change. Does she really want to be married to Robyn's husband?" Christine continued. "She deserves somebody who lives her. Friends with benefits, that's not a marriage. He'll continue to give her scraps."
Overall, for Christine, she didn't feel like Janelle has had that "defining moment" yet to walk away from Kody completely.
New episodes of Sister Wives air Sundays on TLC, MAX and Discovery+.