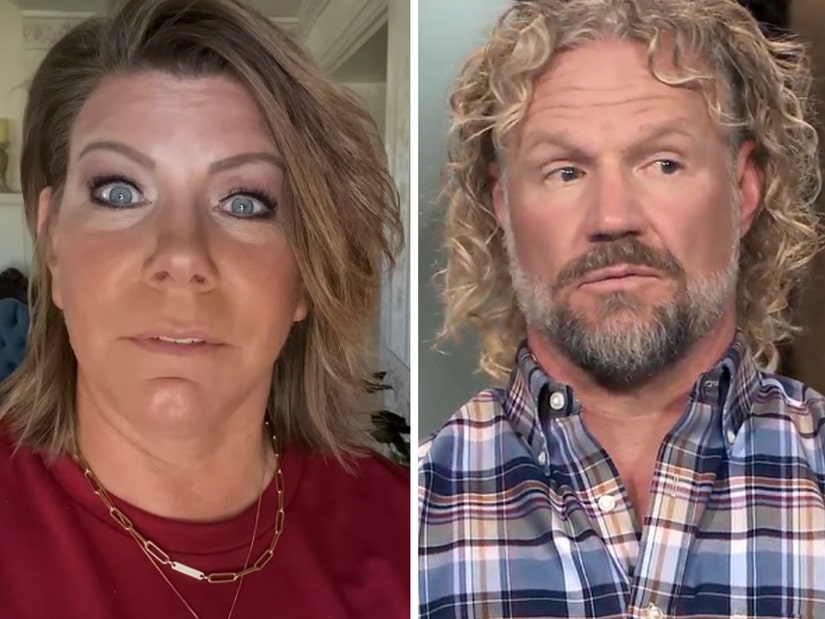 TLC
"He actually said to me 'I have no desire, Meri, to have a relationship with you," she shared -- claiming he also said he "never loved" her, before she considered her next steps.
Meri Brown's 32nd anniversary gift from Kody Brown? An admission from her husband that their marriage was effectively kaput.
On Sunday's new episode of Sister Wives, Meri and Kody both detailed their anniversary date and how the pretty brutal-sounding evening led to a major revelation about their relationship for Meri.
The two married in 1990 but divorced in 2014 so Kody could legally marry Robyn. While they remained spiritually married, they drifted apart in recent years -- something made worst when, in 2015, Meri admitted to entertain a catfishing relationship with someone she thought was a man but turned out to be a woman. Her marriage with Kody has been pretty platonic ever since.
In the new hour, Meri said she's felt that when they have gone out together on their anniversary over the past few years, it's felt "more obligatory" than something he wanted to do. This year, she said he didn't reach out at all on their day, so she decided to call him. His reaction: "Oh, Happy Anniversary," as if he was surprised. When she suggested they go out to dinner, he told her he was watching the kids and would have to check with Robyn.
"I need a minute to think, I needed a reason to be able to say no in the event I just didn't think it wasn't the right thing for me to do," he admitted in a confessional, though the two did end up going to dinner.
"At one point he made some reference to faking relationships or something like that. I was like, 'What do you mean faking?' He kind of gestured with his fingers between the two of us, 'Well, this,'" Meri claimed. "I went, 'What do you mean, I'm not faking anything.' He's like, 'I don't know why you even bothered to call and say happy anniversary, Meri.' I'm like, 'Because it's our anniversary.' He went, 'But we're not m--' and he paused and he goes, 'but we're not living as a married couple.'"
Meri felt he stopped himself from actually saying, "Well, we're not married," something she said was "a big realization" for her "that all this time, all these years, that's how he's felt about it. But I haven't known that."
She went on to claim he told her, "Don't you understand Meri, this is never going to happen? Your life is not one I want to insert myself into," saying that comment was "very painful to me" and, in the moment, she felt her "heart speeding up" as she felt he "promised" to be there for her forever.
"He actually said to me 'I have no desire, Meri, to have a relationship with you.' This is the first time he's ever said this to me, ever," she continued. "Like, our marriage is done. You can stick around and you can come visit me and Robyn and the kids if you want, but we're never gonna have a marriage relationship anymore."
She went on to say Kody told her he actually "never loved you and I never felt like that about you" and was only "trying to affirm" it all these years. That, said Meri, was "a bunch of bulls--t," saying anyone who saw them together in their earlier years together would know what "a bunch of crap he's spewing maybe to try and justify how he feels now."
As she started to think about what the future holds for her, Meri said she wasn't sure she wanted to "stick around" someone who has totally changed their mind about her, but also struggled with the faith component of their promises to one another. She also wanted to still keep a good relationship with the kids Kody shared with Robyn, before opening up about the conversations she wanted to have with him about their relationship in public.
"I said to him, because our life is public, 'Why don't we just be real open and honest about this, we should discuss this and we should really be open about our story with this," she said. "He said, 'No, I don't want to do that. I have so much criticism, I don't want to be open and vocal about it, let's keep this between us.'"
But that's not something Meri really feels comfortable doing.
"I'm not going to go the rest of my life hiding the fact that this is a way that our relationship is and hading the fact you said to me you don't want to ever have a relationship with me. This is my story too and I have the right to tell my story," she said defiantly, before weighing what she saw as her two options.
She could either "continue living like I have for the past 8 years or so, which is [being] a freaking, amazing, badass, independent person that is officially married to somebody and not emotionally," or she could "terminate" the relationship. The latter, however, didn't sit well with her because she "didn't marry Kody and make this eternal covenant just to be like, it's not working for us, I think i'll peace out."
"Right now, I don't know what to do about it. I have no idea what to do about it," she concluded.
Kody and Meri announced in a joint statement back in January that they had "permanently terminated" their "marriage relationship." The couple's 32nd wedding anniversary would have happened in April 2022, we seems we've got a ways to go until Meri makes her final decision.
Sister Wives airs Sundays on TLC.