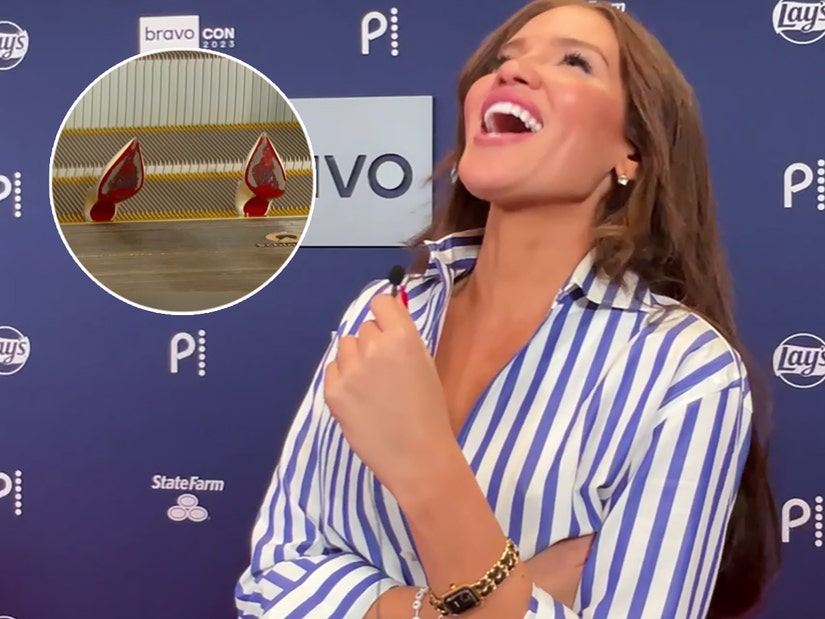 TooFab/Instagram
Real Housewives of New York breakout star Brynn Whitfield suffered an unexpected break at BravoCon when her heel got caught in an escalator in hilarious mishap -- and it was all caught on camera!
During her big entrance for a panel, Brynn hit the bottom of the escalator and realized her shoes weren't coming out. While she calmly stepped out of them, as captured in Bravo's video, she then bent down to try and grab them and that's when the whole escalator stopped, holding tight to those heels.
Andy Cohen called the moment "iconic" on Bravo's Instagram share of the moment, while Erika Jayne called Brynn a "LEGEND 👠👠 😂."
Waiting for your permission to load the Instagram Media.
As everyone started laughing, Brynn made her way to the panel sans shoes. "It looks like The Wizard of Oz," she laughed at the image of her shoes being held tight by the stalled escalator, toes pointing skyward. "Do I have to pay for the escalator?" she asked.
When Andy came out for the panel, he again called the moment "iconic," quipping, "Is there a dead person under it?" He then said that this is "the photo of BravoCon."
TooFab caught up with Brynn later where we couldn't resist asking her about "one of the biggest moments" of BravoCon -- perhaps even, to borrow from Andy, the most "iconic!"
"I almost died, it was so funny," Brynn laughed. "I was just mortified. I had to do the whole panel barefoot."
While she did retrieve the shoes and put them back on to take photos on the red carpet backstage, she had to take them off midway through the press line because she realized they had bent and were simply not wearable. She did the rest of the interviews sans shoes.
She then quickly turned it into a life lesson, albeit one with a very specific audience. "My grammy used to say, always wear clean underwear," she told TooFab. "Always have a pedicure at BravoCon in case your Louboutins get stuck in the escalator!"
Brynn might just be the breakout star of the rebooted RHONY cast, quickly gaining fans. She shared a sweet fan encounter with TooFab, while also proudly displaying all the fan bracelets she'd picked up to that point at BravoCon.
"A fan came up to me and brought a Purdue University pin, and that's my alma mater and it was just the nicest thing in the whole world," she said. "Never did I think my undergraduate degree would lead me here but, look at me now!"
We also asked her about being single on the show and whether that led to any spicy DMs from guys watching, and she confirmed that "dudes love it," referring to the show. But, she lamented, "Nobody wanted to film with me last year."
"I think now seeing it, understanding it, I think people now might be more open to filming," she added. "We need someone to film with, you know?"
The Real Housewives of New York City wrapped its 14th season just last month.