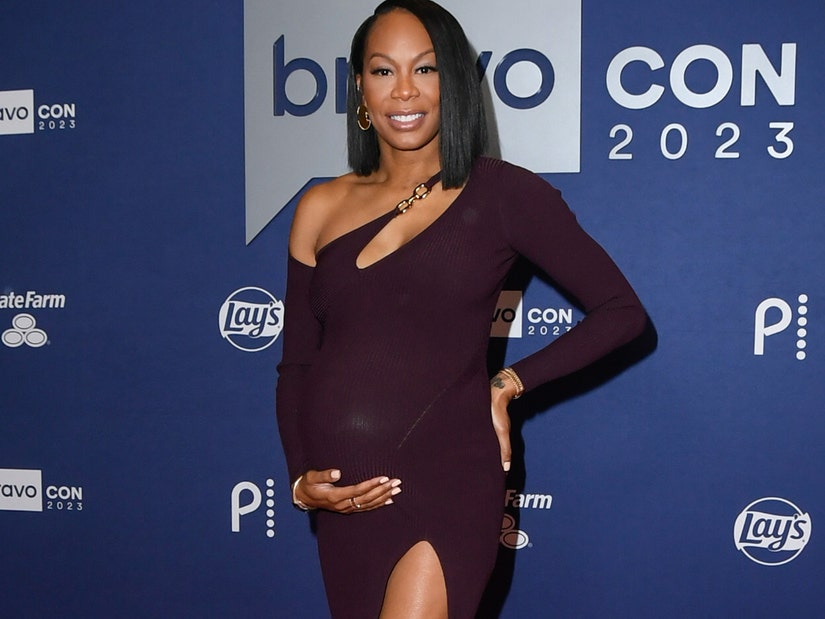 Getty
A pregnant Ross also opened up about how "nerve-wracking" it is to wait for Bravo to decide the cast's fate between seasons.
At BravoCon over the weekend, TooFab mentioned the couple's headline-making behavior of late, wondering whether Sanya Richards-Ross thought there could be a place for Zolciak back on the show. The pregnant star, who looked beautiful in a bump-hugging dress, didn't rule it out.
"One thing I do like about this show and Bravo is that it kinda had always been a revolving door and people who have great things happen in their life, get to come back and share it," she said. "I think it would be great to see her come back, if she wanted to share this part of her life. But we'll see!"
So far, the cast members don't know which of them will be back for the next season, something Richards-Ross said was "nerve wracking."
"But the network will let us know when they decide. I think it's a really tough time, they're navigating what the show's gonna look like. I wouldn't want their job right now either," Richards-Ross continued.
"I'm just patiently waiting. It's been a wonderful experience for me, I love filming with the girls and whatever they decide, I always land on my feet, baby! So whatever it is, I'm good."
Her comments come after Housewives franchise executive producer Andy Cohen also addressed Kim's possible return and the future of the series during a BravoCon panel as well.
He told the audience he was "very surprised" by Zolciak's split from Biermann, added he has "texted with her" and, of her future on RHOA, only said, "I know she's on The Surreal Life ... I think so we'll take a look at that. And, there you go." He also confirmed he bought one of her wigs during her estate sale for the Watch What Happens Live clubhouse.
He also suggested the show could use a bit of a revamp, pointing to what he saw as the successes of RHONY after rebooting the cast.
"I always love building with what we have," he said. "I think Atlanta has some really strong building blocks that are already there and we're in a growth area. We have a growth opportunity for Atlanta."